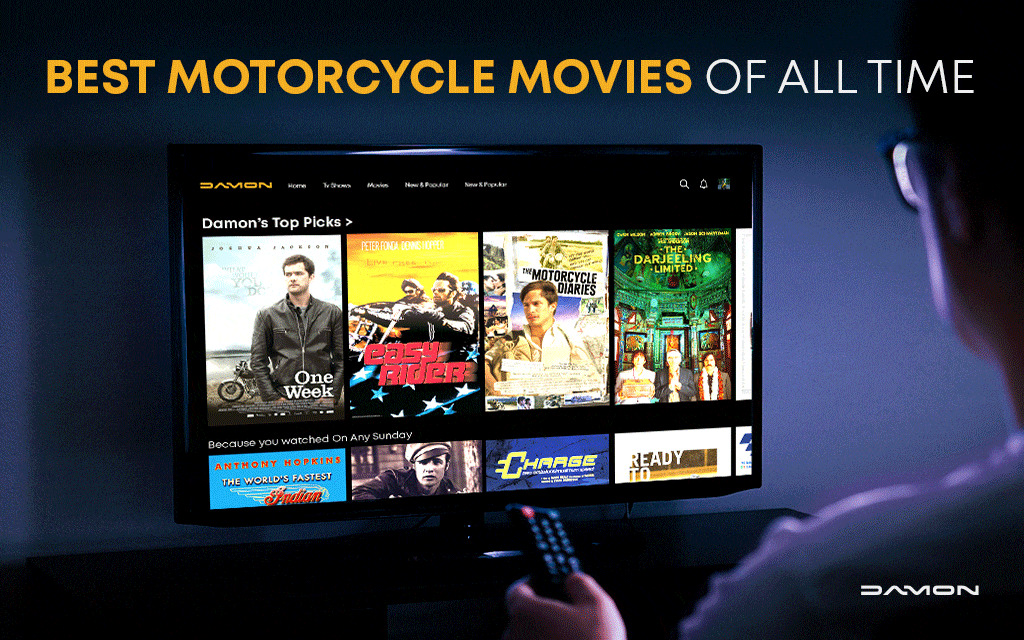 The 10 Best Motorcycle Movies of All Time
In the past year, we've become more acquainted with TV and movies than ever before. Global lockdowns have left us basking in Carole Baskin, captivated by The Crown, and rewatching The Office from our new home office.
However, away from the Netflix top 10, riders have to dig deep to find the best motorcycle movies. While the small screen has embraced motorcycle culture – think Sons of Anarchy, Long Way Round, and American Chopper – finding a good two-wheeled-feature-length is a little trickier.
With that in mind, we've decided to compile our list of the best motorcycle movies out there. Less Tiger King, more Tire King. Let's get into it!
One Week (2008)
First up, we're going to stick to our Canadian roots with the movie One Week.
The plot centers around Ben, a self-proclaimed introvert who receives devastating news: he has stage 4 cancer and only a 10% chance of survival. After learning this, he sees a group of riders pass him on the street. He becomes inspired to get on two wheels.
After buying a 1973 Norton Commando 850, he hits the road out of Toronto and towards the west of Canada.
One Week is not only a reminder of the incredible adventures we can have on two-wheels, but also showcases Canada's beautiful natural landmarks, including Lake Superior.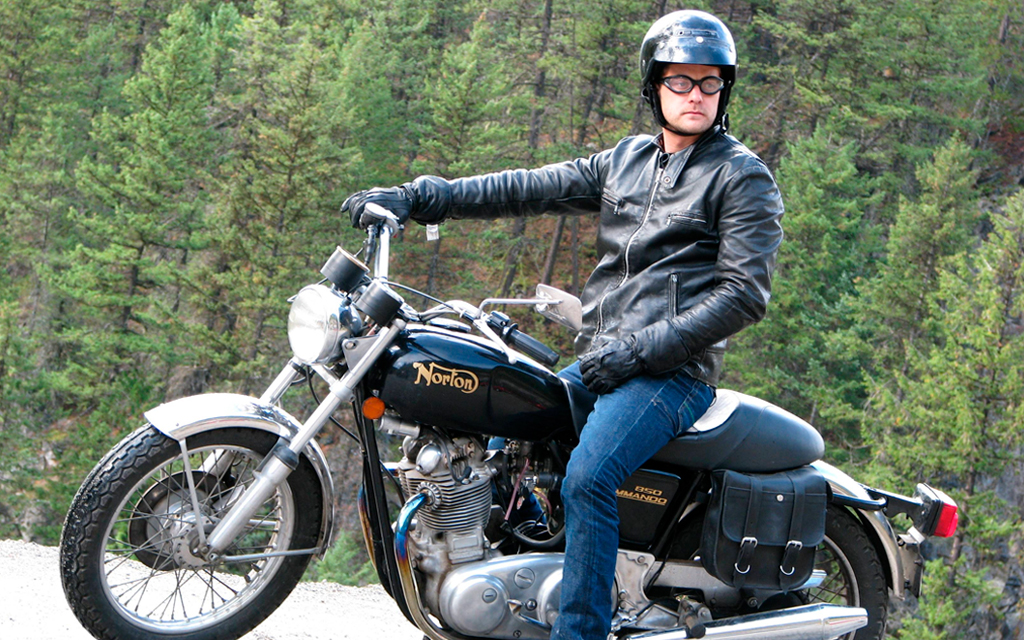 This movie is recommended if you want an uplifting story with some breathtaking Canadian scenery.
If you are inspired to go on an adventure after watching this movie, read our guide on the best motorcycle road trips in the world.
Easy Rider (1969)
Easy Rider is one of the classic motorcycle movies on this list. It's hard to believe that this groundbreaking film was released in 1969. Despite it being over 50 years old, it still has a huge influence on motorcycle counter-culture as well as cinema in general.
In fact, we'd hedge a bet that most Harley Davidson riders' inspiration behind owning a Harley was Peter Fonda's infamous 1952 custom-made Harley Davidson "Captain America" chopper – which recently sold for $1.35 million at auction.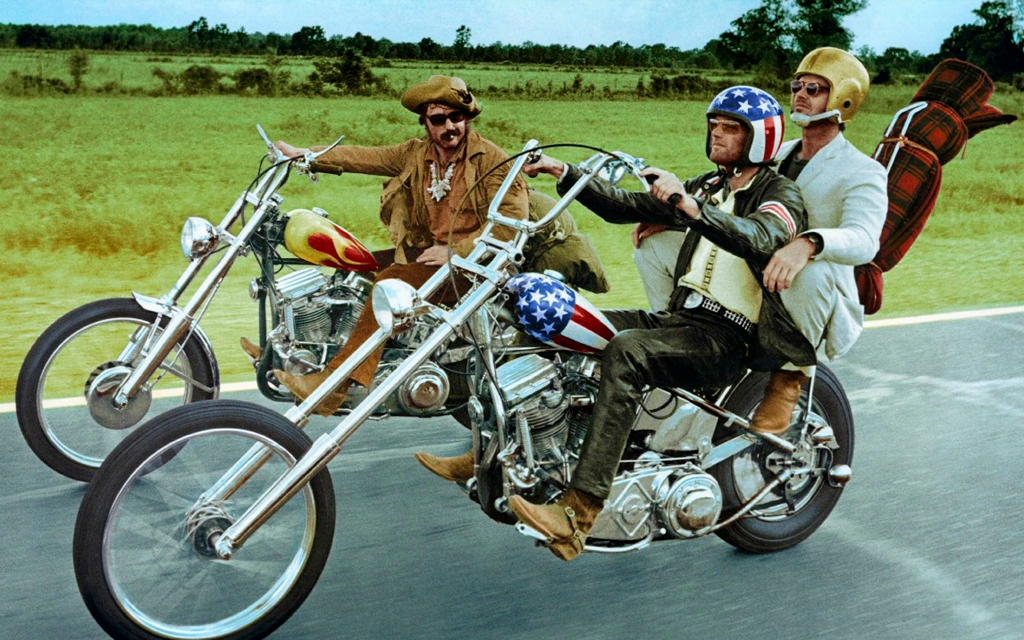 This movie is recommended if you love old-school cruisers, rock n' roll, and mind-altering substances.
The Motorcycle Diaries (2004)
We're going to travel further down south to Latin America for the next flick.
The Motorcycle Diaries is based on the journals of the Cuban revolution's poster boy, Ernesto "Che" Guevara. It documents his and his friend's ride through the continent en route to a medical residency.
The scenery in this movie is almost like another character. The conversations on the meaning of life and what the future may hold for these two friends are backdropped by the wilderness of Argentina and Peru. If this film doesn't make you want to buy a Norton 500 and head to South America, you have no business riding!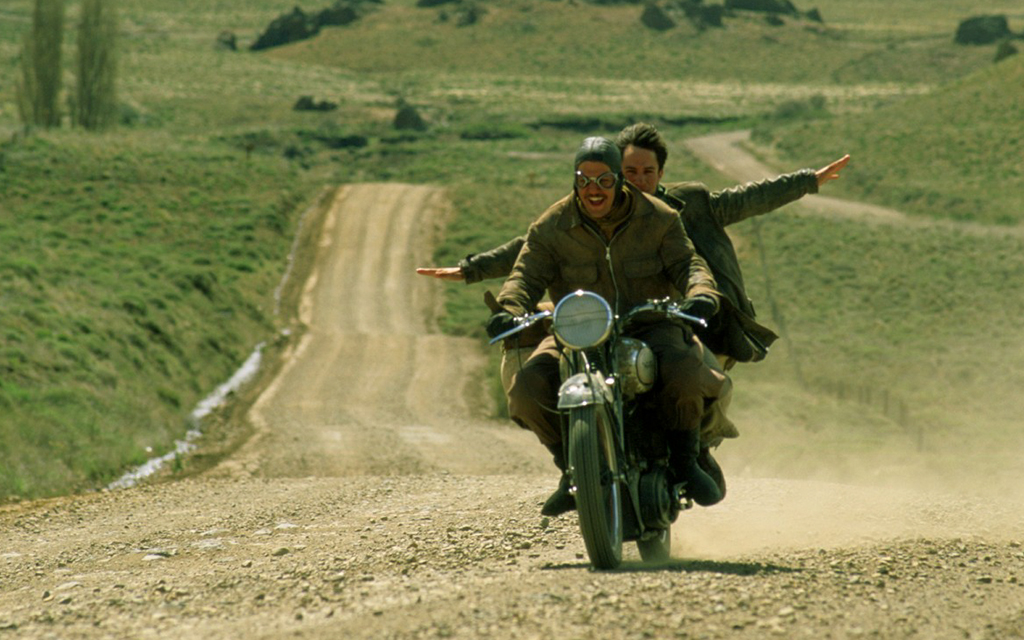 This movie is recommended if you're a lover of wanderlust and want to take your motorcycle all over the world.
The Darjeeling Limited (2007)
We're now globetrotting over to India for Indie-cinema-darling Wes Anderson's The Darjeeling Limited.
After a motorcycle accident, the main character, Francis, reconnects with his two brothers on a journey of self-discovery. The trio ends up exploring the vastness of the Rajasthan Desert, cramped together on the back of a Honda Hero 1,000cc motorbike.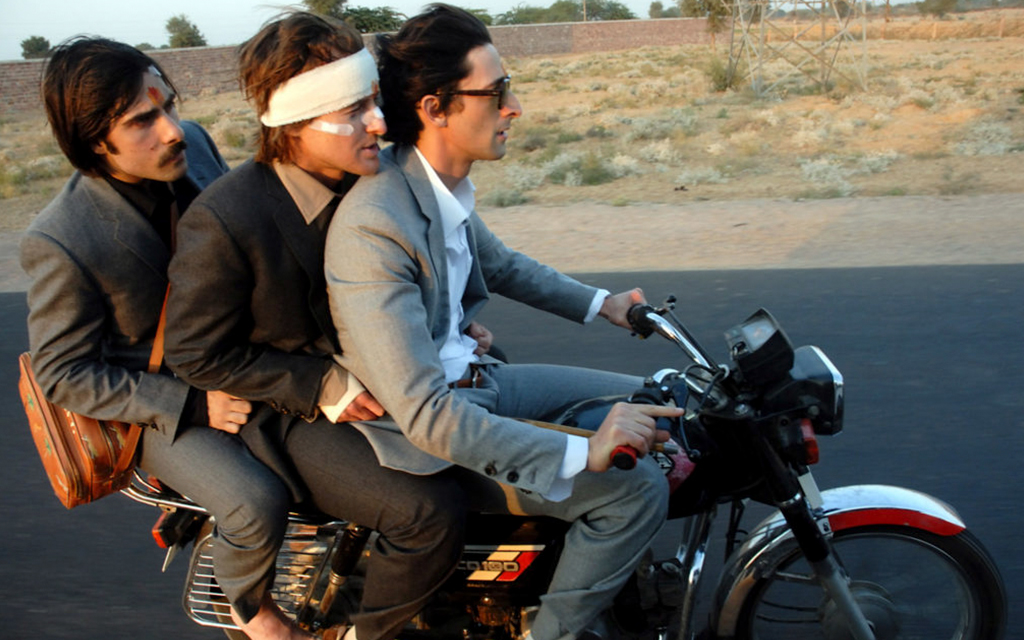 In the interest of safe motorcycling, we don't recommend three people riding on one tiny motorcycle. However, we do recommend this as the undisputed king of cool motorcycle movies.
This movie is recommended if you liked The Grand Budapest Hotel but thought it lacked motorcycles.
Why We Ride (2013)
Why We Ride is the first documentary on this list. It tries to unpack and document that magical ingredient or secret sauce that makes us live and breathe motorcycles.
The documentary is jam-packed with big names from the world of motorcycling, including MotoGP rider, Valentino Rossi, and desert riding pioneer, Dave Ekins. The star-studded bill explores why they ride as well as the history of motorcycling.
If you ever want to remind yourself or try to explain to someone what's so darn special about being on two wheels, Why We Ride is one of the best motorcycle movies ever.
This movie is recommended if you're a student and a fan of all things motorcycling.
Snake Eyes (GI Joe) (2021)
OK, this one may be cheating this format a little bit. Snake Eyes is not technically one of the best motorcycle movies. In fact, it's not even really a movie about motorcycling – it's about a plastic action figure.
However, we had to include this film with a 35% Rotten Tomatoes rating because of the electric motorcycle featured in the movie.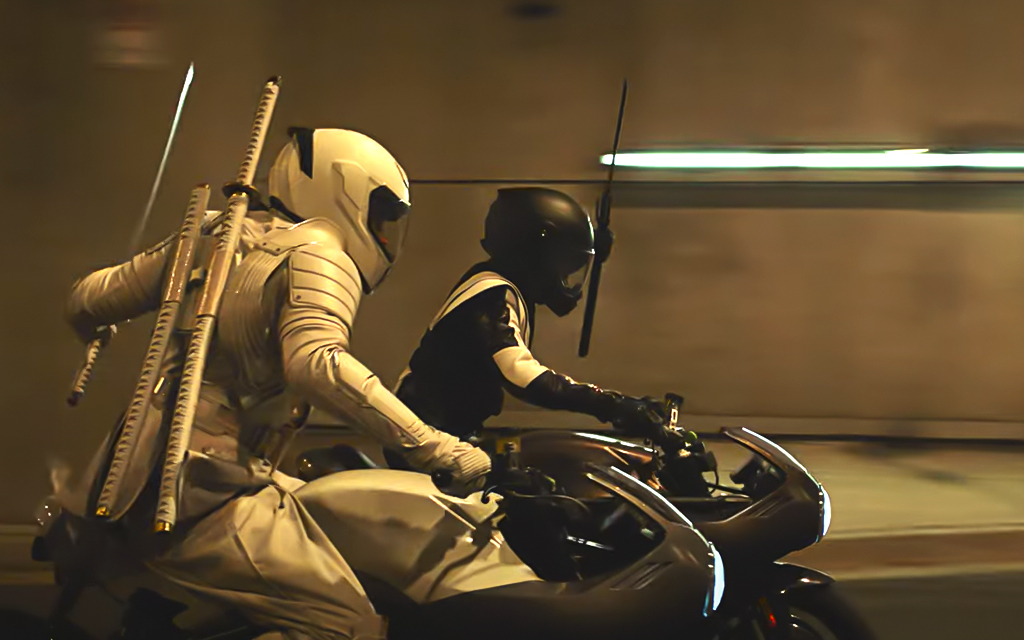 The internet went into a collective meltdown trying to work out what the GI Joe motorcycle was. And, while never confirmed by the filmmakers, the credits revealed the name Chris Paz (the US Service Manager at Energica).
The consensus is the production company took the Energica Eva and Evo, stripped the bodywork off, and turned it into the 'GI Joe Snake Eyes electric motorcycle' (they didn't provide a name).
Nice start. But, would Snake Eyes have had more fun on a Damon… We'll leave that to you to decide.
This movie is recommended if you want to see the custom-built electric motorcycle that left viewers scratching their heads.
See how the Energica Ego compares with the Damon HyperSport and HyperFighter in our blog on the most Futuristic Motorcycles.
The World's Fastest Indian (2005)
While a lot of this movie is centered around the life of Herbert James "Burt" Munro, the famous New Zealander also shares the screen with his highly modified 1920 Indian Scout motorcycle.
What makes this bike a great supporting actor? Well, this motorcycle set the 1,000cc land speed world record in 1967 – a record that still stands today.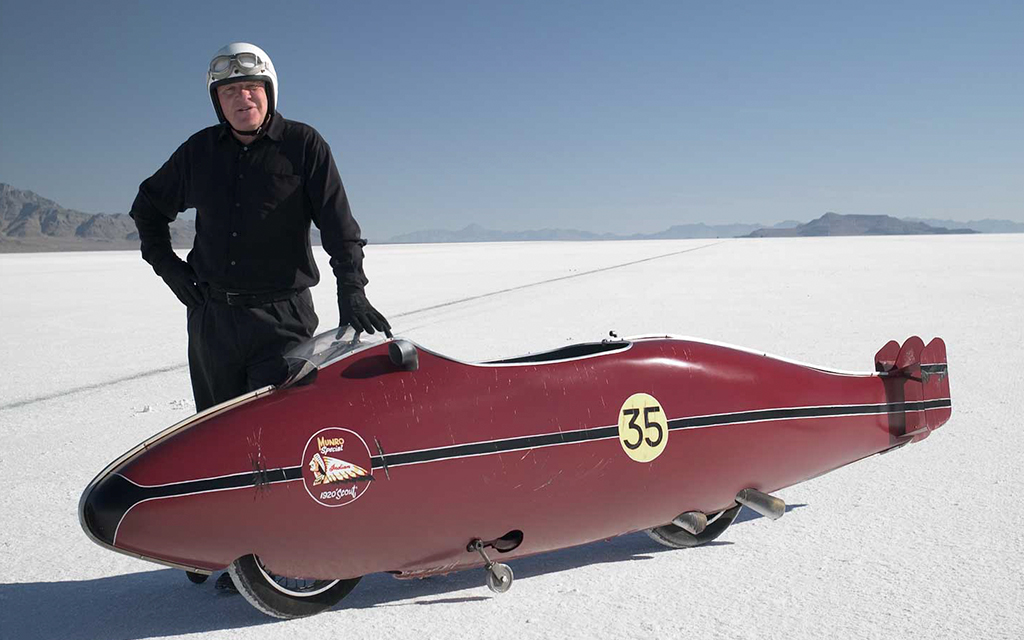 This true story is a remarkable biography of this motorcycling legend and is made even better by an incredible performance from Sir Anthony Hopkins.
Will this record ever be broken? Let's all wait and see when HyperSport hits the roads!
This movie is recommended if you're a motorcycle historian and want to learn more about the life of Burt Monro.
Charge (2011)
Our second documentary on the list is about a subject we're obviously quite passionate about here at Damon: electric motorcycles.
In fact, we really resonate with the movie's tagline, "Proof that maniacs on motorcycles can be a force for global good."
The documentary goes behind the scenes in the Isle of Mann at the world's first all-electric motorcycle Grand Prix in 2009. The documentary explores the controversy around the switch and dives into the advantages of electric motorcycles.
Furthermore, narrator Ewan McGregor must have had his head turned by the experience, as the new series of the Long Way Up sees him and his co-host riding a Harley LiveWire through South America.
This movie is recommended if you want to learn more about electric motorcycles and see a glimpse into the future of motorcycling!
The Wild One (1953)
From the future to the old school, we're going back to the OG motorcycling movie: The Wild One.
Alongside Easy Rider, this is considered one of the most classic motorcycle movies. Marlon Brando's portrayal of black leather-clad rebel Johnny Strabler went on to influence James Dean and a certain Mr. Elvis Presley.
Brando was an avid motorcyclist and this movie was an offer he couldn't refuse. In fact, he even rode his own 1950 Triumph Thunderbird 6T in the movie.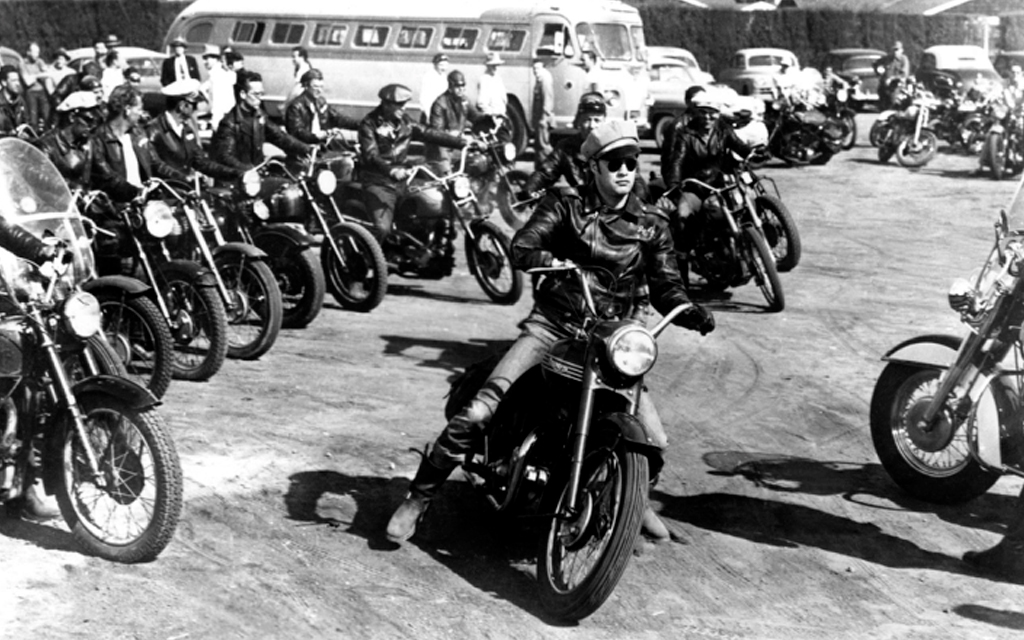 This movie is recommended if you're a fan of 1950's teddy boy fashion and want to see the original outlaw biker movie.
Racing Together (2016)
Last but not least, we've included another documentary for all the MotoGP heads out there. Racing Together delves deep into the history of motorcycle racing and has plenty of archived footage of the best bikes and riders to grace the sport.
Similar to Why We Ride, Racing Together's story is told through the eyes of some of the legends of motorcycle racing. Furthermore, it also features some of the biggest names in MotoGP today, including Mick Doohan, Marc Marquez, and Valentino Rossi. Better yet, the whole movie is free to stream on RedBull TV.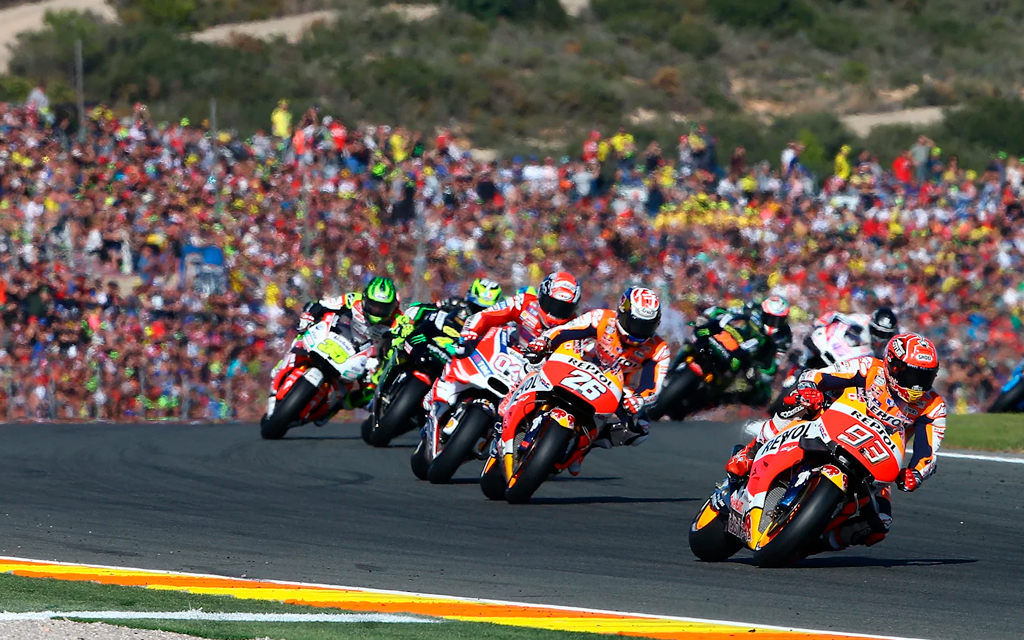 Word of warning, after watching this you'll be looking up how to get into motorcycle track days and how to start motorcycle racing.
This movie is recommended if you love track days and motorcycle racing.
Did We Miss Any?
There you have it! We believe these 9 movies all encapsulate some of the things we love about riding: the sense of adventure, road trips with incredible landscapes, challenging what's possible, and, of course, some really cool motorcycles.
Are there any films we've missed? Continue the discussion and let us know what your favourite motorcycle movie is on social media (unless it's Wild Hogs, then we're good)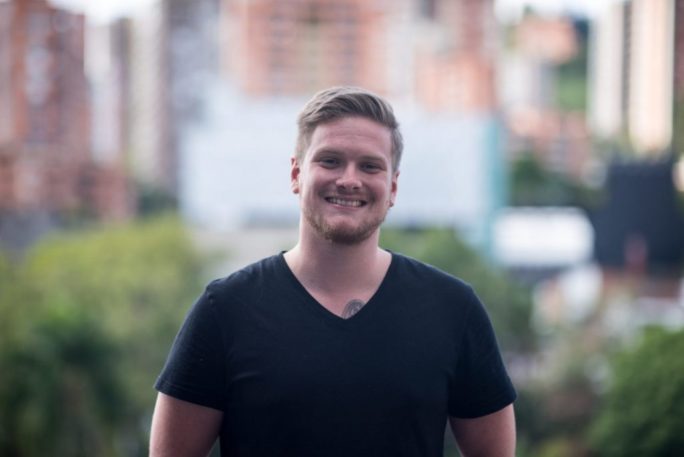 Mark Linsdell
Exploring Vietnam, Thailand and Cambodia on two wheels awoke a passion for motorcycles in Mark. With a degree in Print Journalism, he has written for a number of different industries and publications. However, the subjects that really get him excited are the latest EV trends and the future of electric motorcycles.