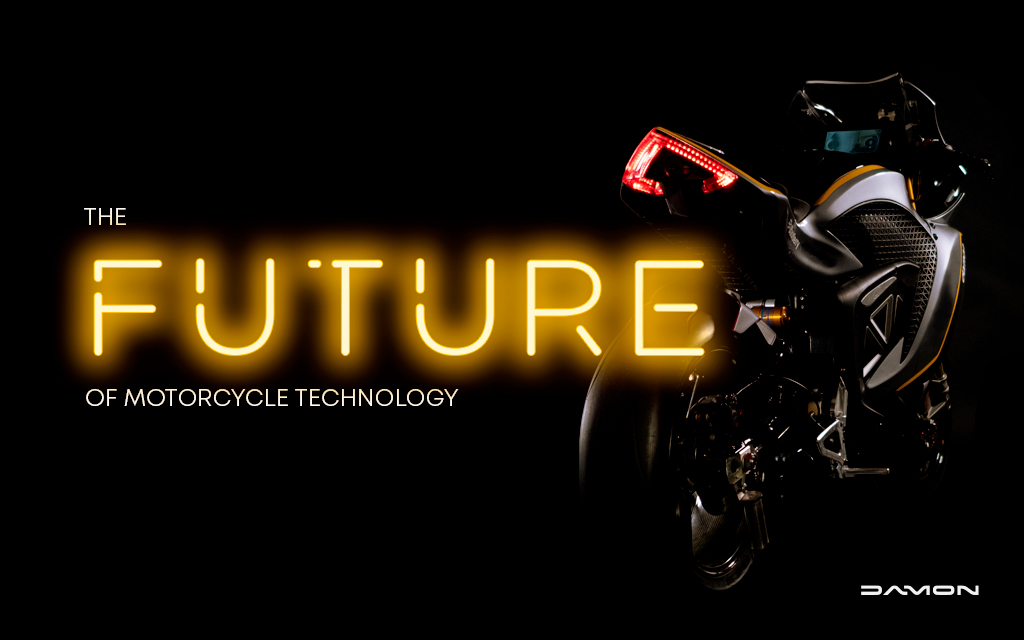 The Future of Motorcycle Technology
With motorcycle technology coming on leaps and bounds in the past five years, it could be argued that the motorcycle of the future is already here.
As the world moves off fossil fuels and big bike brands come out with their own electric motorcycle, it's fair to say that the future of motorcycles is electric. Therefore, we'll be focusing on electric motorcycles only.
The first wave of electric motorcycle offerings were expensive and limited in their riding capacity. However, futuristic motorcycle brands, like Damon, have really pushed the envelope in terms of motorcycle technology. As a result, so many of the predictions we expected for the future of motorcycle technology are already becoming a reality in 2023. Vehicle-to-vehicle (V2V) communications, AI that adapts to each individual rider, shape-shifting ergonomics at the flick of a switch – these are no longer science fiction, they're real.
So, with motorcycle technology already so advanced, what can riders expect in the future? Let's get into it.
Greater Range Across the Board and Reduced Charging Times
When it comes to the electric motorcycle, the age-old criticism is battery life and range. As a result, range is one of the biggest factors experienced riders weigh up when choosing the right electric motorcycle.
The growing number of EV level 2 chargers on the road has been a massive boost to riders of bikes with a typically low range (below 100 miles per full charge). However, a truly futuristic motorcycle should be hitting triple digits for its total range capacity. In fact, you can now find an electric motorcycle with a range of 200 miles for under $28,000 – double the range of a regular ICE motorcycle.
Moreover, the ever-increasing charge times of a futuristic motorcycle are also going to be hugely beneficial to riders. Motorcycles with CCS fast-charging capacity can charge a bike up to 80% in just 45 minutes. And when it comes to battery life, Tesla already claims to be readying a one million-mile battery.
Taking all of these advancements into consideration, it's clear that motorcycle technology is helping electric motorcycles answer that initial criticism of battery life and range. In the future, 200+ mile total range (for both inner city or highway riding), full charges in less than half an hour, and batteries that may outlive the rider will become the norm.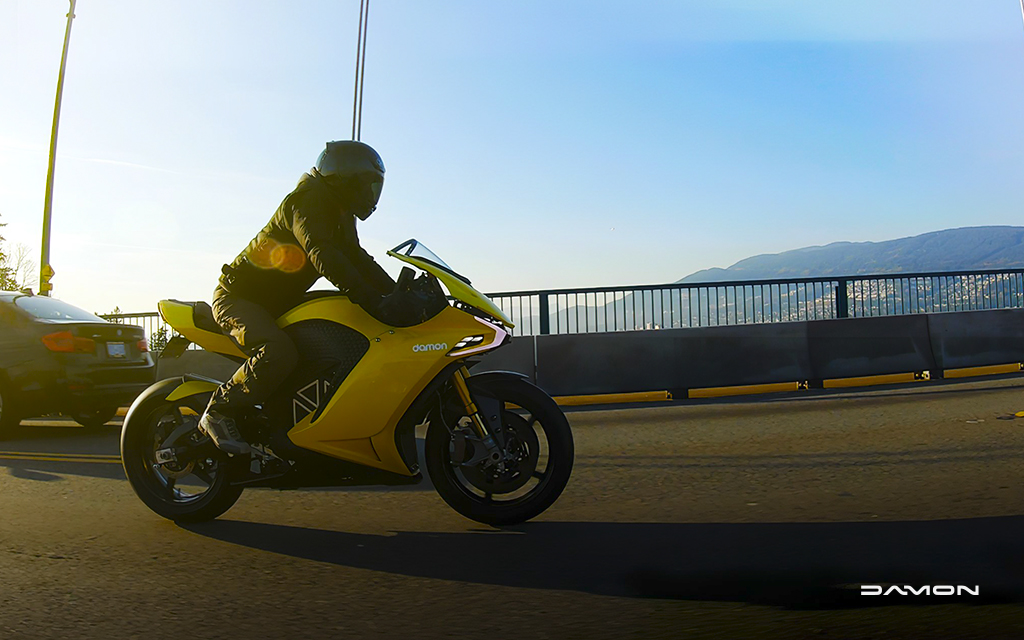 A Greater Focus on Rider Ergonomics
The more advanced motorcycle technology becomes, the better rider ergonomics will become, too.
The correct rider position and seat height improve your comfort, safety, and lessens the chance of fatigue. For example, if an electric motorcycle is your fleet vehicle, you'll knock up some serious miles while on the job. Therefore, being comfortable the entire time is critical. If you're uncomfortable, you're more likely to get tired and that's when accidents can happen.
As a result, electric bike brands are beginning to look towards technological innovation to enable safe motorcycle riding through personalized ergonomics. Here at Damon, this focus led to our Shift™ technology. A feature of all HyperSports, Shift™ allows riders to adjust their footpegs and handlebars just by pressing a button. What's more, these adjustments can be made while the bike is in motion.
Unfortunately, a lot of bike manufacturers – especially sports bike manufacturers – still don't prioritize riding position or ergonomics in their design. If you're looking for a futuristic motorcycle, you should factor this into your decision-making process.
With Damon using motorcycle technology to invest in rider ergonomics as a means of comfort and safety, it's a safe prediction that others will follow suit in the future.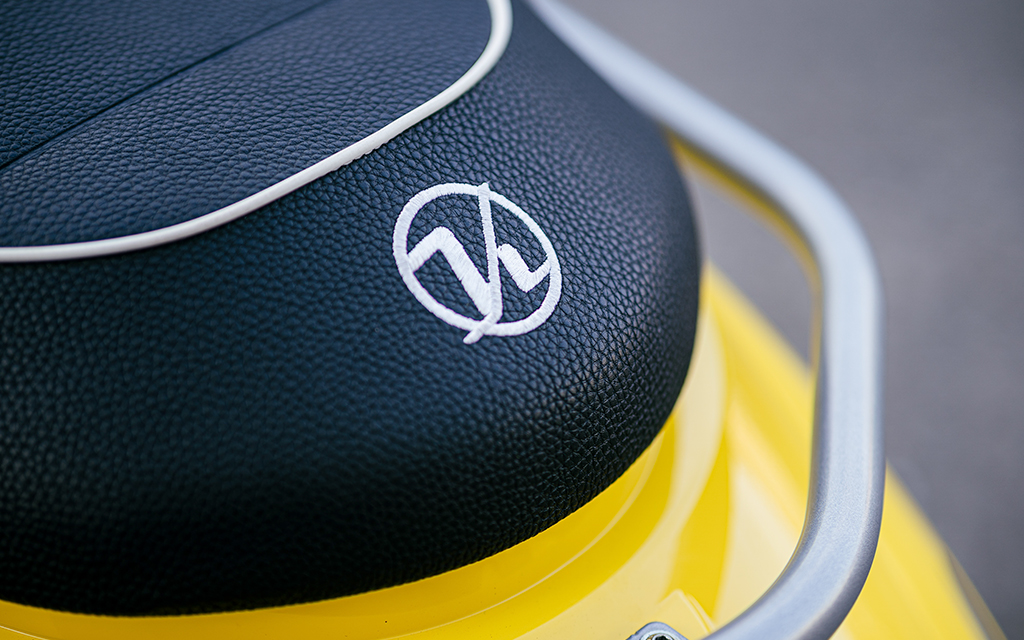 Advanced Security Systems that Give You a Sixth Sense
As aforementioned, innovations in motorcycle technology are helping electric motorcycle manufacturers target rider safety in ways never thought possible.
Although motorcycle fatalities are falling, they're still 28 times more frequent than other fatal crashes. With safety technology advancing exponentially, you can rest assured that futuristic motorcycles will have the best security system possible.
In the here and now, Damon's award-winning CoPilot™ leads the way for electric motorcycle security systems. The 360° Advanced Warning System knows what's around you (up to 64 objects) at all times by tracking and warning riders of danger through a mix of:
Haptic feedback on the handlebars
Integrated LEDs on the windshield
Always-operational 1080p front and rearview cameras
This three-pronged warning system ensures that riders are fully aware of their surroundings and potential dangers at all times. Motorcycle safety will only improve when more bike brands follow Damon's lead and use motorcycle technology to invest in rider safety.
Here's a look at Damon's award-winning CoPilot™ Advanced Safety System:
Interactive Helmets That Connect Riders to Their Motorcycle
It's not just motorcycle technology that will undergo a serious reboot in the future. Motorcycle helmets are also going to become more technologically advanced.
The quiet revolution of motorcycle helmet technology is something that's already exciting riders throughout the world. Smart motorcycle helmets are already equipped with features like:
Bluetooth connectivity
Voice control
Noise cancellation
Front and rearview HD cameras
All of the information picked up from the cameras is displayed in front of the rider's eyes through a head-up display (HUD). In the near future, this new motorcycle technology may allow riders to stream information directly from their smart helmet to their motorcycle's thin-film-transistor (TFT) display.
This is going to be a game-changer for motorcycle safety. A futuristic motorcycle helmet paired with an advanced safety system will make your riding experience safer than previously thought possible.
Designs Will Be Out of This World
Some riders will always hold a special place in their hearts for the old-school cruisers made famous by movies like Easy Rider. However, future motorcycle design looks to be moving into strange, far-out places
At this moment in time, the Johammer J1.200 is an example of an electric motorcycle with a truly bizarre design. However, with concept motorcycle manufacturers always going to be trying to one-up each other, this will unduly continue.
The frontrunner for the quirkiest motorcycle design at this point is the Bombardier Embrio, the world's first electric unicycle. It's not available until 2025, so we'll have to wait and see if they can pull it off.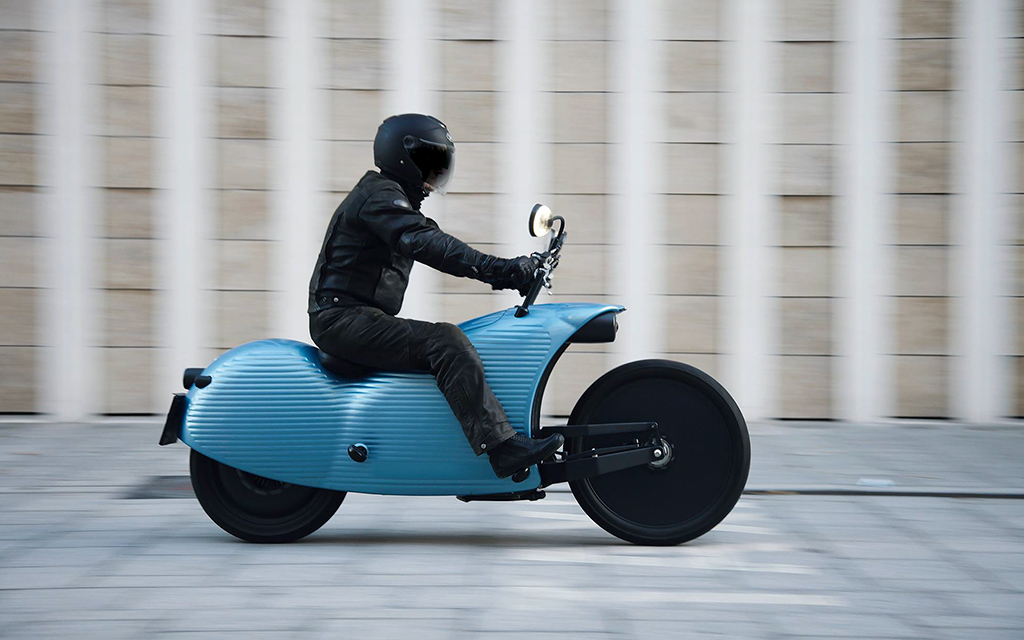 However, in addition to the bizarre, motorcycles will also become sleeker and better looking than ever before, too! Though not groundbreaking motorcycle technology, 3D printing has enabled manufacturers to mass-produce intricate, lightweight designs and frames at a low cost.
As a result, manufacturers are able to tear up the previous design rule book and try out spectacular futuristic designs that bring the old guard into the future.
What Will Be the Next Breakthrough in Motorcycle Technology?
The electric motorcycle as we know it is already undergoing a revolution.
The things we've mentioned here – unbeatable battery range, ergonomic control at the flick of a switch, safety systems that scan 360, and wonderfully unique design – are already here today.
So, when choosing the right motorcycle for you, don't wait another 5-10 years for a futuristic motorcycle.
Tags In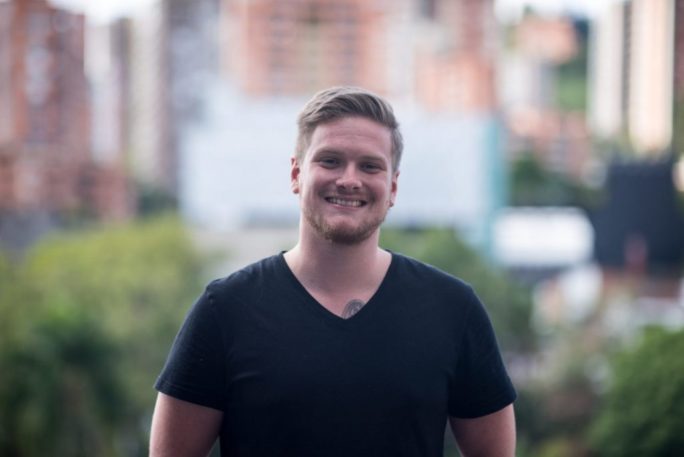 Mark Linsdell
Exploring Vietnam, Thailand and Cambodia on two wheels awoke a passion for motorcycles in Mark. With a degree in Print Journalism, he has written for a number of different industries and publications. However, the subjects that really get him excited are the latest EV trends and the future of electric motorcycles.