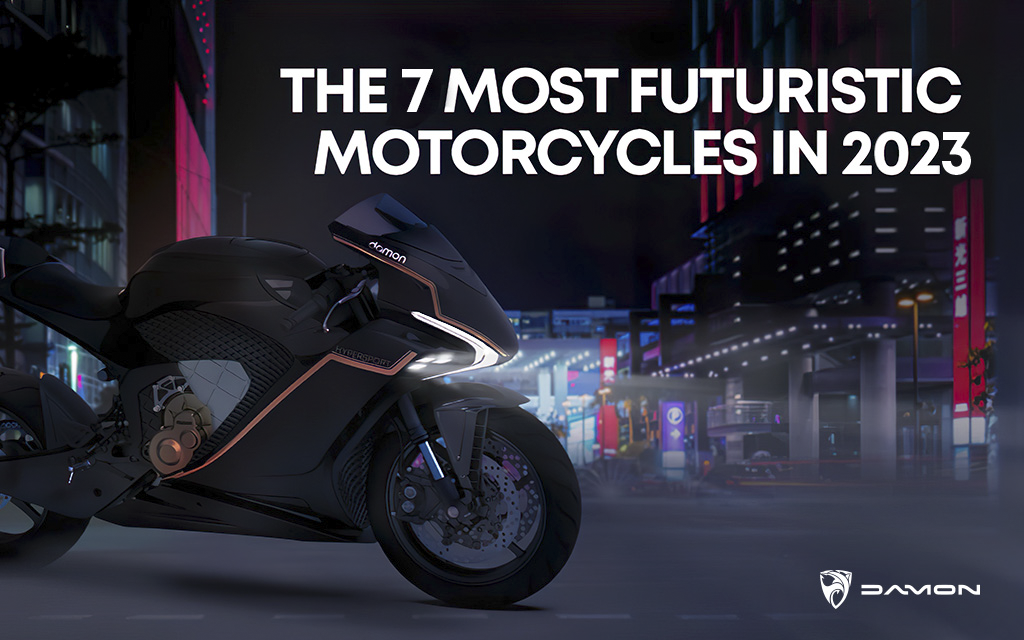 The 7 Most Futuristic Motorcycles in 2023
What comes to mind when you think of a futuristic motorcycle?
AI-assisted safety features? An interactive mobile app integrated into your dash? Over-the-air (OTA) updates? On-the-fly shape-shifting ergonomics? Vehicle-to-Vehicle (V2V) communications? Or a design that turns heads?
If so, the motorcycle of the future is already here.
In 2023, all of these features (and more) are already available in a host of new electric motorcycles. However, with many seasoned players and new & exciting brands releasing their own futuristic motorcycles, it can be difficult to decide which electric motorcycle to go with.
To help you out, we've compiled this list of the 7 most futuristic bikes available in 2023.
Damon HyperSport HS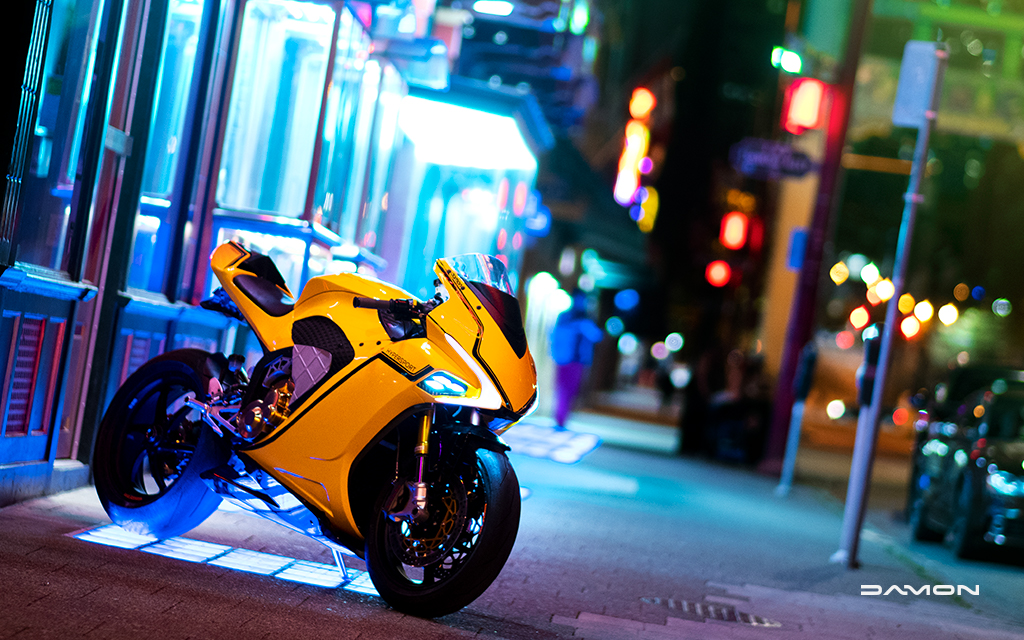 Meet the HyperSport HS; our flagship motorcycle and the motorcycle of the future.
The HyperSport HS hits some heady performance numbers. In fact, like the HyperSport Premier, this futuristic motorcycle is a notable member of our '200 Club':
200 Horsepower
200 MPH (Top Speed)
200+ Miles of Estimated Range (City + Highway Mix)
As you'll see from the other motorcycles on this list, these numbers are revolutionary. Furthermore, like all Damon models, the HS is fitted with Damon's proprietary motorcycle technology.
First off, the HyperSport HS has Shift™ technology. This allows riders to adjust their footpegs and handlebars simply by pushing a button. Motorcycle ergonomics is not usually prioritized by bike brands, especially in electric sports bikes. Therefore, this ability to switch between sport and commute positions – all while in motion – is a game-changer and makes the HS a truly futuristic motorcycle.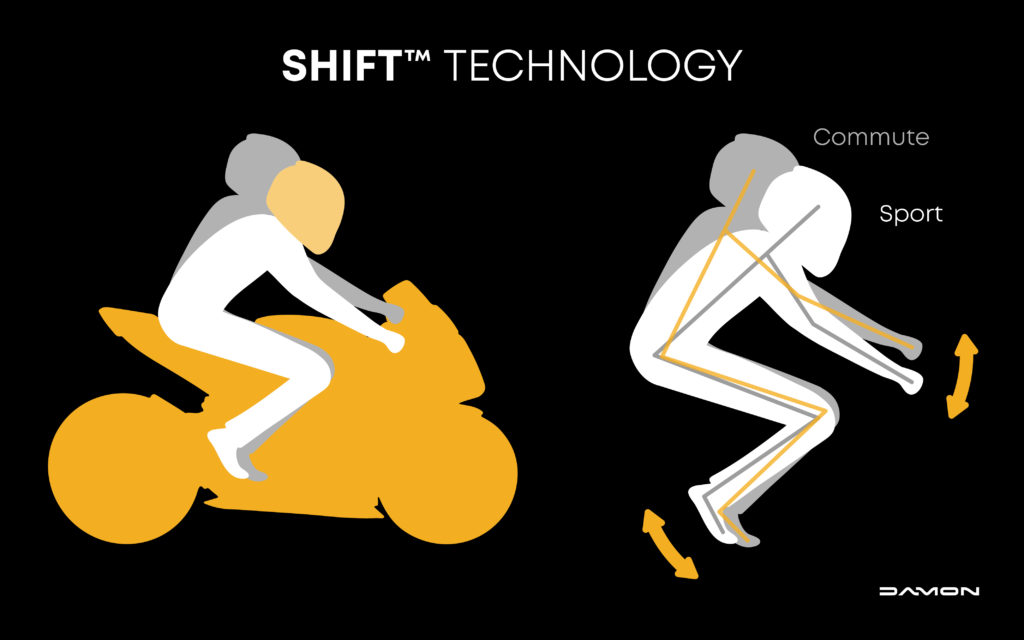 Another factor often overlooked in high-performance sports bikes is rider safety. However, with the assistance of predictive AI, CoPilot™ solves that. The HS's neural net continuously scans up to 64 objects at once. Then, CoPilot™ warns riders of any potential dangers or hazards through multiple warning systems, including:
Haptic handlebar feedback
Integrated windshield LEDs
1080p front & rearview cameras
Long-range radar
The cloud-connected AI engine anonymously collects this data and learns from it, meaning you and your bike get smarter with every ride.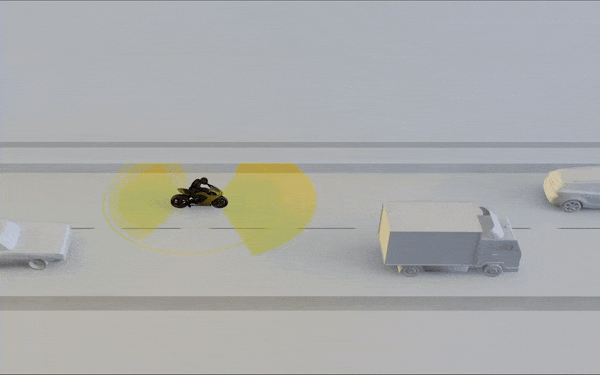 The HS is perfect if you want to go hyper-fast, but want to be safe, comfortable, and look hyper-fly while doing so.
Other Futuristic Motorcycles For Sale
Besides the HyperSport HS, we have three other members of the HyperSport family you can reserve.
HyperSport Premier – The Premier takes the HyperSport HS to the next level. This custom futuristic motorcycle is a limited edition build of the HS. It's uniquely fashioned with top-end motorcycle components, sharp dynamics, and jaw-dropping design.
HyperSport SX – The SX has high speeds of 155 mph and allows you to carve through the freeway in record time. What's more, it's fully kitted out with all of Damon's industry-disrupting motorcycle technology and is available for just $333 a month*.
HyperSport SE – Back to the Future? More like Back to the Commuter. The SE is a futuristic bike that will transform your journey to and from the office. The ultimate sports commuter is ideal for stop-start city traffic.
Still unsure? Compare the different HyperSport versions below: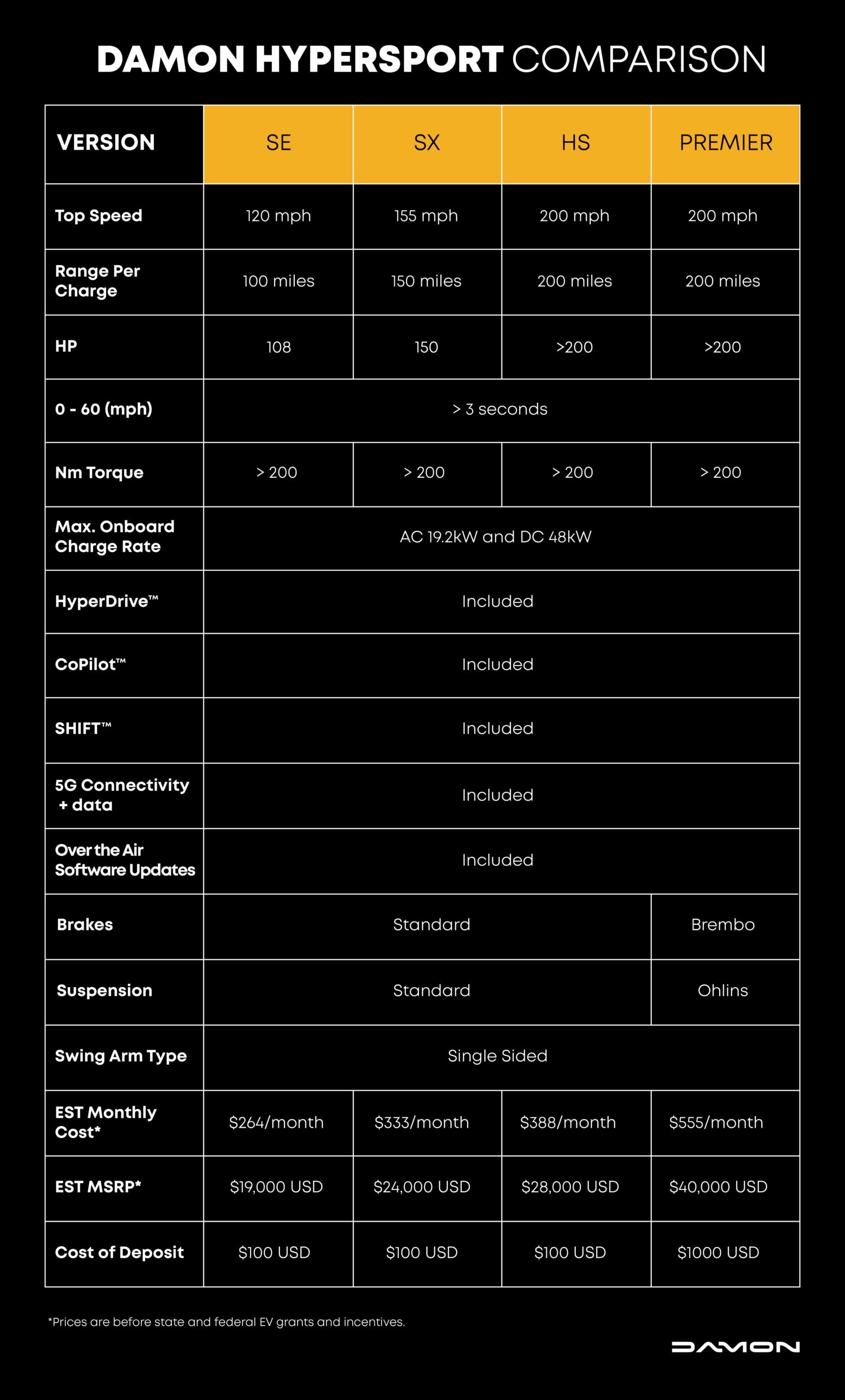 Reserve a Damon HyperSport Here
Energica Ego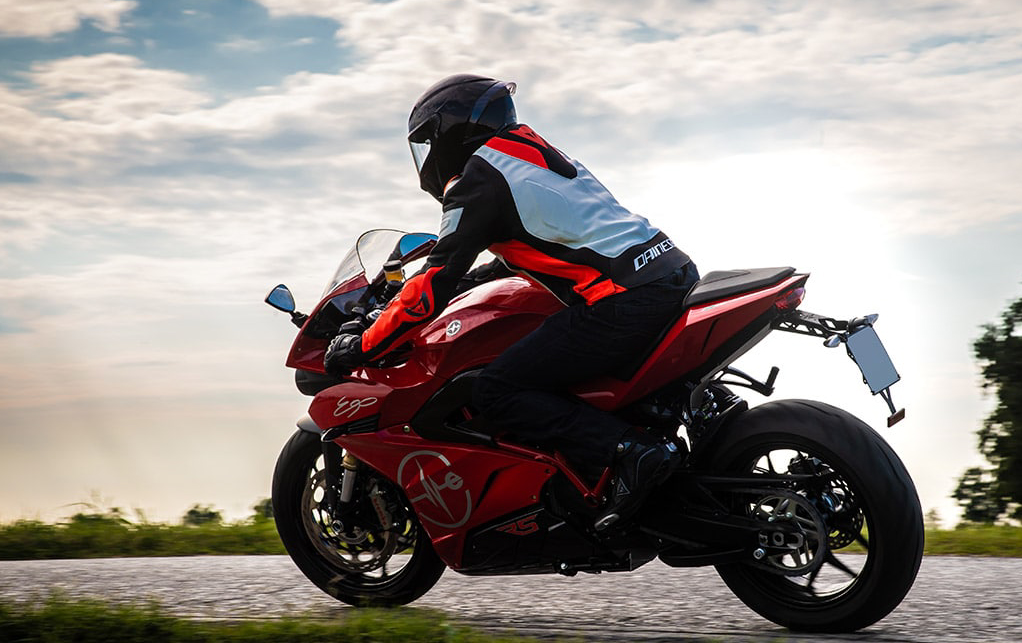 Energica hail from the same town as scooter mainstays, Vespa. That being said, the Energica Ego couldn't be more different from their Italian compatriots.
The Ego's focus is on power, speed, and futuristic motorcycle design. Here are a few of the numbers behind the base version of the Ego's power:
145 horsepower
148 ft-lb torque
150 mph top speed
125-mile range (highway + city mix)
Although not as powerful as the HyperSport HS, these numbers still pack quite a punch. This futuristic motorcycle has an integrated GPS receiver, and through pairing with the Energica app, riders can see where the nearest charging stations are located.
That being said, there are a couple of drawbacks to this bike. Firstly, it only has a total range of 125 miles (highway + city mix). Moreover, due to its heavy battery, it weighs approximately between 569–617 pounds. This is heavy for a sports bike and makes the Ego a difficult motorcycle to maneuver in built-up areas.
Nevertheless, if you want a powerful motorcycle that will turn heads and stroke your 'ego', this futuristic motorcycle might be for you.
Johammer J1.200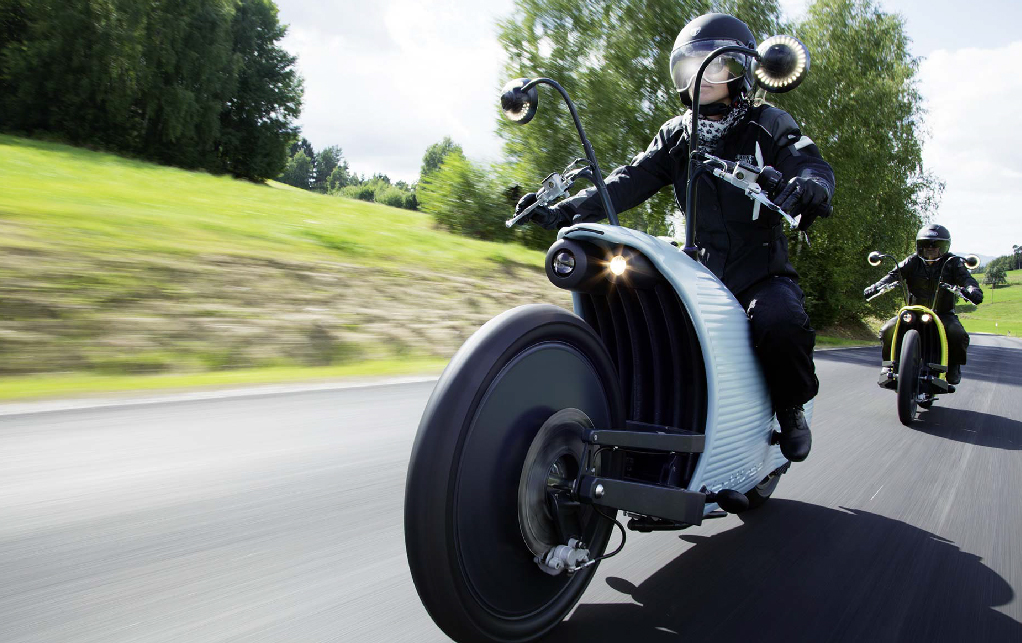 When you picture a futuristic motorcycle, the design may look similar to the Johammer J1.200. This is truly one of the most wild futuristic motorcycle concepts on our list.
Looking like something out of Star Wars, the J1.200's bizarre design is sure to drop collective jaws. However, this bike is not just 'style over substance'.
The Austrian bike manufacturer has equipped the J1.200 with a range of 124 miles and, at only 390 lbs, it is a super lightweight motorcycle. In addition to all of that, it's available in five different colors: silver, white, blue, yellow, and green.
Yet, with a top speed of just 75 mph, the Johammer is more of an electric motorbike than an electric motorcycle. While this is perfect for urban environments or inner-city commuting, it wouldn't be the best for tearing it up on the highway or open roads.
Brutus V9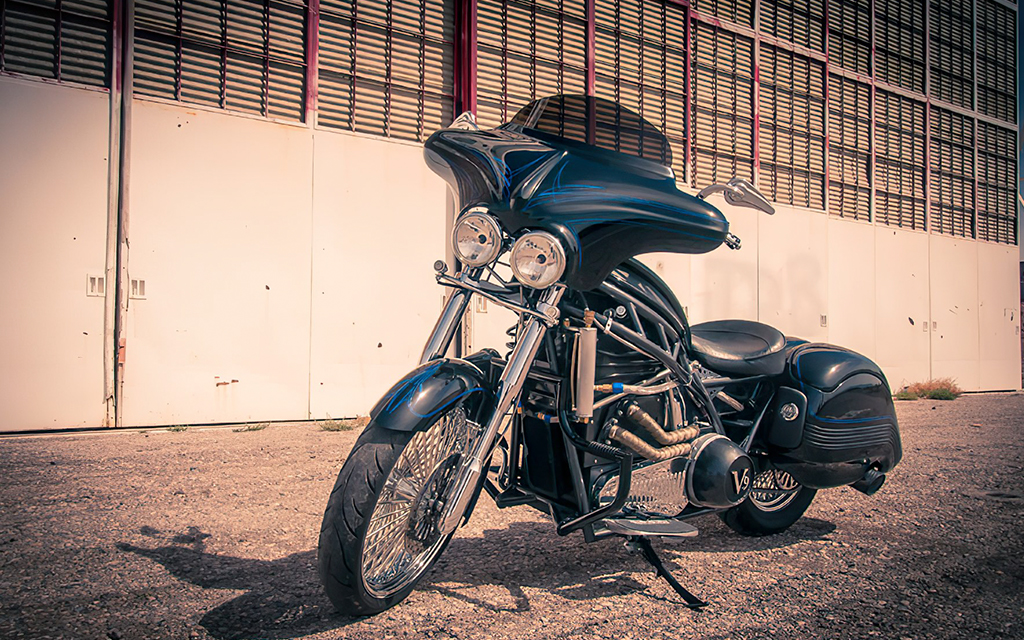 The Brutus V9 brings an old-school design into the future. And while it may not have the most futuristic motorcycle design, the specs of this curvy cruiser help it make the cut as a futuristic bike.
Electric motorcycles in this mold are usually used for long-distance rides and this motorcycle is no different. The Brutus V9 is estimated to have a total range of 270 miles. If confirmed, this truly groundbreaking range may convince Harley heads to ditch large engines and go electric. Moreover, Brutus is also trying to make police fleets greener by offering new motorcycle incentives to local law enforcement.
The Brutus V9 is clearly a great cruiser. Unfortunately, this also makes it quite one-dimensional. The bike weighs a whopping 780 pounds, making it very difficult to lug around in busy commuter traffic.
This bike is clearly a brute. And if that's your thing, you could do a lot worse. However, similar to the J1.200, consider what you would use it for before purchasing.
Damon HyperFighter Colossus
Damon HyperFighter Colossus also brings an old-school concept into the future.
Previously, a streetfighter was the answer to an empty bank account and a sports bike that had seen better days. However, the limited edition Colossus flips that perception on its head.
This electric streetfighter has the no- compromising naked look that streetfighter fans love but brings it into the future with our award-winning motorcycle technology and the kind of specs more akin to a high-performance sportbike.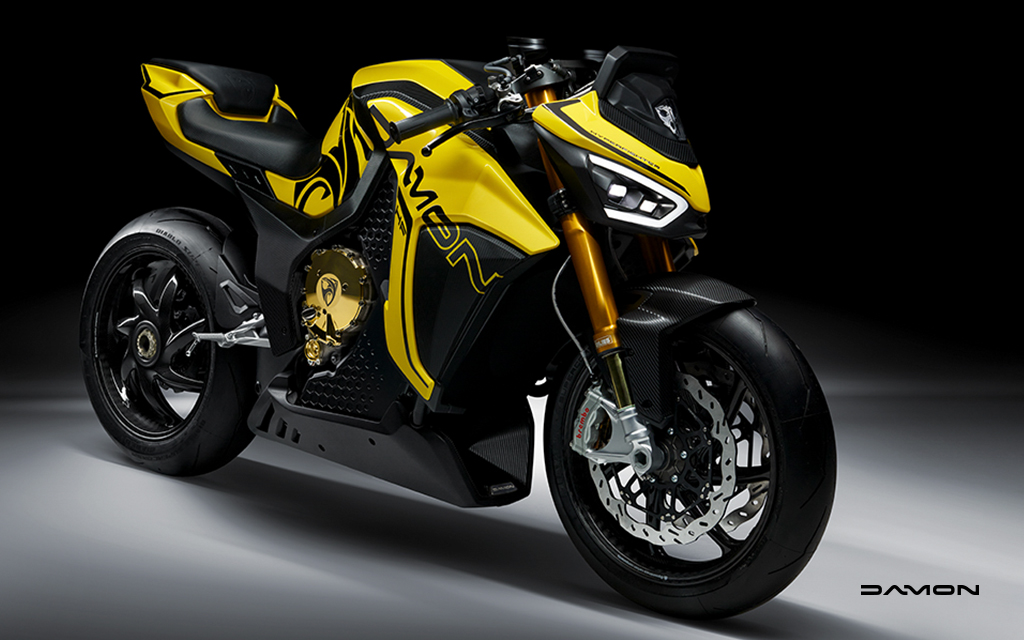 With a top speed of 170 MPH, Colossus is able to reach lightning speeds unseen on an electric streetfighter. For instance, the Energica Eva Ribelle – considered by some to be a leader in the electric streetfighter space – has a top speed of roughly 125 MPH (200 KM/H).
How are we able to do this? It all comes down to HyperDrive™.
HyperDrive™ is the world's first multi-variant electric motorcycle drivetrain platform. We've integrated this high-power battery pack into the structural frame of all of our bikes. This has multiple benefits:
Virtually zero maintenance
Improved weight distribution
Allows us to offer more motorcycle styles quickly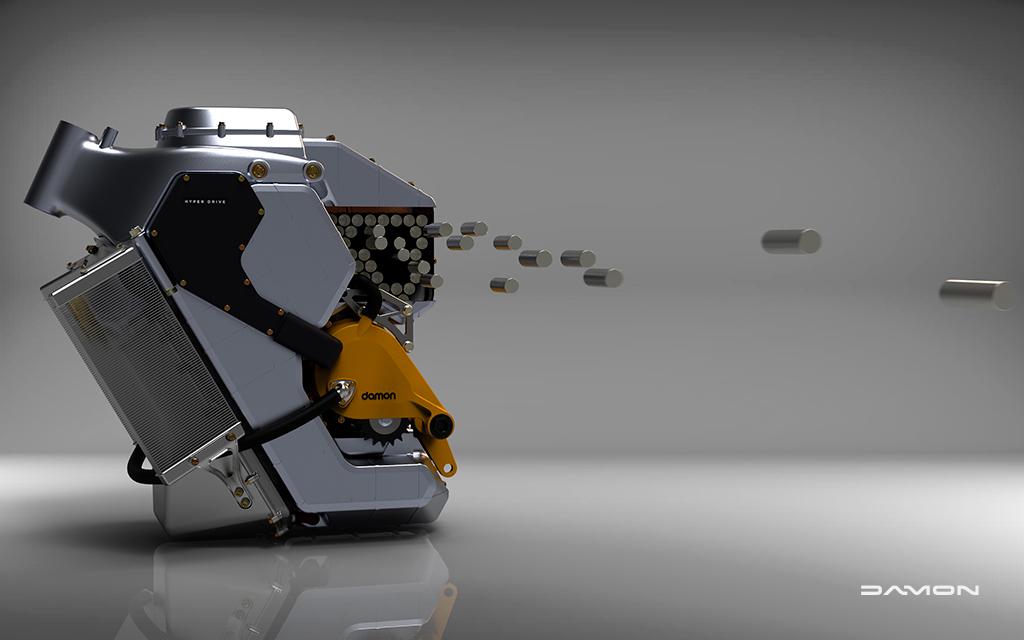 Due to HyperDrive™, Colossus shares 85% parts commonality with the HyperSport Premier. One of the main differences is the total estimated range (city and highway mix) – Colossus (146 miles) has a lower range number than the HyperSport Premier (200 miles).
This is due to a lack of streamlining on the Colossus (as a result of its naked frame) and the expected rider position being more upright on a streetfighter model. These add up to more aerodynamic drag and less range. However, with 200 HP, it makes up for that in raw power.
Compare the different Damon HyperFighter versions.
Zero SR/S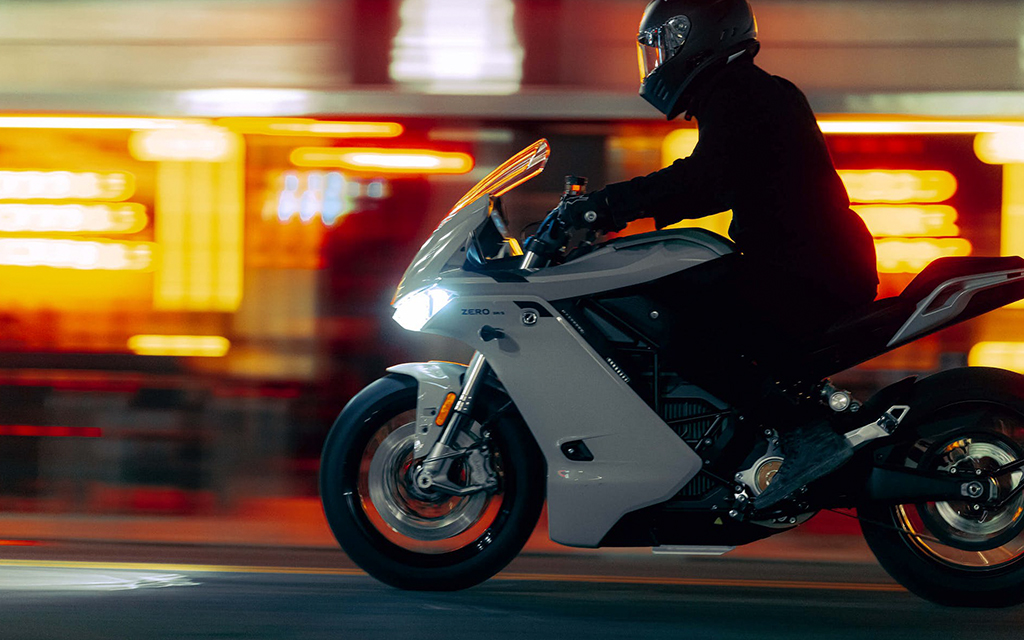 Zero's SR/S is considered an easy sidestep from an ICE motorcycle to an electric motorcycle. Furthermore, its sleek design makes it a must for this list of futuristic motorcycles.
The SR/S is an upgrade from the SR/F. Similar to its sibling, the SR/S features the Cypher III, Zero's operating system (OS). Working alongside the mobile app, Zero's OS is able to communicate ride information, customize bike performance, and get real-time charge estimations. While a great start, there isn't a focus on relaying real-time information that encourages safe motorcycle riding.
Despite this drawback, the Zero SR/S also offers pretty solid numbers across the board:
124 mph top speed
140 ft-lb torque
161-mile range
While these are a little shy of the numbers offered by the HyperSport HS, the Zero SR/S numbers are those of a pretty well-rounded bike that can be used for a variety of different rides.
Arc Vector
Don't call it a comeback! After going into administration back in 2019, things looked bleak for Arc Vector. However, at the start of 2022, the UK-based team of designers and engineers announced they were back in business.
This Cafe Racer electric motorcycle claims to be "the most advanced ever bought to market." While that's up for debate, there's no denying that the exotic materials and components used to create this limited run of 399 motorcycles are the crème de la crème.
In addition, similar to Damon HyperFighter Unlimited 15 and 20, a huge draw of the Arc Vector is its customization options. Every reservation includes a tailoring session with an Arc designer, who will help you find your dream colour and material finish. During this consultation, your measurements are taken so your bike is built to your body. Moreover, you don't only get a bike. This futuristic motorcycle also comes with an Arc Origin Jacket and Zenith HUD Helmet – which are both tailored to you, too.
However, there's a catch; this does not come cheap. An Arc Vector is a cool £90,000 ($122,336* USD).
With 270 miles of range, a total weight of 225 KG, and top-of-the-line components, there's no denying that – should they pull it off – the Arc Vector will be a mighty impressive futuristic bike. However, if you're on a budget, take a sharp turn elsewhere.
Compare the different futuristic motorcycles below: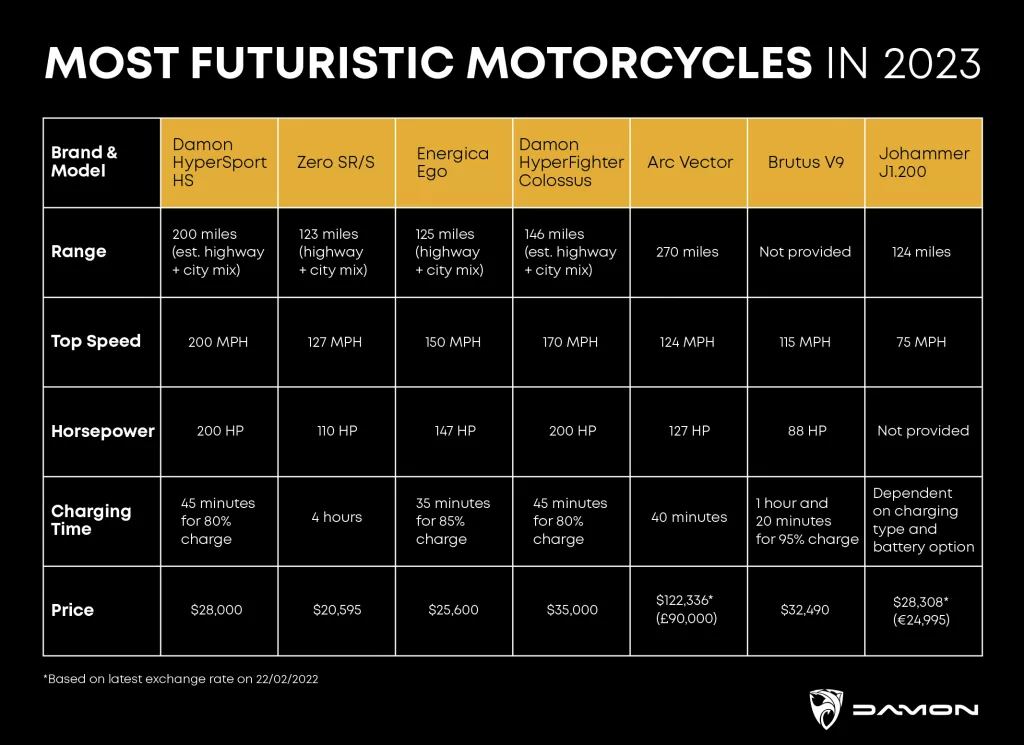 The Future Is Now!
The motorcycle of the future is here today.
An all-electric, futuristic motorcycle that can offer minimal maintenance, maximum rider safety, and a futuristic motorcycle design is no longer science fiction but truly a reality.
Whether you're looking for a touring motorcycle, an inner-city commuter, a head-turner, or a little bit of everything, Damon has a model uniquely suited to your riding needs.
*Estimated monthly cost based on a 36-month subscription plan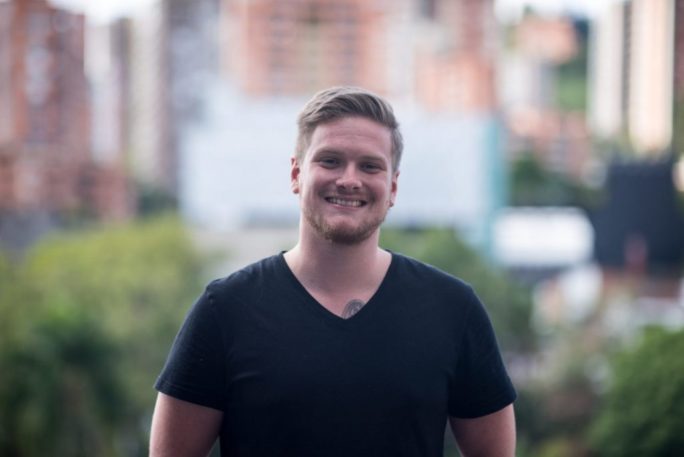 Mark Linsdell
Exploring Vietnam, Thailand and Cambodia on two wheels awoke a passion for motorcycles in Mark. With a degree in Print Journalism, he has written for a number of different industries and publications. However, the subjects that really get him excited are the latest EV trends and the future of electric motorcycles.