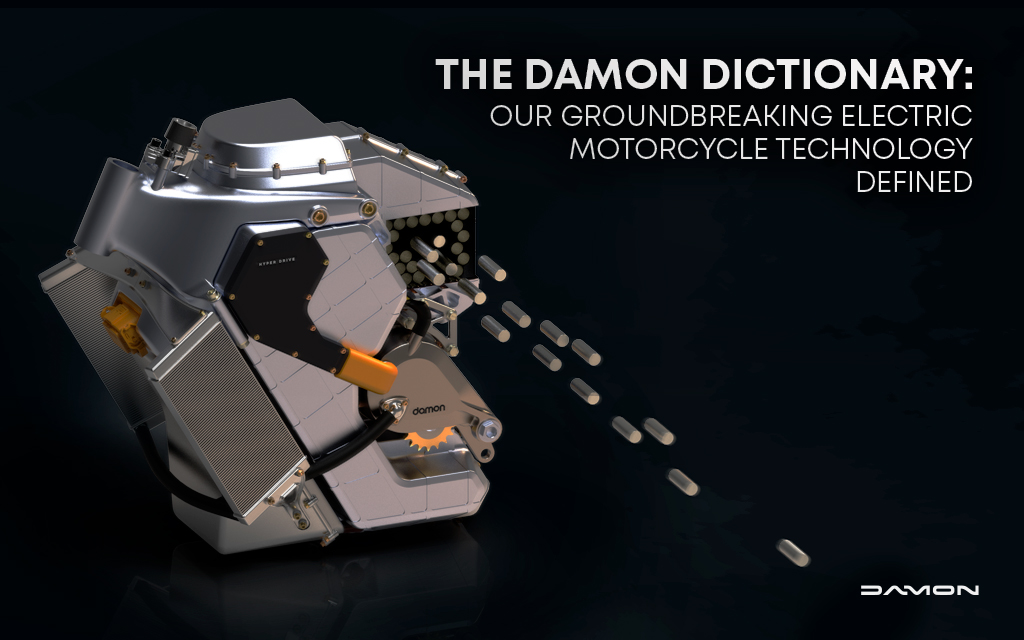 The Damon Dictionary: Our Groundbreaking Electric Motorcycle Technology Defined
Here at Damon, we're building the motorcycle of the future, today. This may seem like an audacious claim, but our electric motorcycle technology backs up this mission statement.
That being said, with so much of our novel technology being rapidly introduced to the industry, it can be difficult to know your HyperDrive™ from your haptic handlebars.
That's why we've put together this handy Damon dictionary. It will break down all of the technology we've incorporated into our HyperSport motorcycles. Let's get into it!
HyperDrive™: The World's First All-Electric, Multi-Variant Powertrain Platform
The newest technological advancement we've announced at Damon is HyperDrive™, the world's first all-electric, multi-variant powertrain platform.
In the past, a new motorcycle likely equaled a new powertrain. Bike brands viewed this as the status quo and didn't consider an alternative. However, we didn't accept it. As a result, we've made this monocoque-constructed powertrain platform the core of all our motorcycles. This means that whether you're riding an SE or a Premier – HyperDrive™ will be the foundation of your two-wheeled wonder.
Take a look at how the SE, Premier, and the other Damon HyperSport Versions compare below: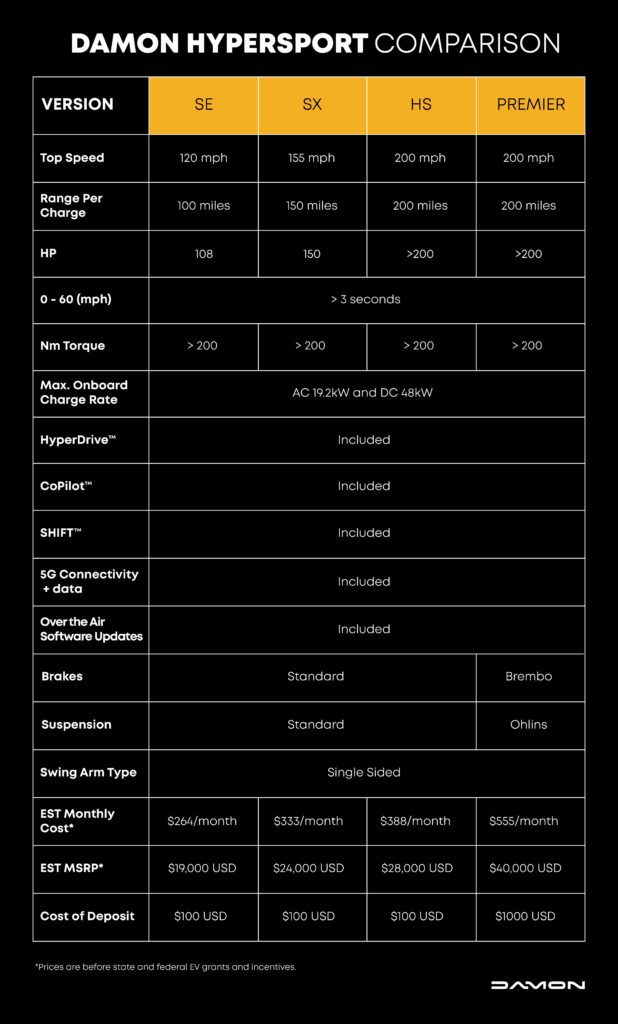 HyperDrive™ also tackles a long-time stigma attached to electric motorcycles – their weight. It's true that the first electric motorcycles broke the mold. That being said, they also broke the scales. This made them difficult to handle and inaccessible to a lot of riders. Our powertrain platform uses the battery cells and battery as a structural element of the bike. In turn, our HyperSport motorcycles are kept lightweight.
Finally, at 450 nominal volts, HyperDrive™ is an all-electric powertrain platform. What's the benefit of this? Well, as anyone who has ever owned an ICE motorcycle will tell you, there's a lot of maintenance. Volatile carbon-rich fuel, tanks, fuel injections, valves, pistons, rings – there's always something that needs tweaking. Our electric motorcycle powertrain enables riders to take off their tool belts and put on their motorcycle gear. Less maintenance = more riding!
As you can see, this ball of energy is going to send shockwaves throughout the electric motorcycle industry.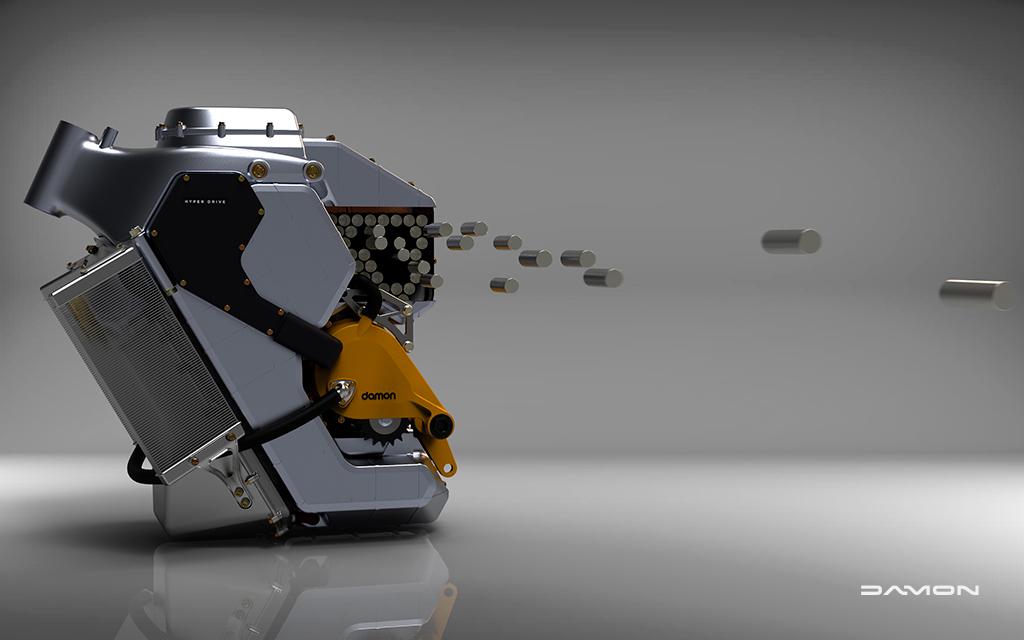 CoPilot™: 360º Advanced Warning System for Motorcycles
Forward collision warning (FCW) systems are becoming increasingly common for cars and drivers. However, an Advanced Warning System for Motorcycles (AWSM™) equivalent has long been something riders could only dream of. Until now.
Our award-winning 360º AWSM™ gives riders unrivaled situational awareness. This has been long overdue. In the US, the number of cars on the road greatly eclipses the number of electric motorcycles. As a result, even if you adhere to safe motorcycling principles, drivers will not be as aware of you as you'd like. This results in motorcycle-related accidents or fatalities.
CoPilot™ offers you a full 360º picture of all the unseen dangers around you. Our onboard neural net scans your surroundings and alerts you to potential hazards in a few ways, including:
Haptic feedback on the handlebars
Integrated windscreen LEDs
Always-on 1080p front & rear-view cameras
Long range radar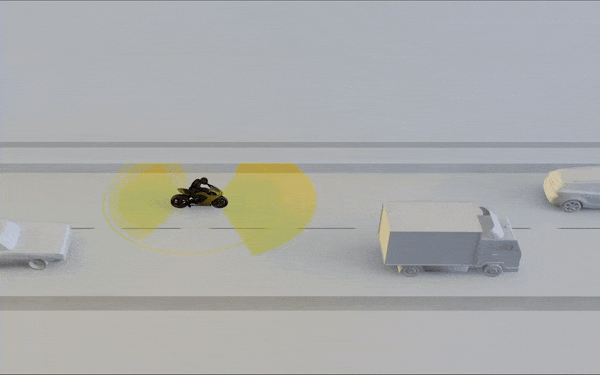 Moreover, all the alerts you receive are sent directly to our motorcycle AI engine and into the Damon cloud. After that, this data is analyzed and fed back into all Damon motorcycles in a neat little information loop. What does this mean? Well, it means that the more our riders ride, the smarter and safer our motorcycles become.
CoPilot™ keeps us on track with our goal of ensuring there are no fatal accidents on any of our motorcycles by 2030.
Shift™: On-the-Fly Adjustable Ergonomics
The importance of motorcycle ergonomics should not be taken lightly. Anyone who has ridden a bike that doesn't fit them or has been found clutching their back after a long ride knows when we're talking about it. There are several factors that affect your comfort on a motorcycle, but it only takes one to be compromised to risk injury or an accident.
That's where Shift™ comes in.
At the push of a button, you're able to switch between comfy commuter to badass sports rider positions – all while in motion. Shift™ enables our bikes to adapt to you, not the other way round. This is a game-changer for the motorcycle industry. In the past, if you had any problems with motorcycle ergonomics, you would have to solve them with aftermarket parts. However, this comes at a price (literally). Firstly, you would have to buy the parts and then spend more to get them installed. The worst part? There are no guarantees they will actually work the way you'd hope.

With Shift™, there's no messing around trying to bend your motorcycle to your will. This exciting electric motorcycle technology is flexible to your bike – and your back – as soon as it rolls off the production line.
Which of Our Bikes Include These Features?
All of them!
We want all of our riders to be able to access our groundbreaking electric motorcycle technology. So, while the HyperSport Family differs in areas such as range, horsepower, and top speed, our proprietary technology is available across the board.
We hope this Damon dictionary has helped you learn your ABCs on all things related to our technology. If you want to try it out for yourself, why not apply for a test drive today?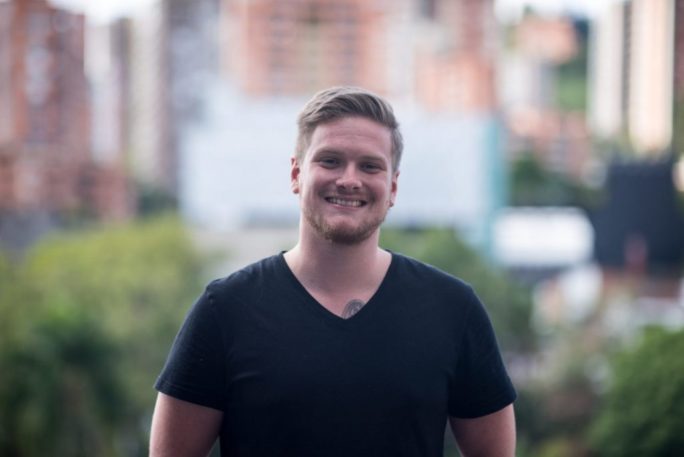 Mark Linsdell
Exploring Vietnam, Thailand and Cambodia on two wheels awoke a passion for motorcycles in Mark. With a degree in Print Journalism, he has written for a number of different industries and publications. However, the subjects that really get him excited are the latest EV trends and the future of electric motorcycles.