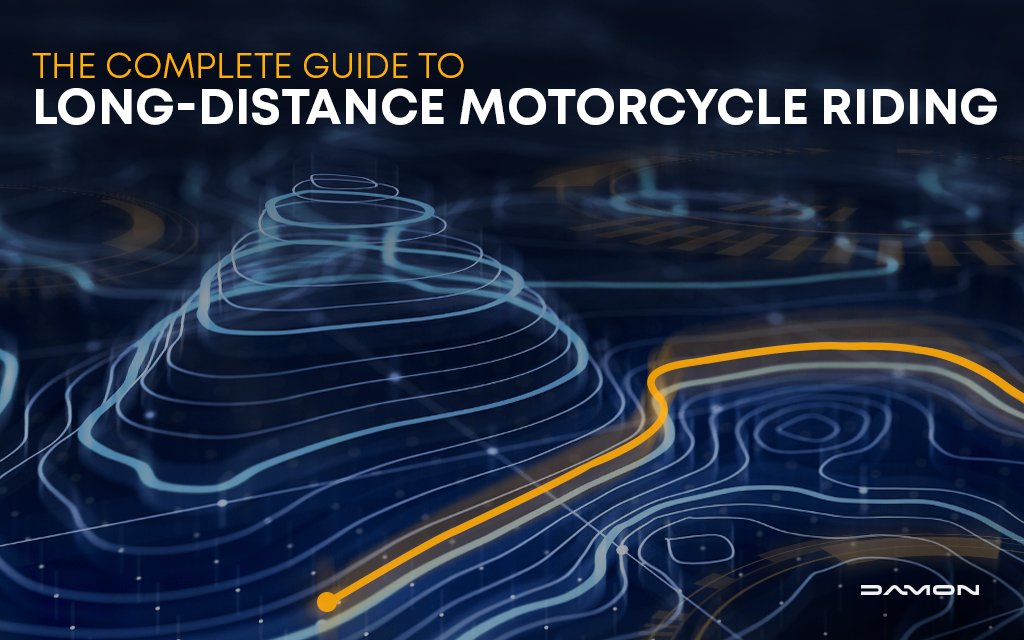 The Complete Guide to Long-Distance Motorcycle Riding
Long-distance motorcycle riding is not for the faint of heart. Taking your bike to and from the office is one thing, but straddling two wheels for long hours over multiple days is a whole different kettle of fish. Therefore, you can't go into touring without a plan, an idea of what to expect, and an arsenal of tips for long motorcycle trips.
With that in mind, we've put together the essential guide to long-distance motorcycle riding. After reading this, you'll have more confidence to make your road trip both successful and memorable (for all the right reasons).
Remember to Be Flexible
Before we get into it, we're going to give you the number one rule of long-distance road trips: be flexible.
Of course, you're going to need a plan. However, plans change. It doesn't matter how good your plan is, there's always the potential for complications, including:
Weather complications
Traffic
An unexpected get-off
General riding fatigue
As a result, always leave a little wiggle room in your plan. Whether this be for the above or for a kitsch sightseeing opportunity ('Ostrich World' anyone?) – remain open-minded about your riding schedule.
Motorcycle Touring Preparation: How to Get Ready
Now that we've got the number one rule out of the way, here's what you need to get this show on the road.
Plan Your Route
To begin, it's always important to know where you're looking to go and the best route to take.
Seems obvious, right? Well, yes. But this essential first step will determine everything you need to learn, prepare for, and pack for your road trip. This will also allow you to plan out your daily riding goals, as well as your breaks along the way.
PRO TIP: It's best to stop for meals during quieter serving time. That way, you're not wasting valuable riding time waiting for food. So, in the lead-up to your trip, practice eating breakfast between 10 am and 11 am or lunch between 2 pm and 3 pm.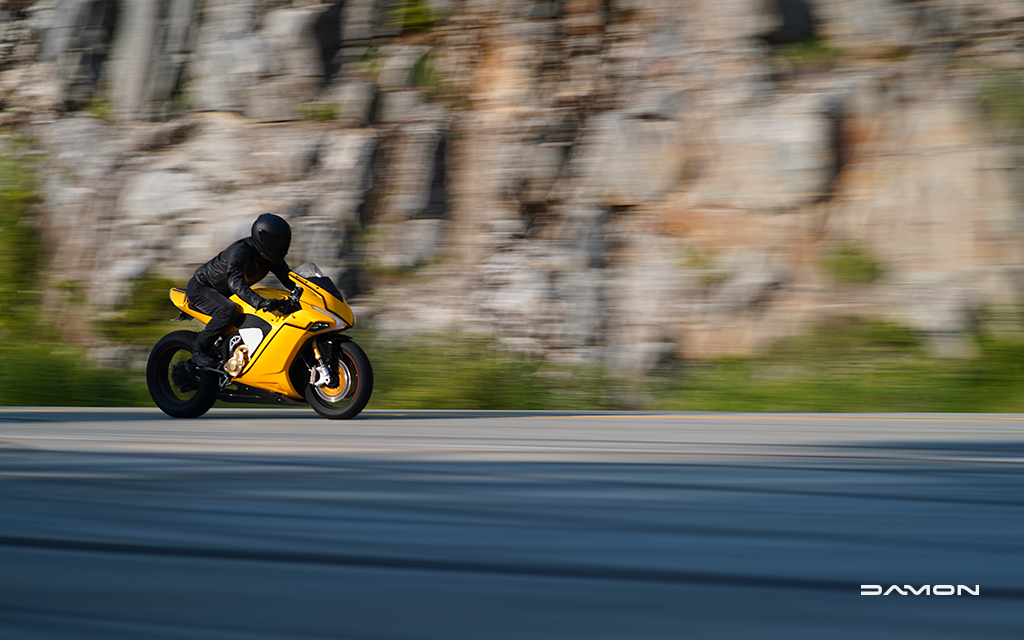 Build Riding Stamina
You can't go from commuting mode to touring mode overnight. Moreover, if the extent of your riding is a leisurely ride every weekend, you're going to need to build up some riding stamina.
We recommend slowly building up your stamina in the weeks leading up to your trip. So, one day, go 50 miles. Next weekend, go up to 100. The weekend after, crank it to 150. And so on and so on. Keep doing this until you feel comfortable covering a substantial amount of miles in one day.
This will get you accustomed to longer distances and give you the chance to test out various luggage set-ups before you set off (more on that later).
Focus on Your Own Level of Fitness
In addition to building your riding stamina, you need to work on your own stamina. Long-distance motorcycling is both mentally and physically taxing. Therefore, you should get into good shape before hitting the road.
However, you don't need to get shredded or look like an extra in Magic Mike. A good level of cardiovascular fitness and endurance will put you on the road towards a successful tour.
The knock-on effect of improving your fitness is that it will help you maintain focus and concentration and, therefore, improving your motorcycle safety. On top of that, you'll have more energy in between rides, too!
PRO TIP: Don't stop there! If you want to feel fresh and alert on the road, you should also work on improving your sleeping and eating habits. We recommend installing a sleep app and eating more mindfully before your trip.
Refine Your Motorcycling Set-Up
While you're building up your riding stamina, it's worthwhile fine-tuning and refining your motorcycling luggage set-up.
Here are some of the different motorcycle bags and luggage options you may want to test out or consider for your road trip:
Pannier
Top box
Tank bag
Tail pack
Leg waist belt
This will allow you to get used to riding with luggage and will give you an idea of what your final packing list will look like.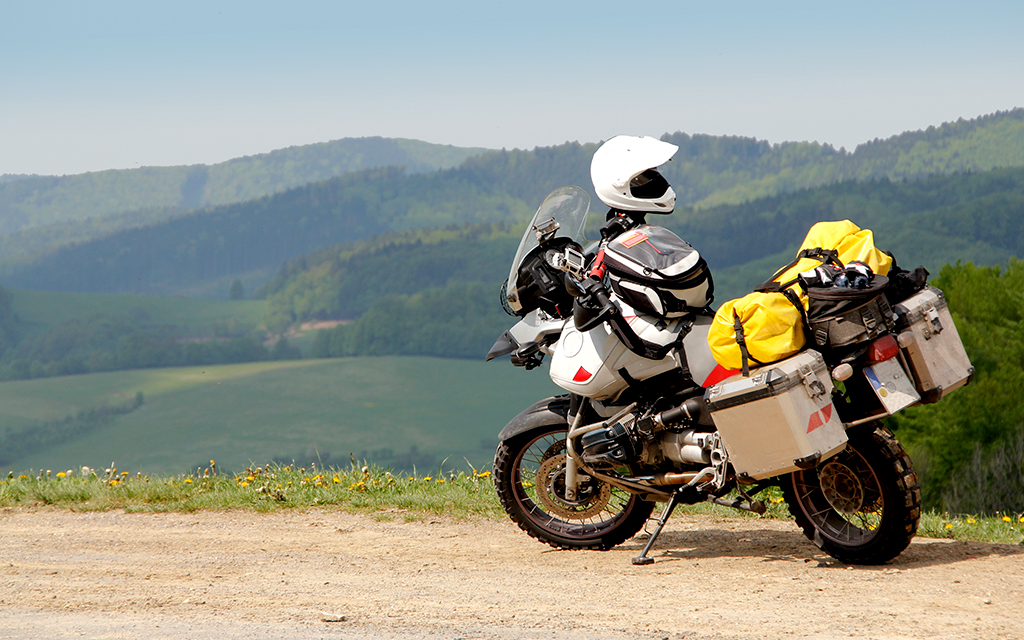 Get a Final Packing List Together
In order to land on your final luggage set-up, you'll need to put together a final packing list in addition to a general checklist to make sure you and your bike are tour ready.
There are a lot of variables that go into both of the above, and they will differ depending on:
The length of your trip
The conditions you're riding in
Your accommodation along the way
Your weight and your bike's weight (and the weight of any passengers)
It sounds complicated, but it really isn't. You just need to get organized and prepare early on.
Tips for Long Motorcycle Trips: What to Know When You're on the Road
Start your engines! Now you've got everything ready, here are some tips to follow while on the road.
Start Early
Long-distance motorcycle trips mean early starts. This can be challenging if you – or members of your party – aren't morning people. However, it's in your best interest to use all the hours of daylight available to you.
Early mornings mean you'll be able to cover more asphalt and give you a window to be flexible.
Take Smart Breaks
There are lots of different types of breaks you may take while on a long-distance motorcycle road trip – these could include:
Lunch breaks
Coffee breaks
Water breaks
Stretching breaks
Bathroom breaks
Refuelling or recharging breaks
A bad habit a lot of riders fall into is thinking these need to be done separately. Far from the truth. We would recommend combining all of these.
The perfect place to do so? A motorcycle service station. A stop allows you to quickly refuel, eat/drink, go to the bathroom, and stretch your legs all within the shortest time possible.

PRO TIP: If you're riding an electric motorcycle, you'll need to plan out where you're going to charge up before hitting the road. We recommend bookmarking some electric vehicle charging stations on your route through the PlugShare website – preferably ones where you can grab a quick bite.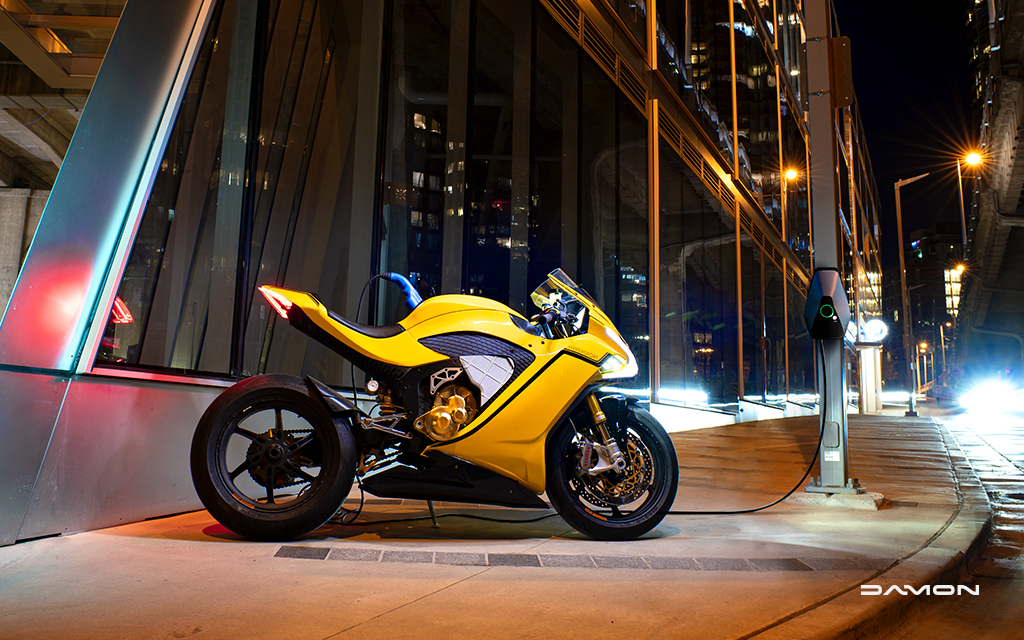 Eat Little and Often
As mentioned above, you want to have multiple quick bites while on the road. By that, we mean eating small amounts frequently.
We get it. When you've been riding all morning, it's tempting to have a huge lunch and a cold beer. However, you will not thank yourself when it comes to your afternoon riding – you'll end up too full and lethargic.
Save your big meal – and that brewski – for the evening, after you've finished riding.
Drink Lots of Water
We can't stress how important it is to remain hydrated during a cross-country motorcycle trip. Think of it this way, would you run a marathon without drinking a lot of water? Of course not! The same applies here.
Long-distance riding is also a marathon, you're just using two wheels instead of two legs. What's more, if you're touring during the summer, wearing full leathers, and sitting above a hot engine all day – you're going to sweat a lot! That water needs to be replaced.
However, much like eating, you don't want to chug a couple of liters of water in one go! It's better to continuously drink small amounts while on the road. The easiest way to stay hydrated en route is to pack a water bladder, keep it filled up, and position the hose close to your mouth.
Aid your Hydration With Electrolyte Supplements
As anyone who has ridden in very hot climates will tell you, it's normal to drink up to 5-6 liters of clear stuff a day.
However, that's easier said than done and you don't want to fall into a situation where you're lacking in salts. Therefore, we recommend packing some electrolyte drinks or tablets as an extra precaution.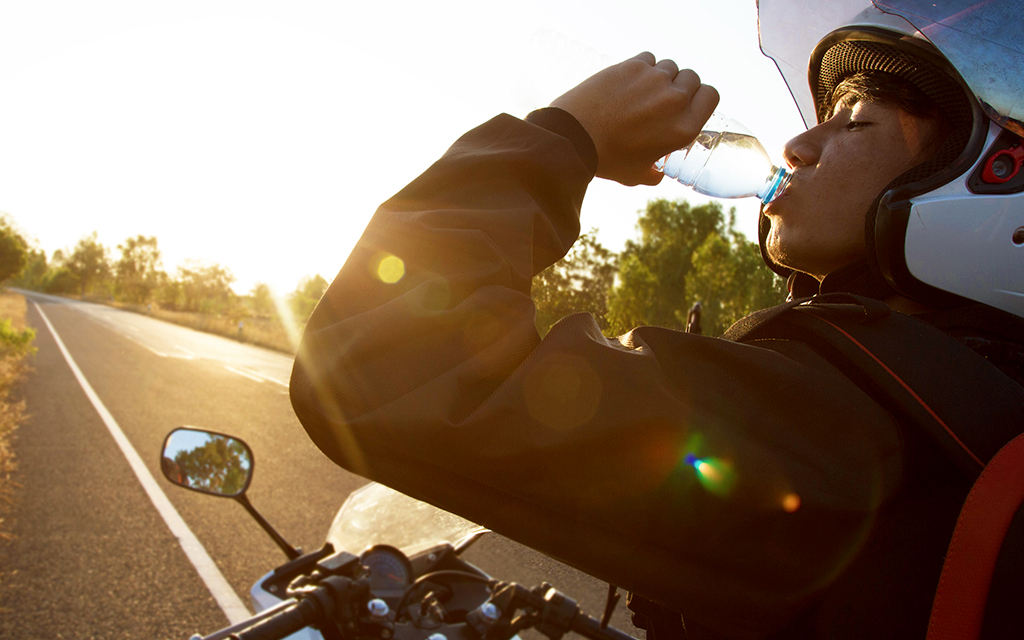 Drink Less Coffee
Caffeine is one hell of a drug. A cup of joe gives us that much-needed jolt in the morning and, on the road, it's no different.
That being said, even if you're a caffeine-lover, we recommend keeping an eye on your caffeine intake during your road trip. If you have too much at once, you'll go from being wired to having a monumental energy crash. This will both affect your enjoyment of the ride and dull your senses, potentially resulting in you making mistakes while riding.
If in doubt, always go for water over coffee, tea, or energy drinks!
Wear Earplugs
While we believe you should wear earplugs every time you ride, you especially need them for the long distances you'll be covering.
Consistent engine, traffic, and wind noise can not only damage your long-term hearing, but they will also sap your energy levels, give you headaches, and affect your sleep while on the road. So, do yourself a favour, and invest in some high-quality earplugs.
Take a look at some of the motorcycle earplugs we recommend in our blog on must-have motorcycle gadgets.
Be Ready For Flat Tires
Punctures are predictable. You can never be sure when a flat tire will occur, so make sure you're ready for it.
Therefore, we recommend you keep a small repair kit and an inflation tool (pump or CO2 cartridges) somewhere easy to access in your road trip luggage. Furthermore, if you have tubed tires, be sure to remember spoons and have some way of raising your bike.
Change Tires Before the Trip
If you're going on a really long journey or heading on a tour with challenging road conditions and elements, it may be worth changing your tires.
With motorcycle tires of over 5 years, it's recommended you do an annual inspection, while motorcycle tires of over 10 years need replacing. However, you know your tires and your rides!
You should visually inspect your tires, the depth of the threads, and any damage caused by impact or unusual wear and tear. If in doubt, get an inspection ahead of your trip. However, if your tires are around the 5-to-10 year mark, consider treating yourself to some new ones ahead of your trip.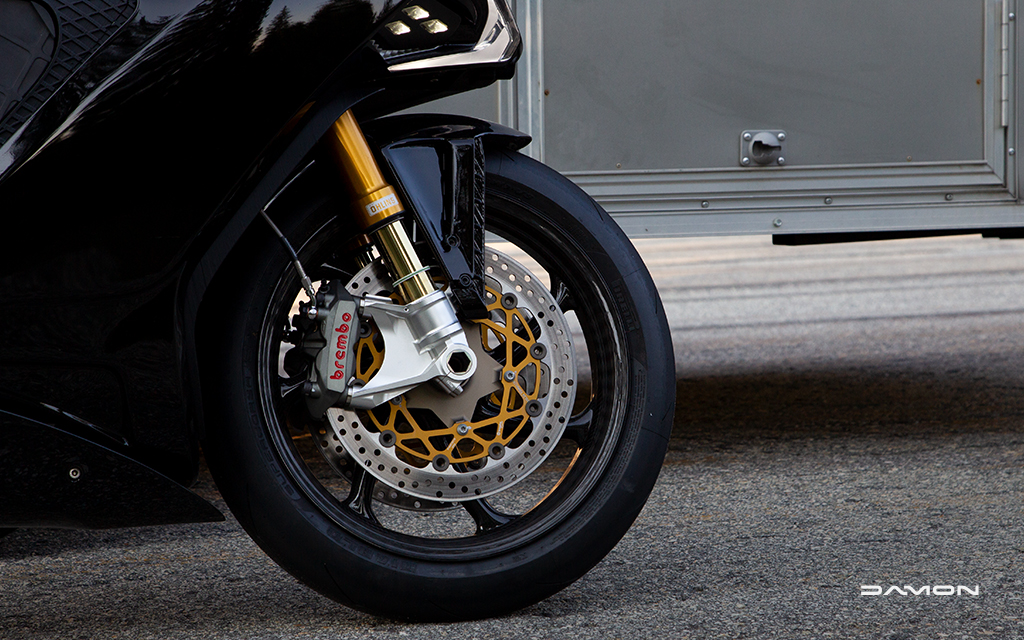 Our Final Tips for Long Distance Motorcycle Riding
Just to be sure you've dotted all the i's and crossed all the t's, here are some final tips to ensure your motorcycle tour is a complete success.
Choose Your Riding Crew Wisely
You don't want to be halfway on your trip and realize your riding buddies don't share your riding style. This will end up causing friction and arguments in the groups and can lead to a big motorcycle touring no-no: riding angry.
Riding angry not only stops you from enjoying the road trip, but also puts you and others at risk. Your attention will end up on how often the other rider wants to stop or how late they wake up, instead of the road!
So have a serious think about who you go with and if you have the same riding style or goals. And, if you and your motorcycle riding community are on a different page, you can always ride solo!
Let Others Know Where You're Heading
If you do decide to ride alone, it's a good idea to let people close to you know your itinerary.
When you're on a long motorcycle journey, chances are you'll be riding through unfamiliar territory. However, by letting friends and family know where you're heading, in the unlikely event that something goes wrong, you can rest easy knowing they'll know where to find you.
Moreover, due to the wonders of modern technology, there are multiple apps where you can plot your ride and where others can track your progress in real-time.
How in-depth you decide to go is up to you, just be sure to let others know where you're heading!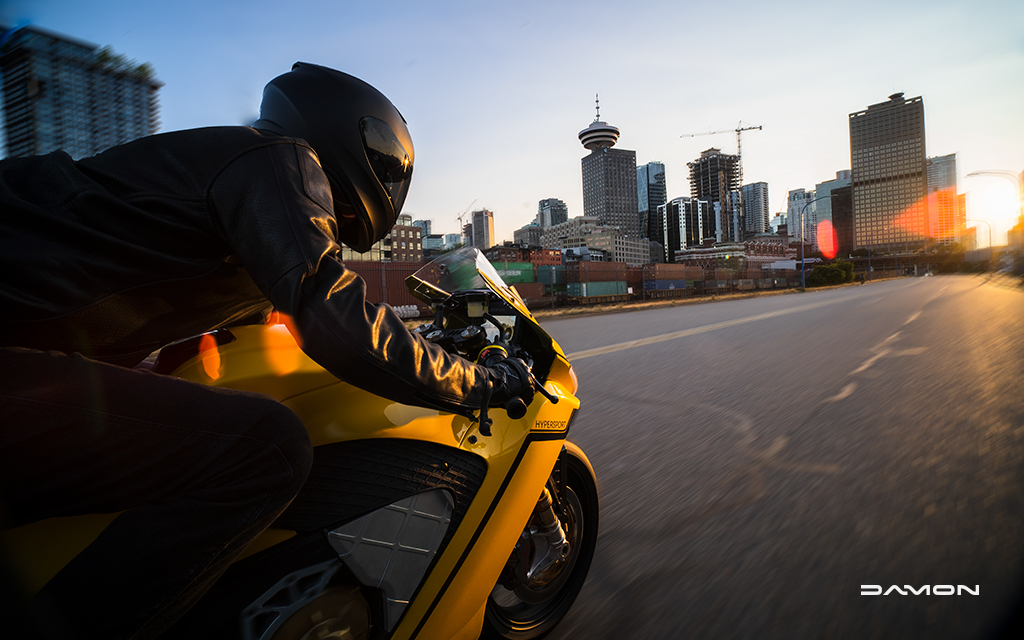 Sort Your Accommodation Ahead of Time
Whether you're staying in hotels, motels, hostels, or campsites, we recommend you get it all booked ahead of time.
There are a few benefits of sorting out accommodation before you head out, including:
It's better than doing it after a full day of riding
Ensures accommodation isn't sold out (during peak season or a popular event nearby)
It's usually cheaper!
However, if you're unable to book ahead of time or your bookings don't work out for some reason, we'd like to remind you of rule #1 again. Yep, be flexible.
The Golden Rule: Enjoy it!
Being flexible and following all of the above will help you achieve the golden rule of any long-distance motorcycle trip. Above all else, enjoy yourself!
A motorcycle road trip reminds us of the reasons we began riding in the first place: being off the grid, exploring unfamiliar and beautiful places on two wheels, and meeting like-minded people along the way.
Follow the above, and you'll be ready to hit the road and fully enjoy your road trip!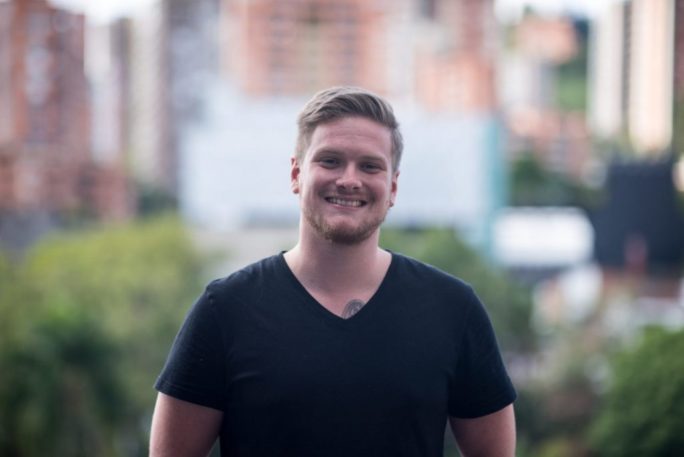 Mark Linsdell
Exploring Vietnam, Thailand and Cambodia on two wheels awoke a passion for motorcycles in Mark. With a degree in Print Journalism, he has written for a number of different industries and publications. However, the subjects that really get him excited are the latest EV trends and the future of electric motorcycles.