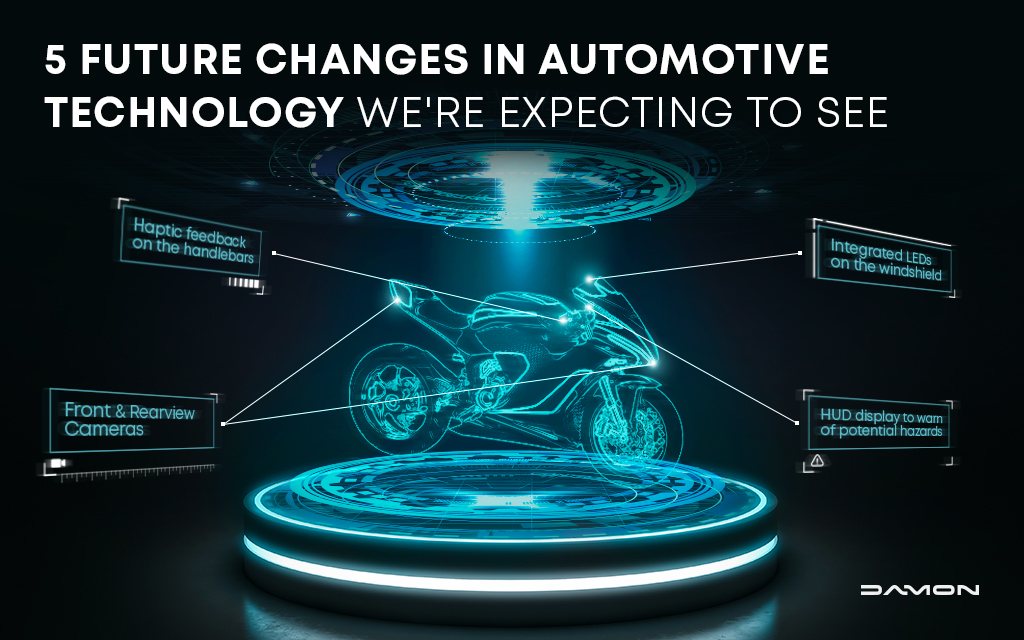 5 Future Changes in Automotive Technology We're Expecting to See
The sheer amount of emerging technologies in automobiles can be hard to keep up with. We're excited by something one year and the next, it looks as outdated as an iPod shuffle.
This never-ending change and growth are extremely exciting. Here at Damon, we celebrate using technology to improve all aspects of riding. And, while technology is sometimes flawed (like Siri popping up for no reason), it has the power to transform mobility in a big way. 
With that in mind, we're going to run down 5 big changes that we're expecting to see in automobile technology in the future.
1. Greater Energy Efficiency as We Shift Towards Electric Vehicles
Over the past five years, the energy efficiency movement has been given a shot to the heart due to a couple of factors.
Firstly, multiple countries are transitioning to only selling zero-emission vehicles within the next 10-20 years, including:
Norway by 2025
India by 2030
The UK by 2040
As a result, vehicle manufacturers are ramping up production and investing in electric and hybrid vehicles. Thus, another pain point commonly associated with EVs has improved: the total range.
For electric cars, Tesla's emergence has been a big factor in demonstrating how far-range technology has come. Its latest models have a total range of over 400 miles. This has led to car manufacturers further investing in range technology to attempt to hit the same numbers as Tesla. But, what does range look like for electric motorcycles? The total range of electric motorbikes has previously been a stick to beat the industry with. Here are two stereotypes you may have heard:
Electric motorcycles have too little range for them to be a practical
Electric motorcycles with more range are extremely heavy due to increased battery size
While this was a concern for the early electric motorbikes, these stereotypes are beginning to look like old news. We've been able to tackle this range and weight conundrum by creating HyperDrive™.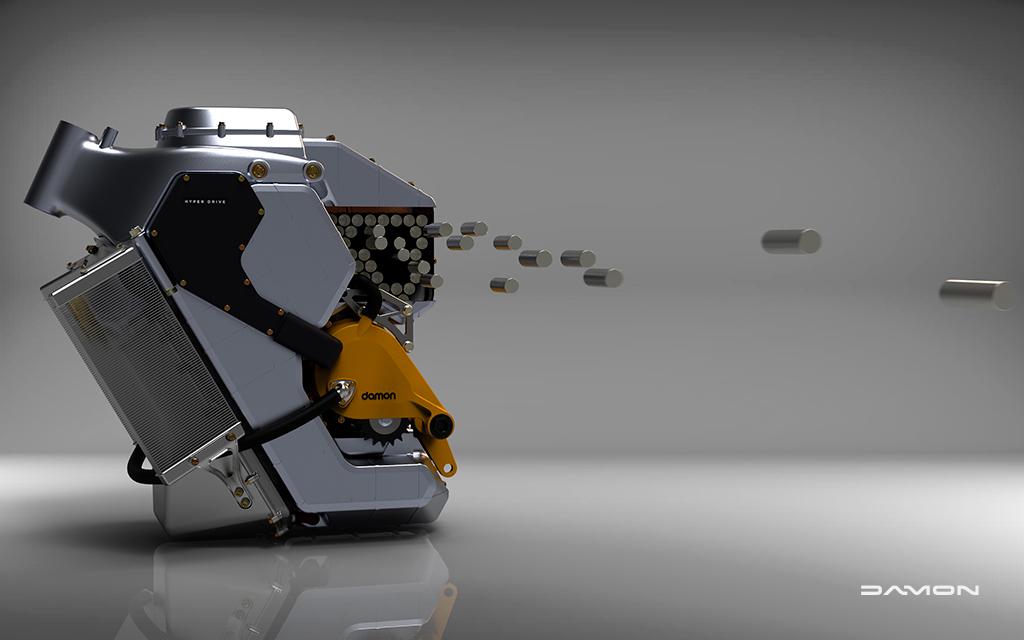 HyperDrive™ is the world's first monocoque-constructed, 100% electric, multi-variant powertrain. What does this mean for range and bike weight, though? Well, by making the power source a structural component of all our HyperSport models, we're able to keep the total range high while keeping the pounds off. As a result, the HyperSport HS has a total range of 200 mph and is estimated at a mere 440 lbs.
But, What About Electric Vehicle Charging Infrastructure?
As you can see, the range of electric vehicles is – and will – continue to improve. This coupled with the continued growth of EV charging stations will crush range anxiety for good.
There's no doubt that EV charging infrastructure needs improvement. Even California – which is considered a mini mecca for electric vehicles – has issues. A recent study from the University of California, Davis, found that around 1 in 5 EV owners switch back to gas vehicles, with the main reason being "dissatisfaction with the convenience of charging."
However, the wind is changing. The US Senate has recently agreed to a bipartisan infrastructure deal, which includes $7.5 billion in funds for electric vehicle charging infrastructure. The US's investment in charging infrastructure is mirrored throughout the world, as countries prepare for the EV invasion.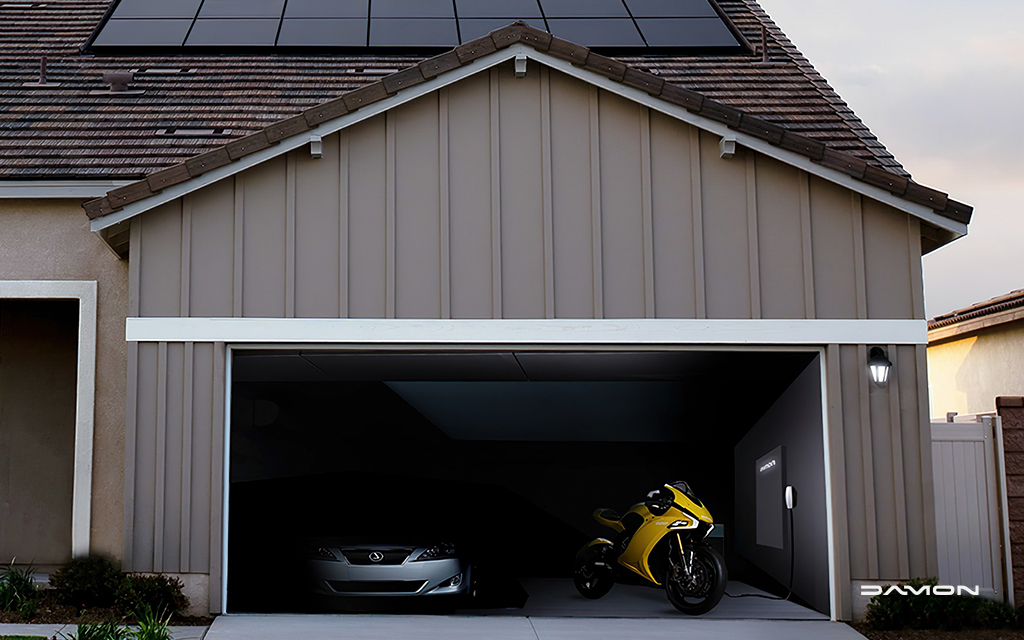 2. Electric Vehicle Charging Technology Ramping Up
Besides increased infrastructure, there are also some exciting technological innovations we can expect to see from EV charging.
An example of this is wireless charging through an electric recharging lane. These are already being developed for Formula E series races but, eventually, the goal would be to charge vehicles while they drive up to 70 mph. This means rarely having to stop at a charging station again. Here's what it might look like: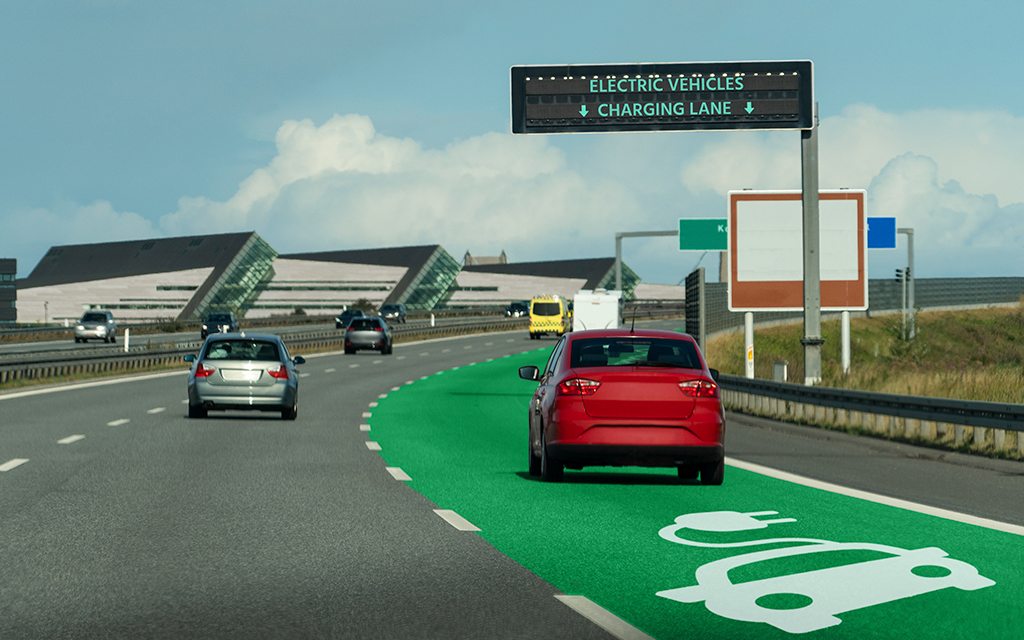 That being said, in the near future, it's likely that most vehicle charging will remain within the home. As the adoption of electric vehicles grows, we will likely see homes being built with Level 2 or higher capability charging as well as V2H (vehicle-to-home) charging – where EVs can generate backup power for their owner's home.
While universally-installed home charging units are some way off, there are already some exciting advances in vehicle charging tech. A big one is the charging speed.
There are no two ways about it, Level 1 chargers take time. It takes 8-15 hours to fully charge an electric motorcycle with a Level 1 charger. However, by using CCS fast charging – as our bikes do – you can gain back up to 132 miles of range in just 30 minutes. This is lightning quick. And, in the future, this will only get faster.
Take a look at the charging times of our Damon HyperSport and HyperFighter models below: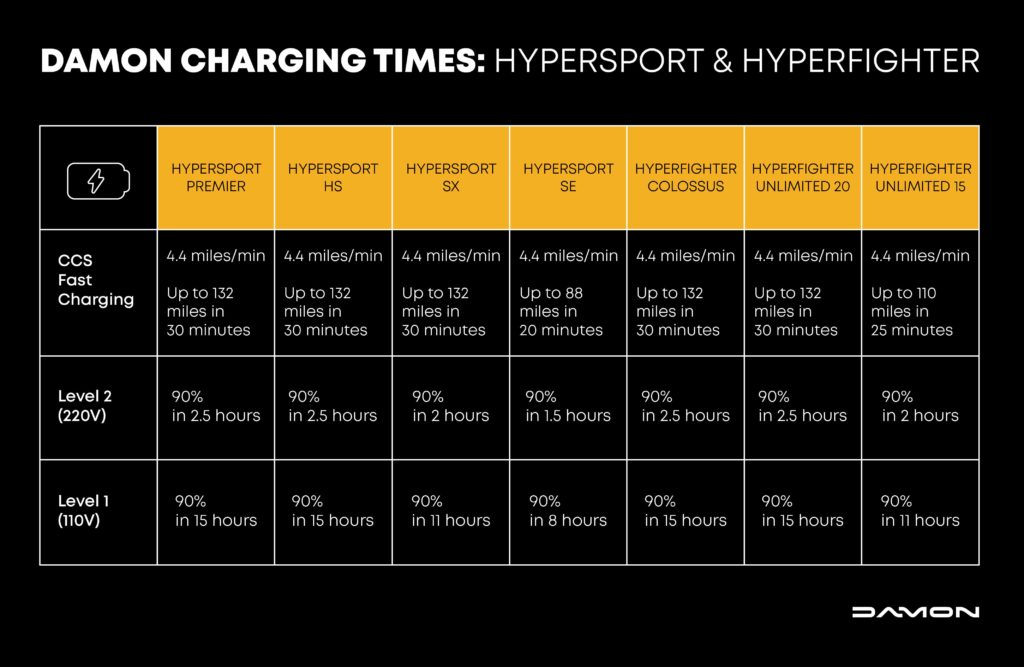 3. Increased Capabilities of AI & Big Data Creating Autonomous Vehicles
The idea of vehicle autonomy has been thrown around for a while. With cars, level 3-4 autonomy feels like the natural next step and something we'll be seeing on our roads sooner rather than later.
Over the past five years, the capabilities of AI and big data have seen cars' advanced warning systems drastically improve. We're seeing a growing number of cars being manufactured with automation levels of 3 and above. The Society of Automotive Engineers (SAE) classifies level 3 or 4 autonomy of vehicles that are able to make decisions on their own. Here's a chart for reference: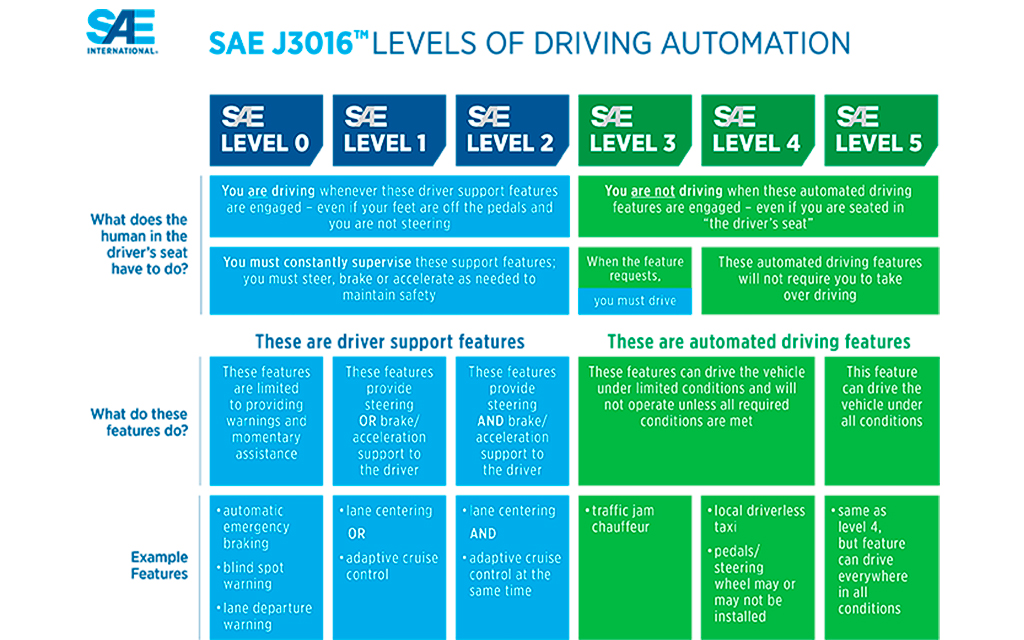 How long until we see driverless automotive technology on the road? That's difficult to answer. A lot of it depends on laws and regulations. That being said, it's a fair bet that we'll be able to hail an autonomous car taxi by the end of the decade.
A self-riding motorcycle is a lot further off. Who wants that, anyway? We'll stick to riding, thanks.
If Not Riderless Motorcycles, How Does AI & Big Data Improve the Future of Motorcycling?
Instead of using the power of AI and machine learning to create self-driving motorcycles, motorcycle brands can use it to improve rider safety.
It's much more difficult for AI and machine learning to predict a rider's environment than it is for someone driving a car. Here are some examples of how motorcycles differ:
How motorcycles shift lanes
How they maneuver
How they brake & accelerate
How other road users navigate around them
And, while it's difficult, the next innovation in motorcycles is a similar warning system to cars. Here at Damon, we've already created this with our 360º Advancing Warning System for Motorcycles (AWSM™). This system provides warnings and momentary assistance through these features:
Haptic feedback on the handlebars
Integrated LEDs on the windshield
7″ integrated dash display that alerts you to potential hazards
The more people ride Damon motorcycles, the more the algorithm learns their riding habits, surroundings, and – most importantly – potential risks on the road. This is just one example of how AI and big data are going to improve safety technology in automobiles.
4. Human Machine Interface Expands As Smart Cities Become a Reality
The IoT (internet of things) revolution shows no sign of slowing down. Moreover, with 5G making device-to-device communication faster than ever before, our cities are becoming smarter every day.
Autonomous vehicles are beginning to make up a large part of that 27 billion. They're able to communicate with other vehicles around them, as well as other components that make up a smart city, including:
Smart buildings
Utilities
Environment
Infrastructure
Public engagement and security
However, besides infrastructure and vehicles being able to communicate with one another, humans are also becoming able to do so with increasing ease. This is commonly referred to as the human-machine interface (HMI). In layman's terms, HMI is an interface that allows humans to interact with the machine.
When applied to vehicles, HMIs allow drivers and passengers to interact with their vehicles in a far more natural way, here are a few examples:
In-car touch screens and buttons
HUD technology
Speech recognition technology
This gives us greater knowledge of everything going on around us and inside our vehicles. What's more, it lets us customize our cars or motorcycles in a way that previously seemed unimaginable.
Technological innovations like these have a ceiling with ICE vehicles. However, with a fully-electric vehicle, the sky's the limit.
Check out the technological advancements we've been able to implement into an electric motorcycle by reading the Damon Dictionary.
5. The Move Towards Light Electric Vehicles (LEVs) to Cope with City Congestion
It's all very well to have smart transportation. However, the progress is moot if we can't get around easily.
The western world is congested. And, to stop the gridlock, we're going to have to move towards a smaller, lighter type of vehicle. This is where Light Electric Vehicles (LEVs) come in.
The growth of light electric vehicles over the past five years is already evident on the sidewalk. If you live in any metropolitan area, you've probably seen a fair share of e-scooters and e-bikes zipping around. This kind of transportation is sometimes referred to as micromobility.
Vehicles usually used for micromobility are also known as light electric vehicles (LEVs), and include:
E-scooters
E-bikes
Electric unicycles
Electric skateboards
However, on the roads, we're expecting to see a boom in the number of three-wheeled-LEVs in the near future. Why is that? Well, as the world population continues to grow, we need to figure out not only how to tackle climate change, but also how to cut out traffic congestion.
A seismic shift from four wheels to two or three seems implausible to some. However, in Southeast Asia, over 80% of households own a motorcycle (many serving as the primary form of transport) and that number is not going down anytime soon. The shift to LEVs is inevitable. On top of saving space, they are safer, have zero emissions, and are capable of autonomous communication with other vehicles and smart infrastructure.
We can't put a date on when we expect to see us zipping around in LEVs, but it's safe to say that they will be a welcome change to anyone who has been stuck in commuter traffic.
The Future Changes in Automobile Technology Are Transformative
Staring into our crystal ball and looking at the advancements we expect to see in automotive technology is extremely exciting!
Electric vehicles will not only help tackle the issues around climate change, but they also offer us far more technological scope than was ever possible with ICE vehicles. This allows us to improve vehicle performance, safety, and comfort in a whole new way.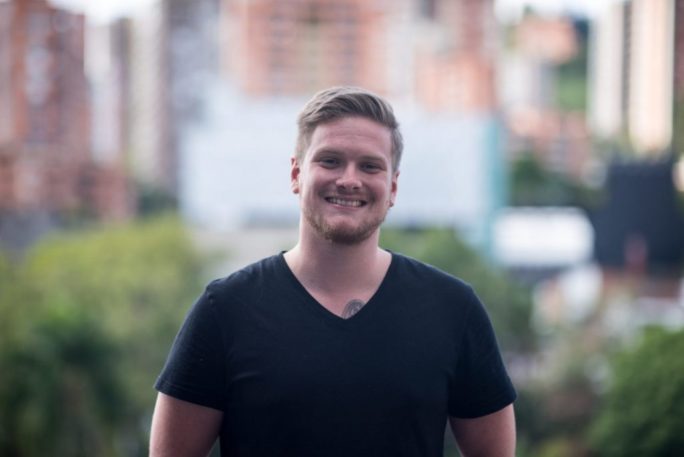 Mark Linsdell
Exploring Vietnam, Thailand and Cambodia on two wheels awoke a passion for motorcycles in Mark. With a degree in Print Journalism, he has written for a number of different industries and publications. However, the subjects that really get him excited are the latest EV trends and the future of electric motorcycles.