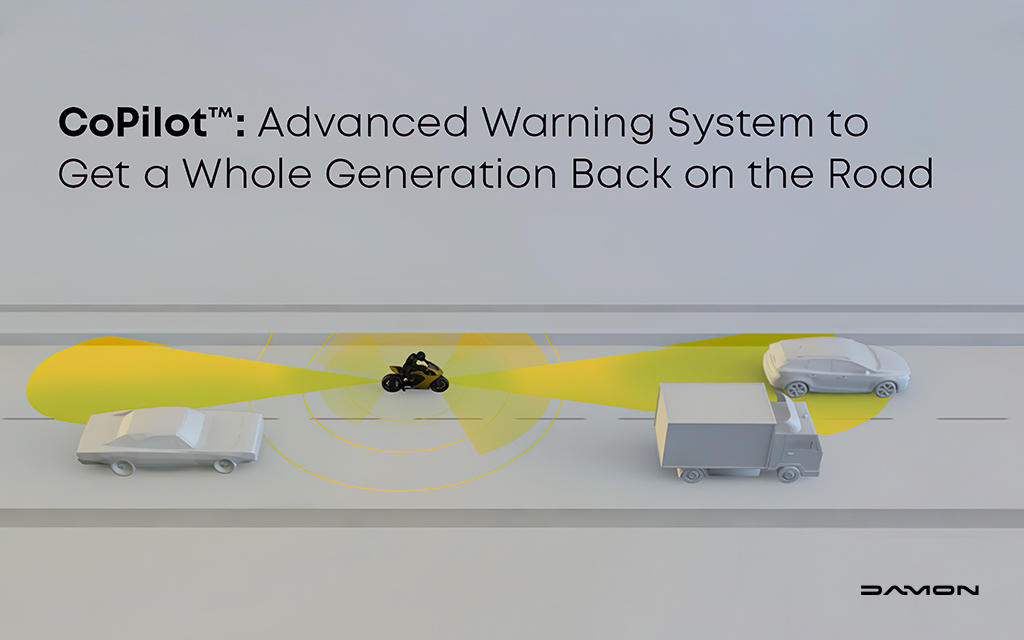 CoPilot™: Advanced Warning System to Get a Whole Generation Back on the Road
Did you know that there are about 200 million two-wheeled vehicles on the road around the world? For many riders, it's their primary mode of motorized transportation to get from point A to B.
Yet, in 2018, over 80,000 motorcyclists were injured and 5,000 were killed in the US. Here at Damon, this stat rings in our ears.
It seems that even if you use safe motorcycling practices you are still at risk while on the road. This is largely down to two things. Firstly, the lack of motorcycles on the road compared to cars. And, secondly, the motorcycle industry ignores the impact that modern motorcycle technology could have on rider safety.
However, we couldn't ignore it any longer.
We vowed to improve rider safety worldwide and created our revolutionary safety technology, CoPilot™. Want to learn more about why we did it and how it works? Read on!
The Motorcycle Industry Is Neglecting an Entire Generation
While motorcyclists are some of the most alert road users, motorcycling is typically seen as a risky pursuit. Experienced riders are all too familiar with the customary rise of the eyebrow when they tell a nonrider about a track day or long-distance motorcycle journey on the horizon.
You'd think the perceived risk of a two-wheeled dalliance would mean that the majority of motorcycling enthusiasts would be young people. Not the case.
In the past, motorcycling was seen as an activity to be enjoyed by those under 30. However, nowadays, Millennials are increasingly reluctant to become another statistic about the dangers of motorcycling.
This is because the majority of the Millennials or Generation Z have spent most of their formative years in vehicles with seven airbags and then when they step behind the wheel, automatic-geared driving lessons.
Unsurprisingly, Millennials consider motorcycles – with their hand clutch, six-gears, and loud pipes – both intimidating and potentially dangerous. As a result, today's motorcycles are out of alignment with the values of the world's first digital generation, with modern-day riders citing safety and practicality as significant factors in their decision-making.
That's where Damon and CoPilot™, our award-winning Advanced Warning System for Motorcycles (AWSM™), come in. We wanted to create the world's safest motorcycle – fully electric and fully stacked with groundbreaking motorcycle technology. We're aiming to ensure that no rider or potential rider misses out due to safety concerns.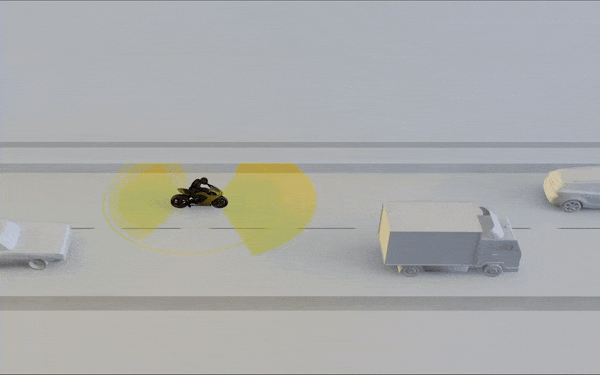 Want to learn more about our industry-disrupting technology? Have a read of our Damon Dictionary and learn your HyperDrive™ for your haptic handlebars.
Why Can't Cars' ADAS Be Adapted for Motorcycles?
Over the past decade, the auto industry has invested a great deal of time and money into Advanced Driver-Assistance Systems (ADAS). This investment could have a profound effect on driving.
In fact, AAA's Foundation for Traffic Safety estimates that, when properly utilized, ADAS technologies have the potential to prevent 40% of all vehicle crashes and nearly 30% of traffic deaths.
So, why haven't these systems been modified for motorcycles?
From the outside, it seems like a no-brainer to try to adopt this technology for the vehicle that arguably needs it the most. Unfortunately, it's not that simple.
This is because motorcycles are inherently different from any other vehicle on the road today. These differences are visible in their unique vehicle dynamics:
How motorcycles shift lanes
If and how they're recognized by drivers
How they maneuver
How they accelerate & brake
How other road users navigate around them
Therefore, in order for a warning system to work in motorcycling, you'd have to deconstruct the average motorcycle journey and measure how motorcycles navigate through the many hazards on said journey.
Building this from the ground up, specifically for motorcycles, is something that no one has previously committed to doing. However, we've been able to do this by complementing our AWSM™ with the AI engine.
CoPilot™ Gets Safer With Every Single Ride
Before getting into CoPilot™ continuously gets safer, let's look at the features of this groundbreaking technology:
Always-operational 1080p front and rearview cameras – This ensures you consistently have a 360º awareness of what's going on around you.
Handlebars with haptic feedback – If you miss hazards on your motorcycle dashboard, you'll also be notified by haptic feedback on your handlebars. This two-pronged warning system means you'll never miss potential dangers.
Integrated windscreen LEDs – Are two warning features not enough for you? Well, have another! HyperSport's integrated windscreen LEDs give you a heads-up of blind spot warnings.
Long-range radar – Akin to a fighter jet, our AWSM's embedded long-range radar works alongside other sensors to track the speed, direction, and velocity of over 60 objects at a time.
These features alone are already a massive stride forward for motorcycle safety technology. However, its incorporation with our onboard neural net and AI engine is what made our AWSM™ award-winning.
First off, let's look at the onboard neural net. This anticipates the threats and relays the information to the rider through the multiple warning alerts we've listed above. What does our neural net do with this information? It anonymously captures and tags the incident details in 360º.
After that, it transmits the data to Damon's cloud via the HyperSports embedded wireless connection. The more information the neural network collects, the faster the system can learn your unique riding style and better anticipate threats.
What Does This Mean for the Damon Community?
As you can see, your HyperSport and CoPilot™ adapt to you, your riding style, and your riding ability. However, how does your anonymous-aggregated data serve the whole of the Damon community?
Well, our AI engines collect tagged data across all Damon motorcycles and then run it through a patented traffic simulator. Using real-world visual data, it's able to recreate causational traffic behavior to develop and test more advanced algorithms in the simulated traffic environment.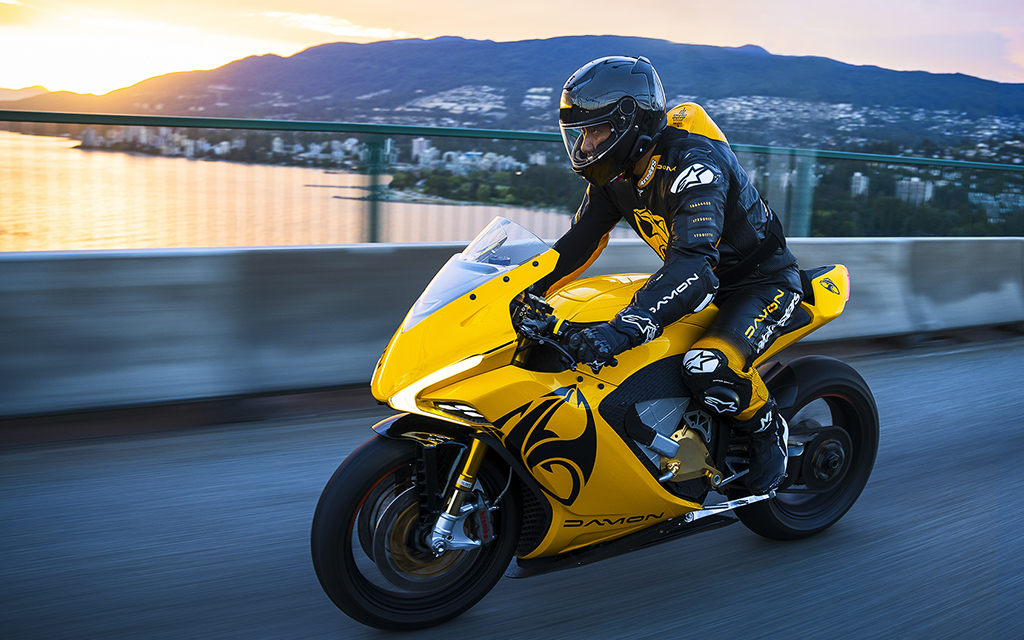 We deploy these updates to our internal test fleet for extended testing. This results in an ongoing develop-test-deploy feedback loop between the real world and the simulation. Once perfected, these updates are sent to all Damon motorcycles and authorized by each owner before going live on their own motorcycle.
Over-the-air (OTA) updates result in a faster, more sophisticated system that's capable of alerting all of our riders of potential hazards in a seamless, self-learning loop.
So, not only is your HyperSport constantly becoming safer for you, but it's also helping every Damon rider stay protected and make better decisions on the road. This kind of innovation keeps us on track to eliminate all fatal accidents on Damon motorcycles by 2030.
Bottom Line: CoPilot™ Changes the Future of Motorcycling
To stop an entire generation of potential riders from falling by the wayside, the motorcycling industry needs to step up and focus on what's important to modern riders: safety and practicality.
CoPilot™ shows the way in which the tide needs to flow. Our game-changing AWSM™ has allowed us to make motorcycling safer. And, if more motorcycle companies realign their focus to what the next generation wants, the more accidents we can prevent – and the more riders we can get back on the road.
But, don't wait around till then! Reserve the motorcycle of the future, today.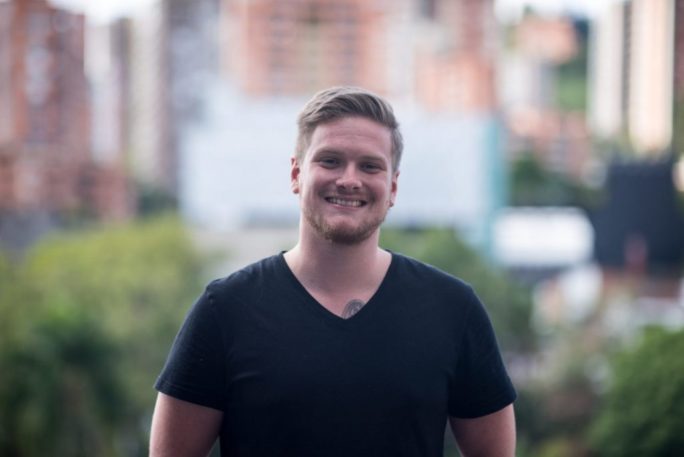 Mark Linsdell
Exploring Vietnam, Thailand and Cambodia on two wheels awoke a passion for motorcycles in Mark. With a degree in Print Journalism, he has written for a number of different industries and publications. However, the subjects that really get him excited are the latest EV trends and the future of electric motorcycles.