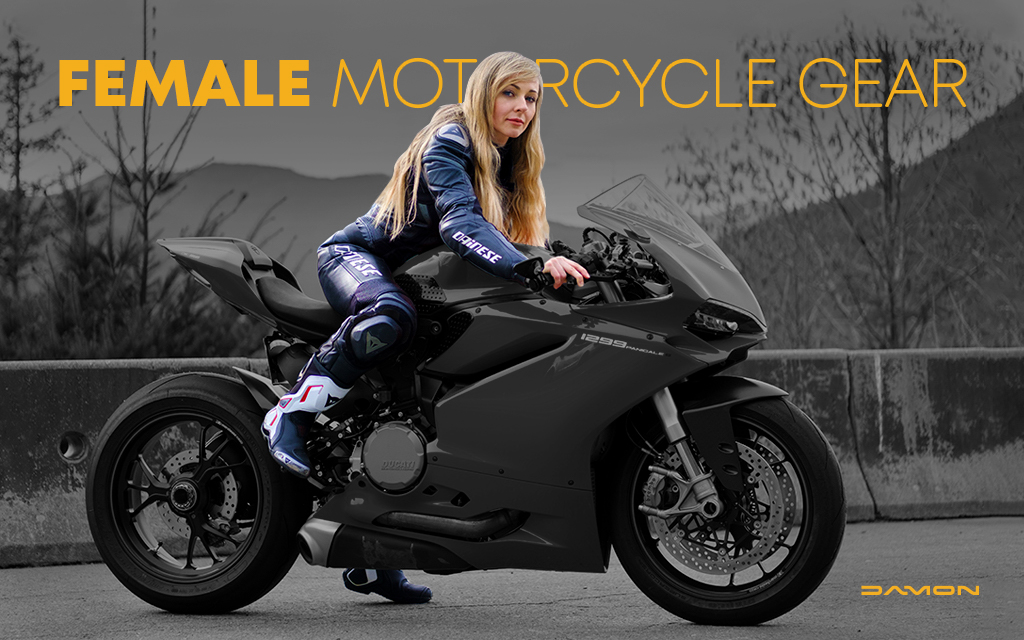 The Ultimate Guide to Women's Motorcycle Gear
The number of female riders has boomed over the last couple of decades. In 2003, under 10% of bikers in America were women. However, in 2018, this number has risen to 19%.
As a result, the quality and amount of women's motorcycle gear have started to finally catch up with the influx of new female riders. However, the motorcycle gear you're after largely depends on your budget and what you use your motorcycle for.
This new abundance of options has left some riders reaching for unisex items to save the headache. Don't worry, Damon is here to help.
We've put together our Ultimate Guide to Women's Motorcycle Gear in 2022 to help you choose the right gear for you. This guide includes:
Alternatively, check out our guide on the best motorcycle gear for men.
Men's/Unisex vs. Women's Motorcycle Outfits
Women can comfortably wear men's or unisex outfits. In fact, a lot of parts of a typical Women's motorcycle outfit are unisex, such as motorcycle helmets, gloves, and glasses. Therefore, we will not be focusing on the aforementioned gear.
On the other hand, jackets, pants, and boots have some key differences and style flourishes that make them specifically tailored to women. Therefore, for the purposes of this guide, we've decided to include items that are solely made for women.
Firstly, let's touch on what makes a women's motorcycle jacket for women.
How Are Women's Motorcycle Jackets Different From Men's Motorcycle Jackets?
It's 100% necessary to have motorcycle jackets that are specifically tailored to women.
This is because the female torso is anatomically different from the male torso. How is a women's motorcycle jacket different from a men's jacket? Well, in a couple of ways:
Flared jacket ends – Ladies' motorcycle jackets feature flared jacket ends to account for wider hips while also safely shielding the lower back area.
Narrower shoulders – Female motorcycle jackets have narrower shoulder designs than men's motorcycle jackets.
That being said, most male or unisex motorcycle jackets can be worn comfortably by female riders. However, a female-specific jacket makes sure that riders of all shapes and sizes are catered to.
What's the Best Women's Motorcycle Jacket?
This is an almost impossible question to answer. Like the majority of gear on this list, your preference will largely depend on the kind of rider you are. Moreover, the jacket you require will probably shift as you upgrade motorcycles.
For example, if you're riding a HyperSport SE for your daily commute, you don't need a touring or track day-style jacket. However, if you decide to move up to a HyperSport HS and take it to a motorcycle track day, then you'll need to upgrade your gear.
With that in mind, we've picked a selection of women's motorcycle jackets for a few different types of scenarios: touring, track days, and 'all round'.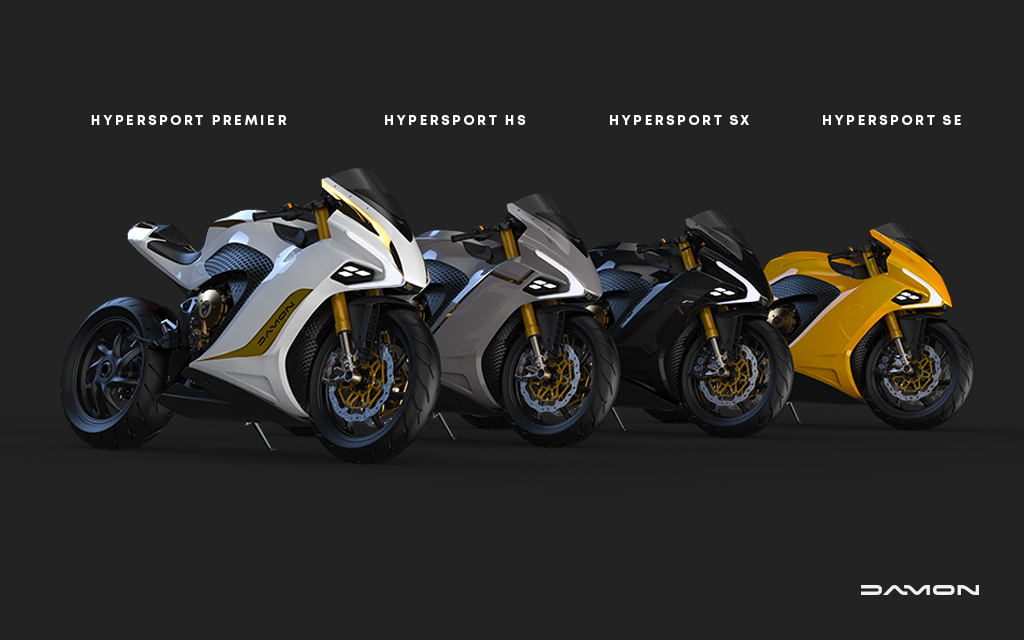 Whatever kind of rider you are, there's a HyperSport for you. Find the right HyperSport for you.
The Best Women's Touring Jacket
If going on epic motorcycle road trips is your kind of thing, you're going to need a good quality touring jacket that can withstand any weather condition and remains comfortable over long distances. With that in mind, the Klim Altitude Jacket ticks all of those boxes.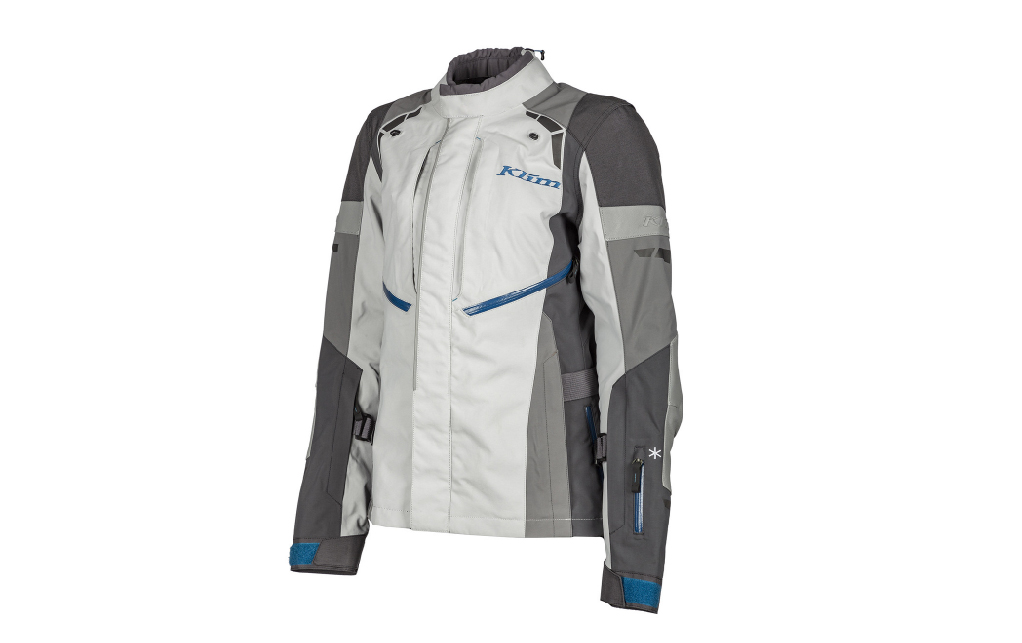 Klim's jackets are ideal for all weather conditions. How so? Firstly, the jacket has 8 different ventilation areas (2 x chest, cross core, forearm, and back) meaning that you can go from being a toasty marshmallow to a cool cucumber with just a few easy adjustments. On top of that, the gore-tex capabilities will keep you bone dry if the skies do decide to open on you.
The Altitude jacket also has an integrated armor system, which includes D3O® armor in all of the places that matter. Although, if you couple the jacket's 3M™ Scotchlite™ Reflective Material with safe motorcycle riding, you will likely not need the armor.
Of course, a jacket of this caliber isn't cheap. This jacket retails for just under $630.00 USD. However, if you're an all-weather rider who goes out rain or shine, this is the perfect jacket for you.
The Best Women's Motorcycle Jacket For Track Days
The Dainese Racing 3D Air Leather Jacket is for riders who like to put serious pedal to the metal.
This jacket costs just under $1,300.00 USD. Therefore, it's not ideal for those on a budget. That being said, if you're a serious track rider who's no stranger to the occasional tumble, this is the best out there.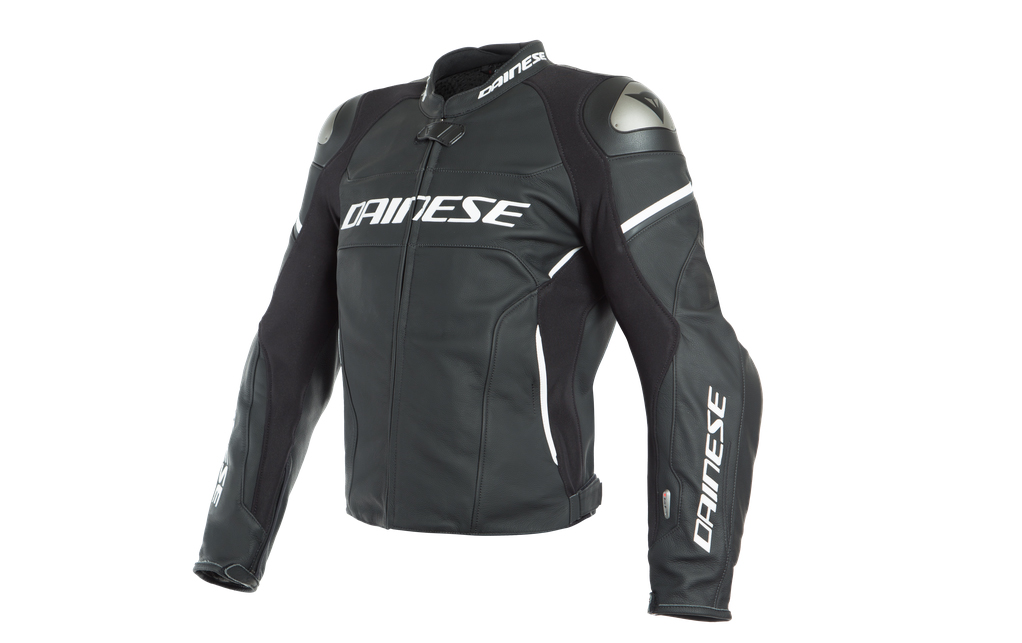 Dainese are well-known within the world of MotoGP. Their high-quality leather racing gear is popular with both male and female riders. The 3D Air Leather Jacket is essentially an upgrade of the original Dainese leather jacket, but with the addition of D-air® (Dianese's airbag system) and level 2 protections on both shoulders and elbows.
Furthermore, if you want to complete the look, the jacket comes with a jacket-pants fastening system to connect with a pair of Dainese women's motorcycle pants (or any other pants of your choosing)! This comes in handy as track days require a 2-piece or 1-piece suit along with other mandatory gear.
The Best All Rounder Women's Motorcycle Riding Jacket
If you sit somewhere between a tenacious tourer, a track day ripper, and a commanding commuter, you want a motorcycle jacket that can do a bit of everything. Step forward, Alpinestars Stella T-Jaws Waterproof Jacket.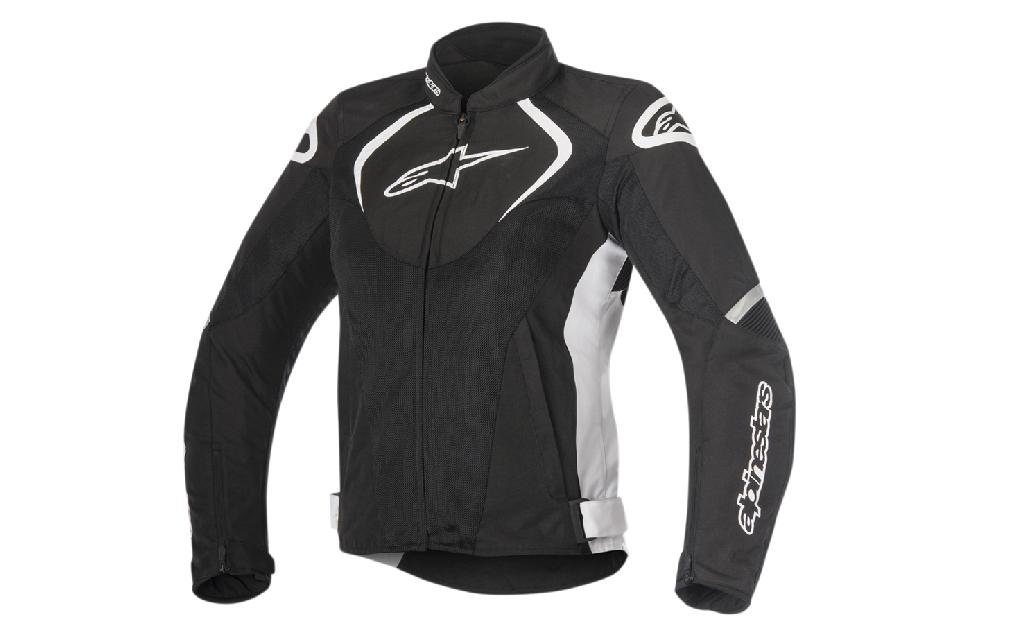 This textile jacket is 100% waterproof and has a removable thermal layer, making it perfect for the wide-ranging weather conditions you may encounter touring.
On top of that, it comes with removable protective armor for your shoulders and elbows as well as the capability to add on a back and chest protective compartment. This gives you the scope to protect yourself on track days without compromising comfort.
Oh, and did we mention it looks super badass? This jacket turns heads no matter what type of ride you're using it for.
Cheap Women's Motorcycle Jackets
The jackets we've mentioned above are quite advanced and perhaps a large expense for new riders. If you're reading this and thinking, "I just want something that's comfortable, protects me, and doesn't break the bank," you still have options.
While a traditional vintage leather jacket is expensive and doesn't always have the safety benefits that modern motorcycle clothing has, the Street Steel Athena fixes this.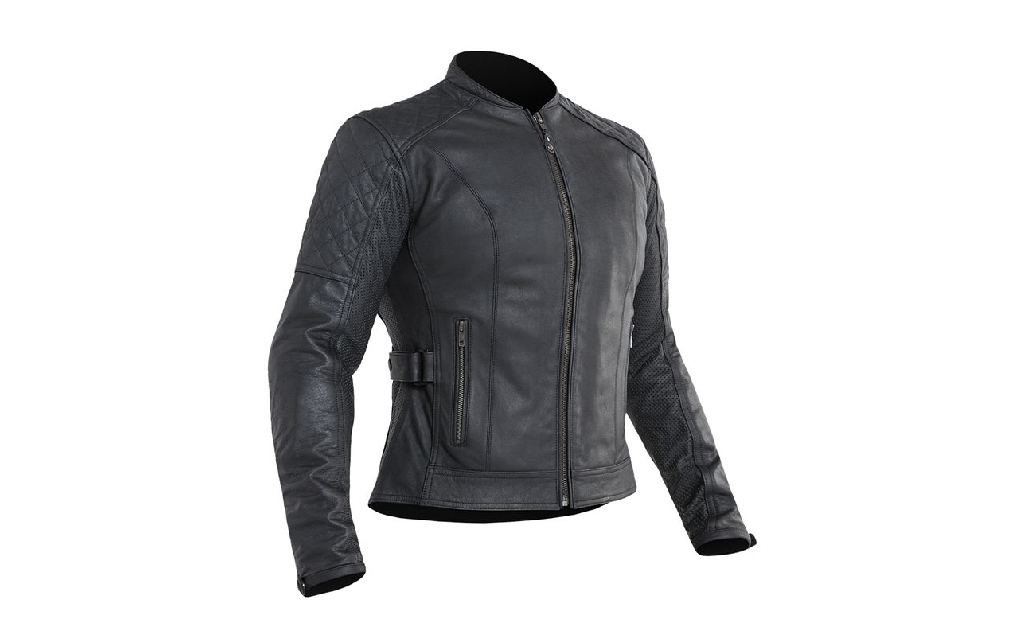 It has CE-rated protectors on both the shoulders and elbows (with the option for a back protector). On top of that, there are perforated panels on the torso to help regulate the body temperature. And, at just shy of $280.00 USD, it offers a chance to sport a vintage look while still benefiting from all the features a modern motorcycle jacket has to offer.
Additionally, if you're looking for an affordable summer motorcycle jacket, the Fly Racing Street Flux Air is available for just over $100.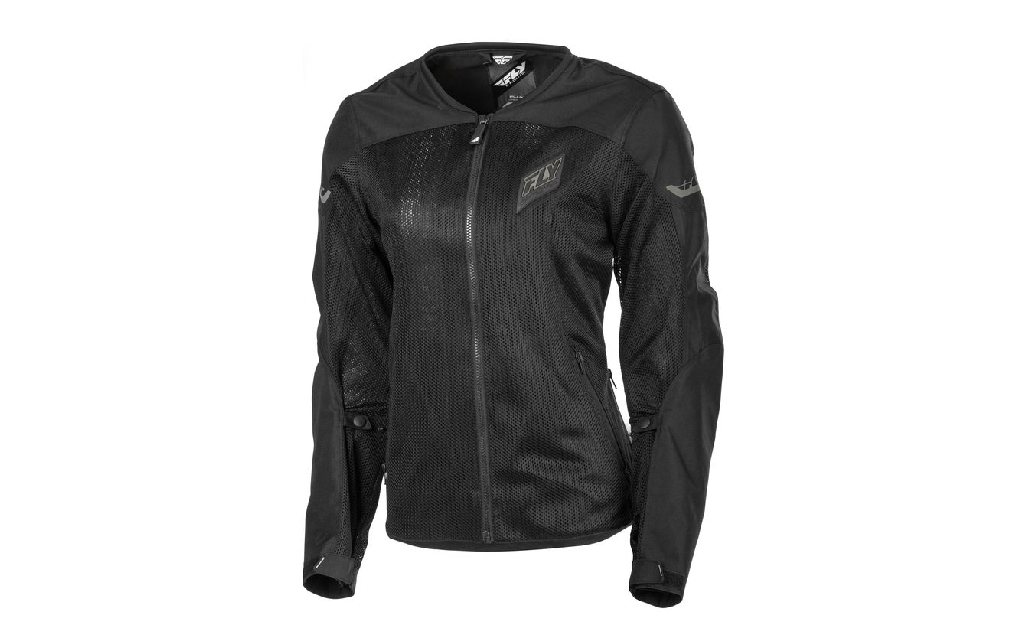 This jacket has giant panels of mesh that allow for cool airflow in the hottest temperatures. Despite being super lightweight, it features the necessary protective armor you need and high abrasion fabric in the event of falling off.
As you can see, there is a women's motorcycle riding jacket for any rider on any budget!
What Are the Best Women's Motorcycle Pants?
Women's motorcycle pants drift into similar territory that jackets do. While it's possible for female riders to wear men's or unisex motorcycle pants, women's motorcycle pants are tailored specifically to the female figure.
Therefore, it's super important for track day enthusiasts or those who want maximum comfort when riding to know the best women's motorcycle pants.
The Best All Rounder Women's Motorcycle Pants
Like the aforementioned Stella T-Jaws Waterproof jacket, AlpineStars Stella Andes V2 Drystar® Pants are also great if you're looking for a pair of women's motorcycle pants that are a real all-rounder.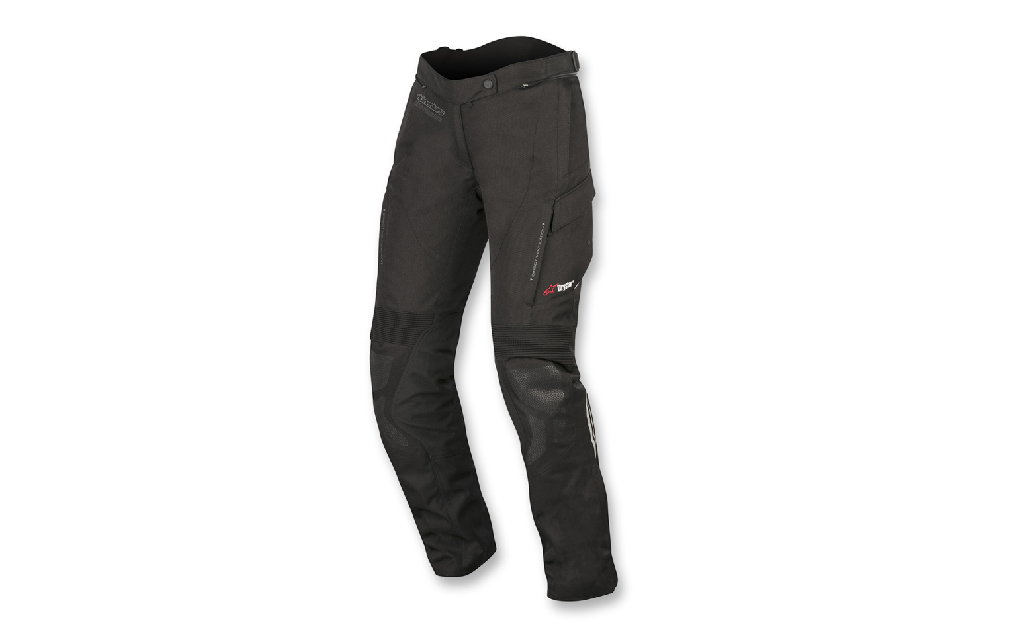 These are also 100% waterproof and also allow for high levels of breathability. On top of this, they're kind to your knees. Offering both impact protection through removable CE-certified knee protectors and added abrasion protection through reinforced polymer-printed texturing in critical knee areas.
These specs alone make these great motorcycle pants for someone who's equally comfortable ripping around the track as they are cruising along a coastline.
Best Women's Track Day Motorcycle Pants
Now you've got your track day jacket sorted, you're going to need some pants to go along with it.
As mentioned before, entry to track days requires a 2-piece or 1-piece suit (as well as other mandatory gear). So, to ensure you don't get caught with your pants down, we've included the Racing 3D Air Leather Jacket counterpart, Dainese Delta Pro C2 Women's Pants.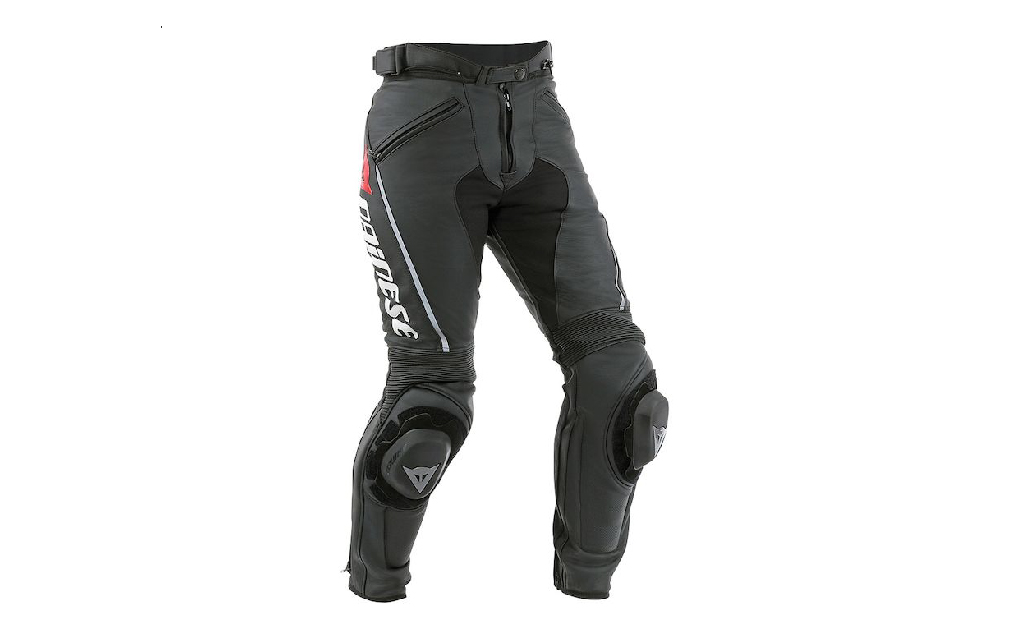 These incredibly durable pants connect easily to the jacket via the jacket-pants fastening system and offer a similarly high-level of protection below the belt.
When it comes to track pants, knee protection is crucial. Thankfully, the Delta Pro pants are equipped with removable knee sliders. Furthermore, they are also made with Dainese's Tutu cowhide leather. This makes them extremely long lasting, no matter how low you lean.
At just under $350.00 USD, they aren't within everyone's budget. However, like the jacket equivalent, you won't find an item better-suited to the rigors of the track.

Best Women's Leather Motorcycle Pants
We're sticking with Alpinestars for our choice of women's leather motorcycle pants, The Stella Vika V2 Leather Pants. These claim to be, "bringing cutting-edge protection to catwalk fashion". And we're in no hurry to disagree.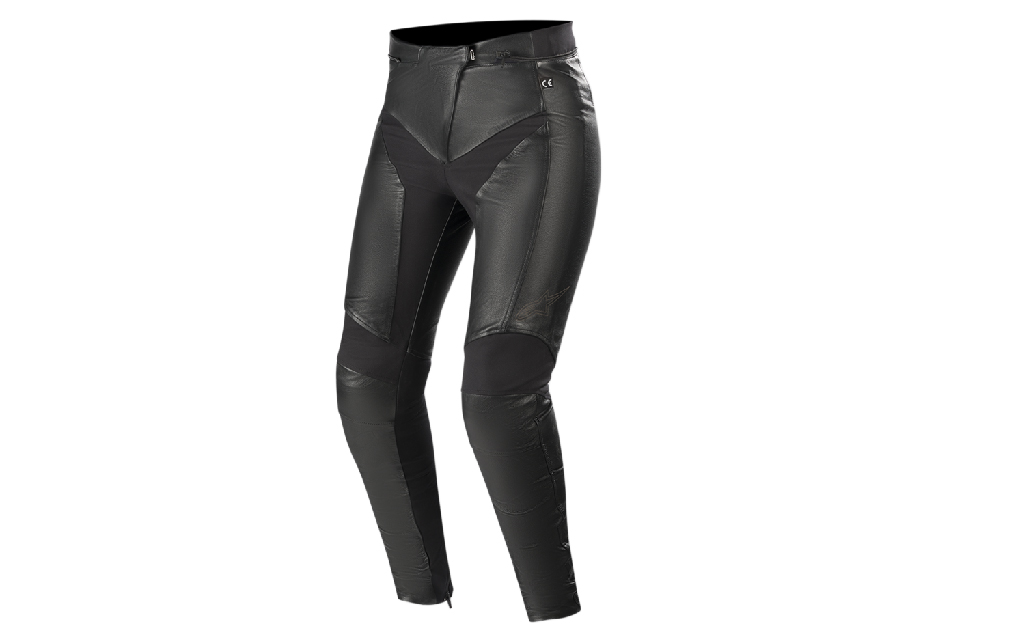 These motorcycle pants may have pre-shaped legs, but their aramid panels mean they also allow for great expansion and movement in the thighs and calves. However, these aren't just for comfort and style. These pants are also made of CE-certified leather.
At just under $400.00 USD, they aren't suitable for small budgets. Nevertheless, if you're looking for a pair of well-crafted women's leather motorcycle pants that can also double up as a fashion accessory, these are the ones for you.
Cheap Women's Motorcycle Pants
We're going to include a couple of cheaper options for those who may not be looking for something as advanced, but still want to be well-protected.
First off, let's talk about pants for touring. Joe Rocket's Ballistic 7.0 Pants may not be as glamorous looking as the Stella Vika V2 leather pants, but they are extremely good quality for their price ($150.00 USD).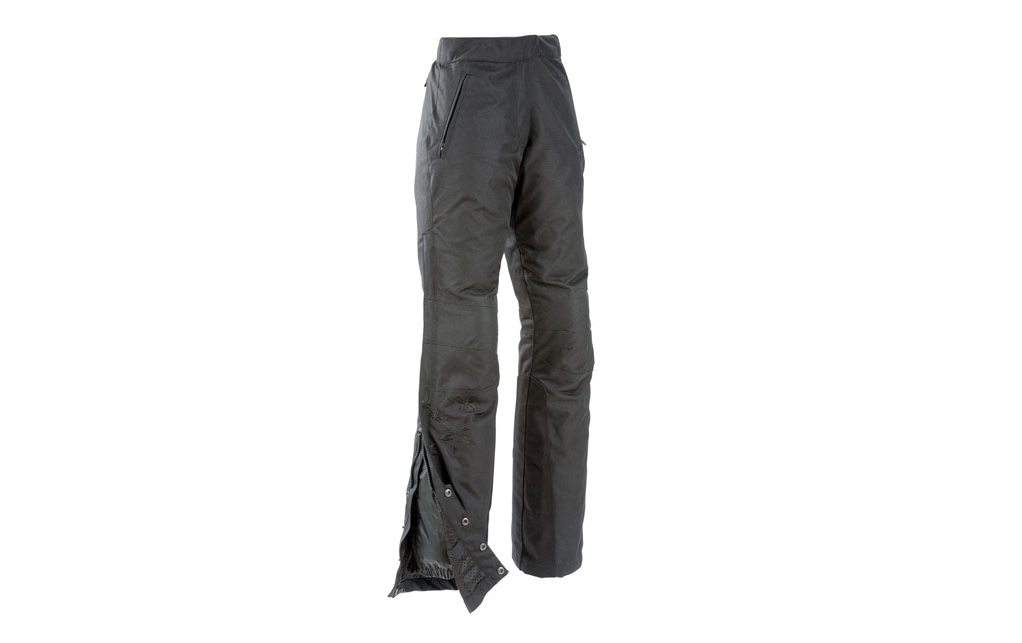 The pants are formed by a 100% waterproof and 100% heavy-duty 630 Hitena® twill nylon outer material. On top of that, the melt-resistant material around the lower legs keeps you both protected and comfy.
The Best Women's Motorcycle Footwear
It can be argued that there's no difference between men's motorcycle footwear and women's motorcycle footwear. And to some extent, this is true.
Nevertheless, there are some alternative options for female riders who want footwear that suits the vigors of riding and look super fly.
The Best Women's Motorcycle Sneakers
When we say women's motorcycle sneakers, we mean sneakers that are specialized for riding. In other words, don't throw on a pair of beaten-up Converse for track days!
Your first option is Dianese's York Air Lady Shoes. These certified sneakers are comfortable and lightweight. Moreover, they are equipped with a special rubber sole that provides extra grip and comfort on rides.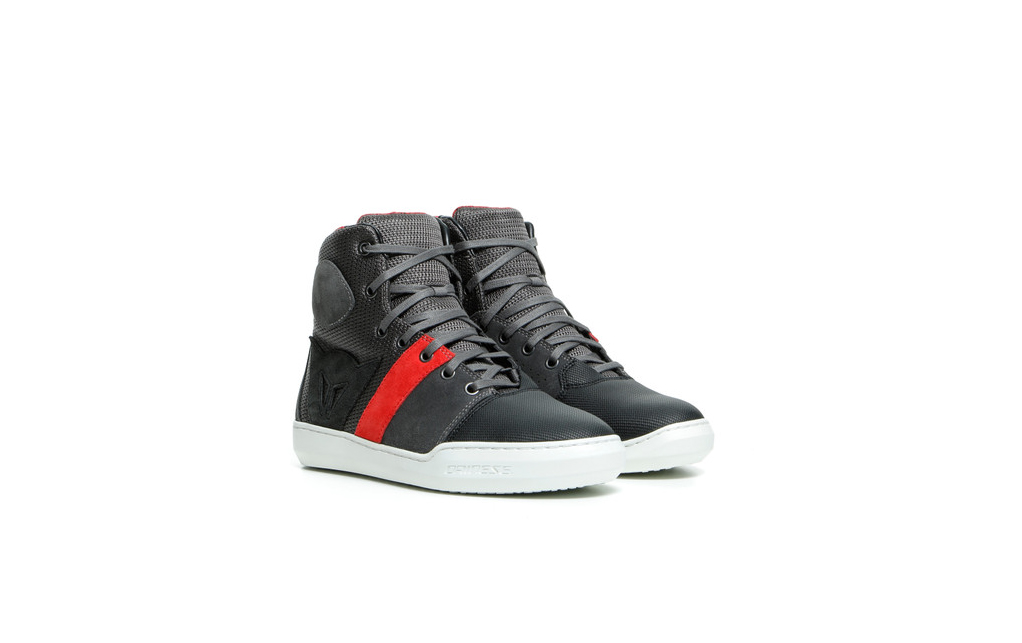 While there's no denying they are both comfortable and easy on the eye, these are probably better suited to riding scooters or for your commute than more extreme forms of riding. Moreover, at just under $170.00 USD, they are a little expensive for urban exploring sneakers.
Harley Davidson Bateman Sneakers aim to bridge that gap by claiming to have the "freedom of the sneaker, function of a boot."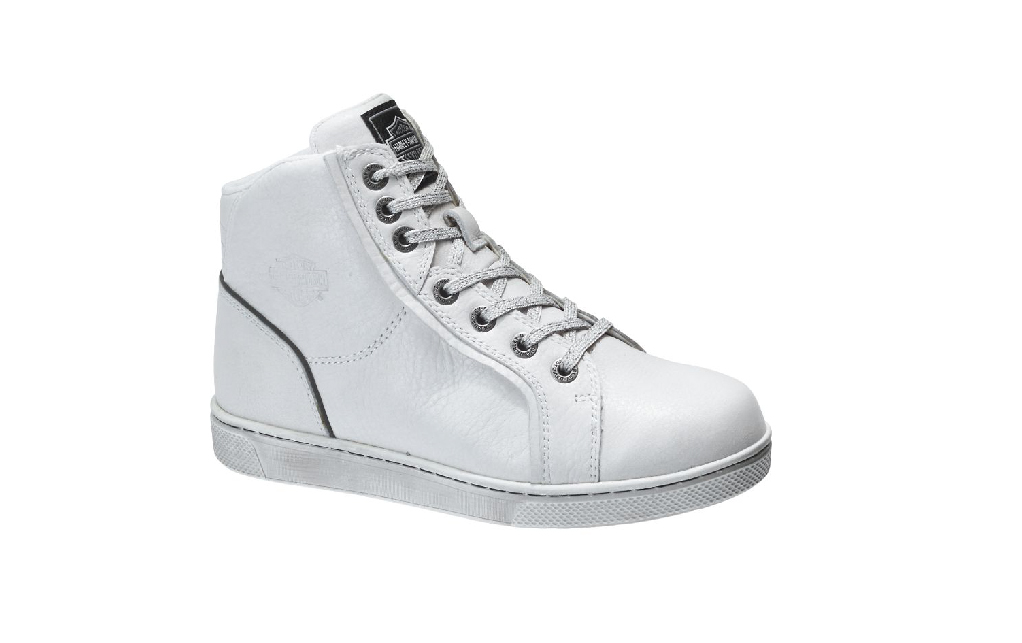 These sneakers are 100% waterproof, have 3M™ reflective material, and are also made of full grain leather. Furthermore, at just under $110.00 USD, they're very affordable. That being said, we're still not convinced that these will have the same rigor and longevity that leather motorcycle boots do. Also, is it just us or are white sneakers asking for trouble?
High Heel Motorcycle Riding Boots
If you're looking to make a statement in your motorcycling outfit, why not try some motorcycle riding boots with heels on for size?
If you're a Doc Martens enthusiast and want to bring a slice of British skinhead fashion to your women's motorcycle outfit, you should consider the TCX Smoke WP Women's Boots.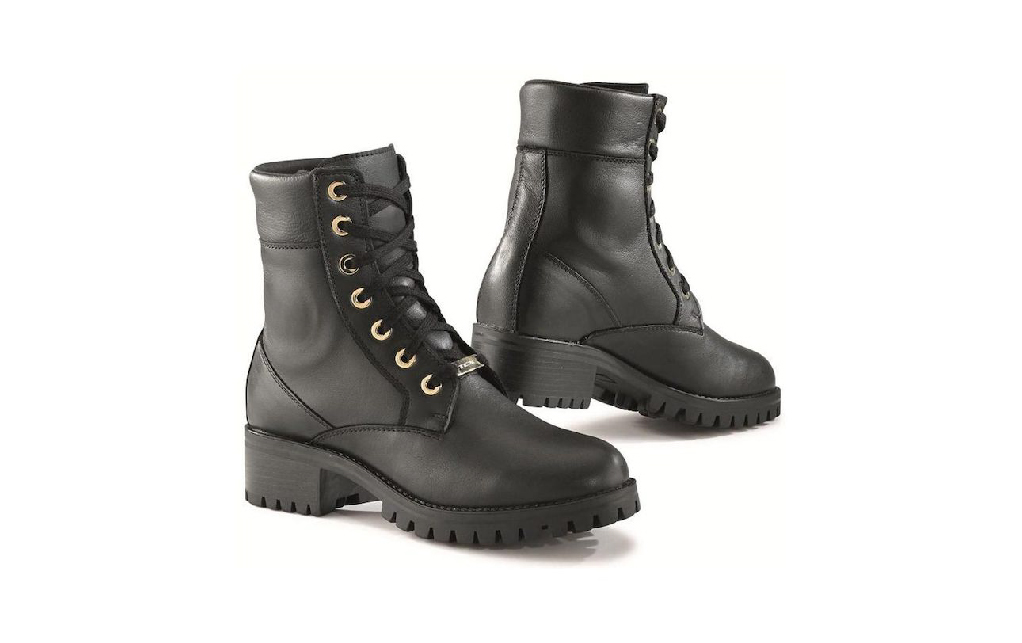 These chunky beauties have a one-inch heel and lug sole, making you look tough while staying comfortable. Furthermore, the reinforced heel and toe means these boots will last you for a long time.
That being said, we don't recommend motorcycle riding boots with extremely high heels. We take motorcycle safety seriously and any heel over one-inch compromises the safety of riders. Therefore, other than brutish boots with a slight heel, steer clear of heels while on the road.
The Best Women's Sportbike Boots
If you own an electric motorcycle with a top speed of 200 MPH or something equally rapid, you'll need footwear that's equipped to deal with your two-wheeled beast.
We believe AlpineStars Stella SMX 6 V2 Drystar Boots hold up to that challenge.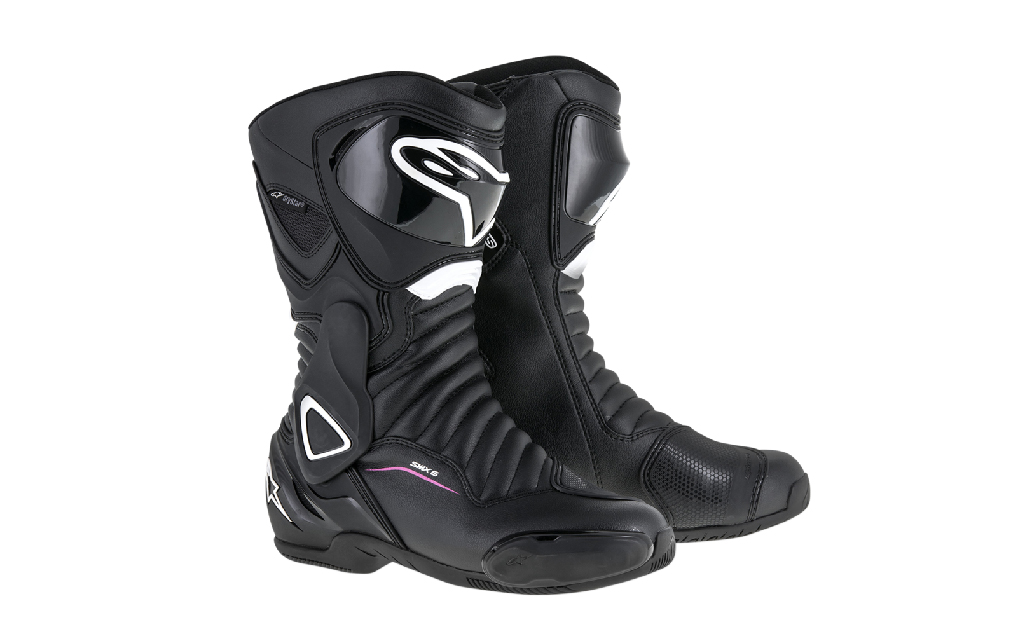 How do these differ from the male version? Well, these have less calf volume and a shorter overall height. And, as anyone in racing will tell you, getting the right specifications for a pair of sportbike boots is crucial. Therefore, you ideally want a women's sportbike boot – not male or unisex.
These are not only super comfortable, they're CE certified and feature Alpinestars TPU lateral ankle brace protection. This protects you against unforeseen impacts as well as offering flex support for your ankles.
While you can find sportbike boots that don't go all the way up the shin, we recommend you go for maximum shin and calf protection. That way, you're leaving nothing to chance and can fully focus on beating your PB on the track.
Best Women's Touring Motorcycle Boots
When you're considering the best women's touring motorcycle boots, you want to find a pair that's comfortable, durable, and ready for any type of weather. The Dainese Aurora D-WP women's boots can do all that.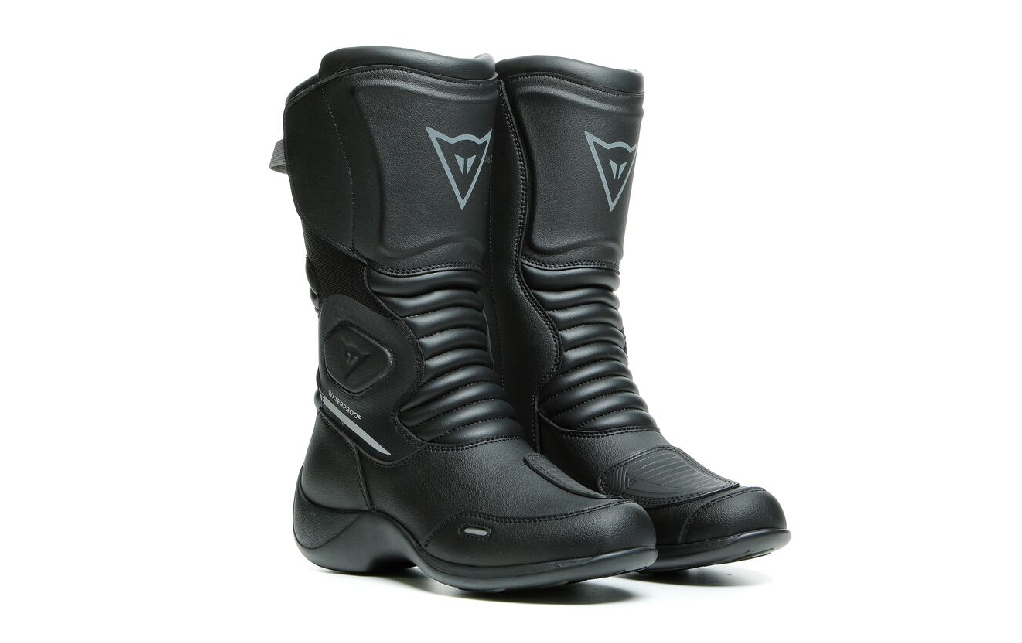 The D-WP waterproofing keeps your feet dry even if you're riding through torrential rainfall. Moreover, these boots feature rigid inserts in both ankles to protect against injuries from repetitive medial and lateral movements – anyone who's been on an all-day ride knows what we're talking about.
Furthermore, if you're an aggressive shifter, a TPU shifter guard prevents your shifter peg from munching your boot. No matter how much you 'boot' your upshift.
At $240.00 USD, these aren't the cheapest option. However, if you regularly take your motorcycle out for long journeys, it may be worth investing in footwear that supports that.
Women's Motorcycle Gear: There's Something for Everyone
Women's motorcycle gear has come a long way in the past decade. And, as you can see, there's something for any type of rider. It's worth reiterating that women's riding gear differs widely on an individual-by-individual basis. So, use this guide as a starting point, but be open to other gear that works best for your riding style and habits.
What does the future hold for women's motorcycle gear? We expect to see more innovation in both fabrics and safety technology, as well as more choices on the market.
Proper gear paired with safe, electric motorcycles will make riding safer than ever before.
Tags In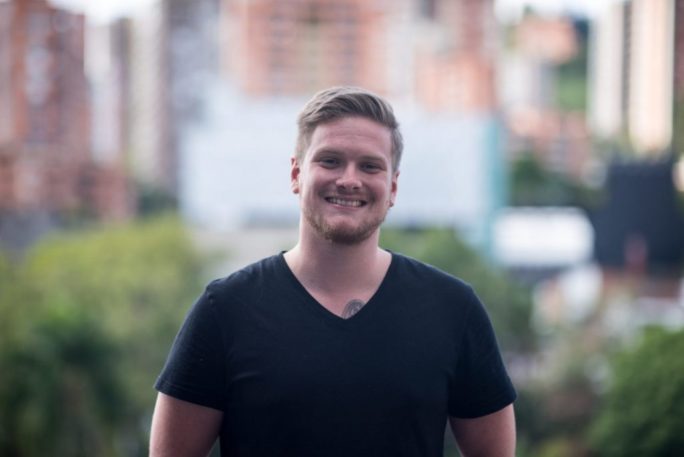 Mark Linsdell
Exploring Vietnam, Thailand and Cambodia on two wheels awoke a passion for motorcycles in Mark. With a degree in Print Journalism, he has written for a number of different industries and publications. However, the subjects that really get him excited are the latest EV trends and the future of electric motorcycles.