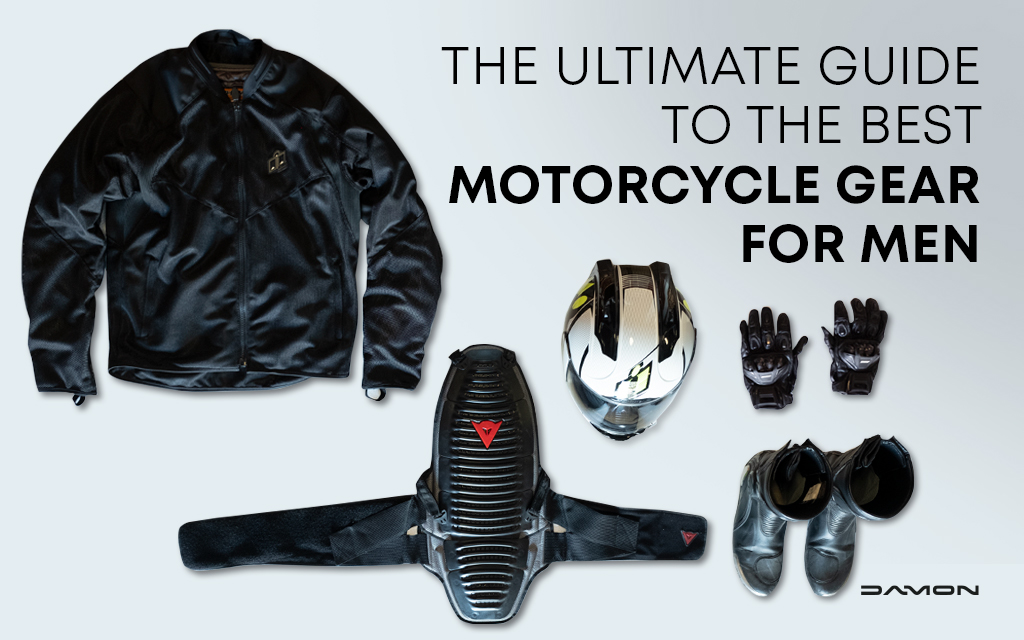 The Ultimate Guide to the Best Motorcycle Gear for Men
The motorcycle riding gear you use is likely to change the longer you ride. When you first learn to ride, you may only use your motorcycle to get from A to B. However, as your skill set and passion for riding develop, you'll likely want to invest in new gear for track days and touring.
So if you're a beginner, which biker outfits are best for you? And if you're an experienced gearhead, what is the best motorcycle gear for you?
Regardless of your riding ability, motorcycle gear is always an important component of safe motorcycle riding. Moreover, thanks to the technologically-advanced fabrics and materials now incorporated into motorcycle gear, it's easier than ever to be safe, comfortable, and look pretty damn fly while on two wheels.
This guide is specifically geared towards the best motorcycle gear for men. While it's possible for men and women to share a motorcycle jacket from time to time, there are some fundamental differences between motorcycling clothing for men and women.
This guide will cover:
Let's get into it!
If you're a female rider, check out our Ultimate Guide to Women's Motorcycle Gear.
Best Motorcycle Riding Pant for Beginners
Motorcycle riding pants can be one of the hardest things to initially purchase when you're starting out. There are so many different options and schools of thought on what type of motorcycle pants are best. However, like a lot of choices on this list, it really depends on your personal preferences.
If you're a beginner rider who mainly uses your motorcycle to commute to school or the office, you may not be able to lug around dedicated motorcycle pants and prefer to make the journey in jeans. While not as safe, this is possible.
If jeans are your chosen riding pants, don't just think you can just hit the highway in any old pair. Your motorcycle riding jeans should at least meet these criteria:
12 oz. (or heavier) denim
Double or triple stitching
Flexible armor capabilities in the knees and hips
Flex-panels for comfort around knees or waist
Abrasion-resistant material woven into the denim (e.g. Kevlar)
A good starting point for dedicated motorcycle denim is Scorpion Exo's Covert Ultra Jeans. These have Kevlar and Cordura woven into the fabric and, therefore, are seven times stronger than usual denim. In addition, there are adjustable armor pockets and an integrative reflective strip in the lower hem. This gives you the option of adding motorcycle armor and helps increase your visibility when riding at night.
However, if you want to go all out, Drayko's Holeshot Jeans are proven as the strongest jeans on the market, with full CE EN13595 Level 2 Approval. For experienced riders glancing at this section, the Holeshot Jeans also offers race-level protection with 7.45 seconds of road abrasion. The slim fit makes them easy on the eyes, too.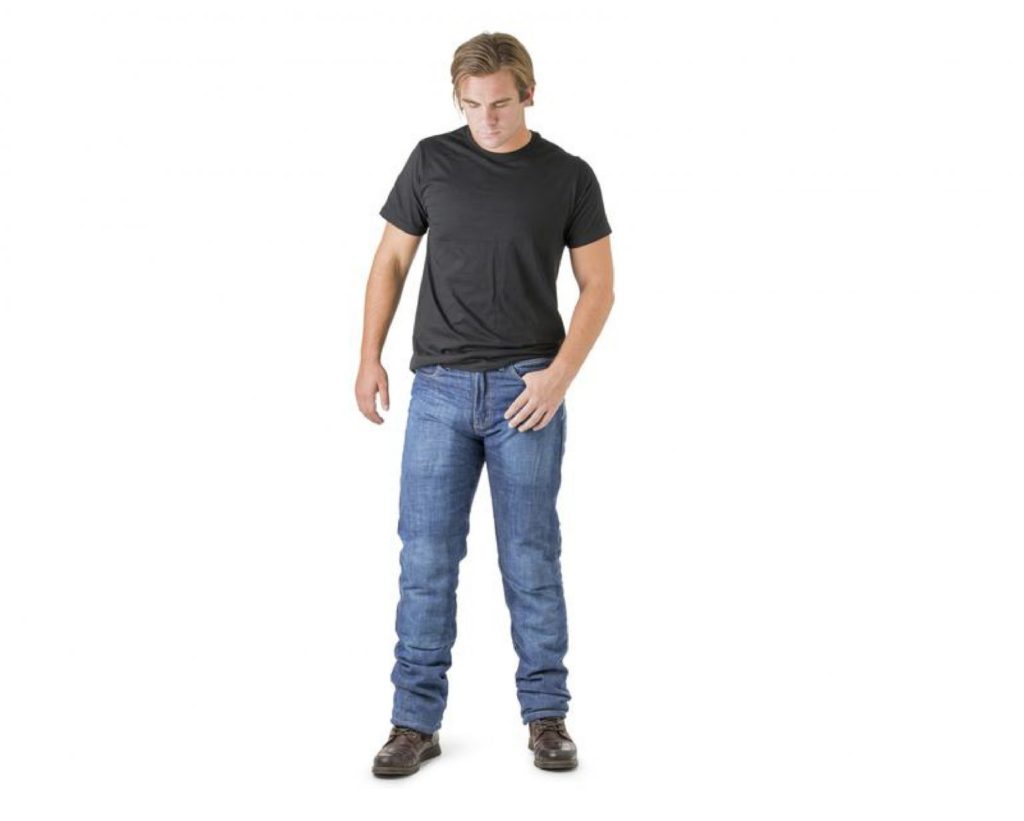 That being said, even if you have the strongest jeans, denim just doesn't offer the same level of protection that leather provides. Therefore, if you're a beginner or casual rider, make sure you couple your pants with safe motorcycling riding practices and the safest motorcycle you can buy.
Best Motorcycle Riding Pants for Experienced Riders
Experienced riders will be looking for motorcycle riding pants that are solely for riding. These won't double up as clothing on campus or in the office. However, they are the safest option and most suited for track days or sports riding.
These kinds of pants are usually made from leather or other strong textiles specifically designed for riding. They often have built-in motorcycle armor or flexible armor. Additionally, as this kind of material is more rigid than denim or khakis, they will have built-in stretch patches, too.
Here's what to look for when choosing motorcycle riding pants:
Heavy textile (600D or above) or leather over 3 oz.
Stretch panels or adjustable fit
Memory foam impacts for shock absorption
Knee pucks (for sports riding)
Zippers/snaps to attach to your motorcycle jacket
Sedici Niccolo Pants arguably give you the most bang for your buck. Just shy of $250, they are very affordable for leathers and still have impressive specifications. They have a full-grain leather chassis and strategy panes that allow for cool airflow during the summer. Moreover, the CE-Certified Level 2 knee armors allow you to get down low on those corners with maximum protection.
If you're after the crème de la crème of protective motorcycle pants, Dainese Misano Perforated Leather Pants offer you the best track protection and comfort that money can buy. The motorcycle pants are made from the same premium DSkin 2.0 leather as the Dainese D-Air Misano Race Suit. This is interwoven with S1 bi-elastic fabric and NanoFeel Silver Ion antimicrobial liner. When these come together, they give you incredible protection. Additionally, these pants also come equipped with interchangeable knee sliders and Pro-Shape soft hip protectors. If you're a serious track rider, these are the pants for you.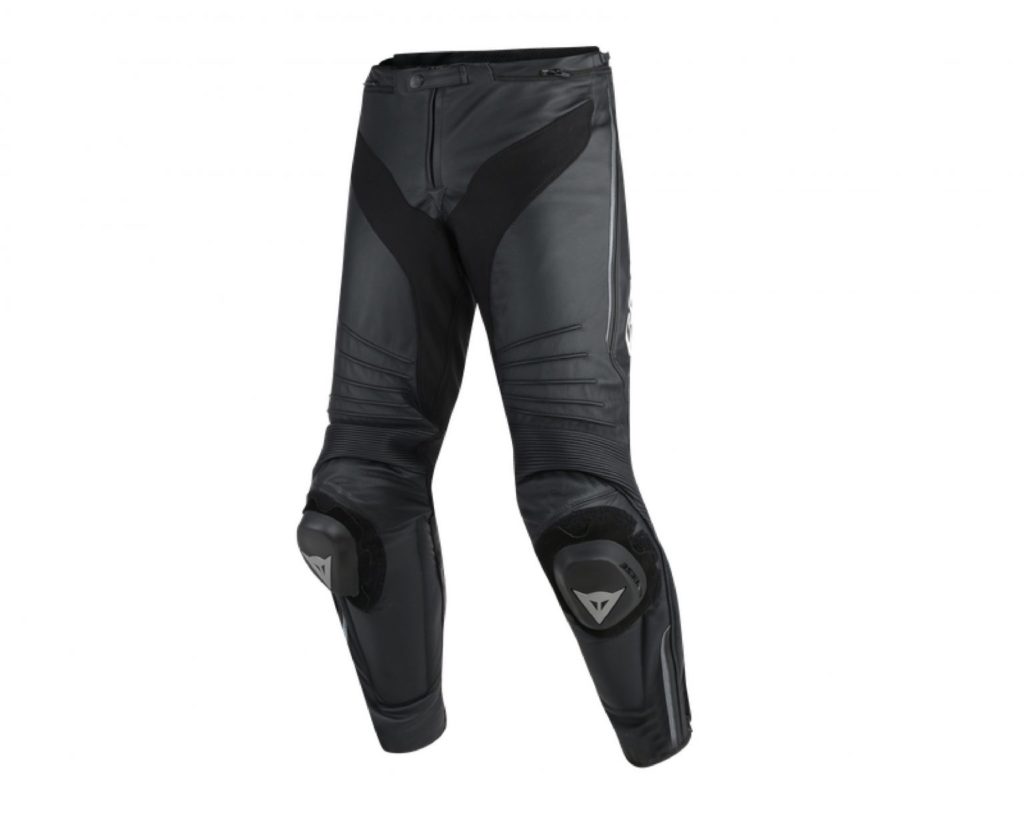 Best Motorcycle Jacket for Beginners
Motorcycle jacket technology has come on leaps and bounds over the past decade. In the past, your one option was a thick, chunky leather jacket. And don't get us wrong, we're a fan; leather jackets are badass and great for cruising. However, they are also heavyweight, not water-resistant, and expensive.
That being said, the advancements in modern biker gear mean that, even as a beginner, you can find a high-tech motorcycle jacket that's more lightweight and versatile for any condition or type of riding.
Similar to motorcycle pants, if you're moving away from leather and going with textiles, you want to find a motorcycle jacket that:
Is double or triple stitched
Uses a blend of abrasion-resistant textiles
Is at least 600D or above
The first textile motorcycle jacket we'd recommend to new riders is the REV'IT! Eclipse. At just under $180, this jacket packs a lot in. The textile is a durable 600D polyester and an outer mesh chassis. Moreover, it packs in Level 1 armor in both the knees and elbows and has the capability to hold a level 2 back protector (which is sold separately). This is a simple and effective starter textile jacket.
The one downside of the Eclipse is that it may not be the best garment in the winter. Therefore, if you don't want to ride through chattering teeth, you might want to consider the Scorpion Optima for the winter months. This jacket has similar specs to the Eclipse, but it also has waterproof outer fabric and includes removable thermals. Fortunately, it's only $20 more than the Eclipse.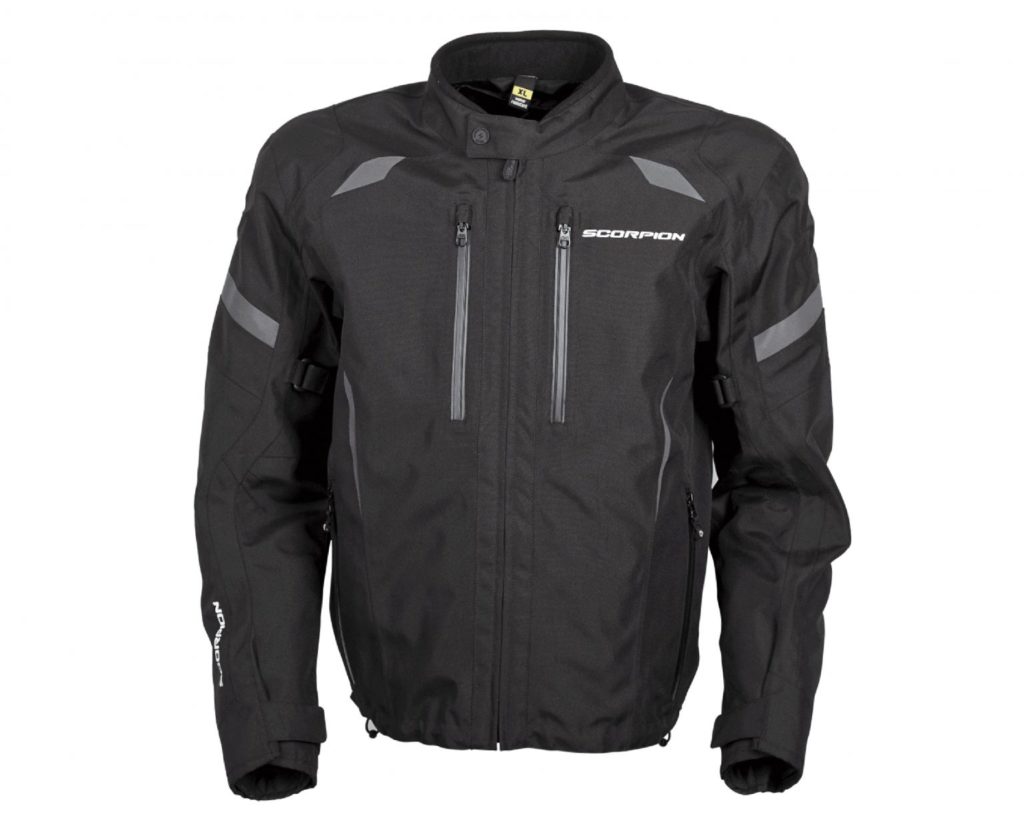 Best Motorcycle Jackets for Experienced Riders
Motorcycle jackets are not just undergoing a renaissance regarding new and robust textiles. The latest generation of best modern motorcycle riding gear has also taken safety to the next level, with the incorporation of airbags into jackets.
If you're after a smart jacket with incredible protection, look no further than the Dainese Smart Jacket. This contains an airbag with famed Dainese D-air technology, which is used by many MotoGP Riders. Its complex algorithm enables it to scan and recognise potential danger and adapt accordingly. With an algorithm built on 25 years of data collection, it protects you better than any leather jacket would.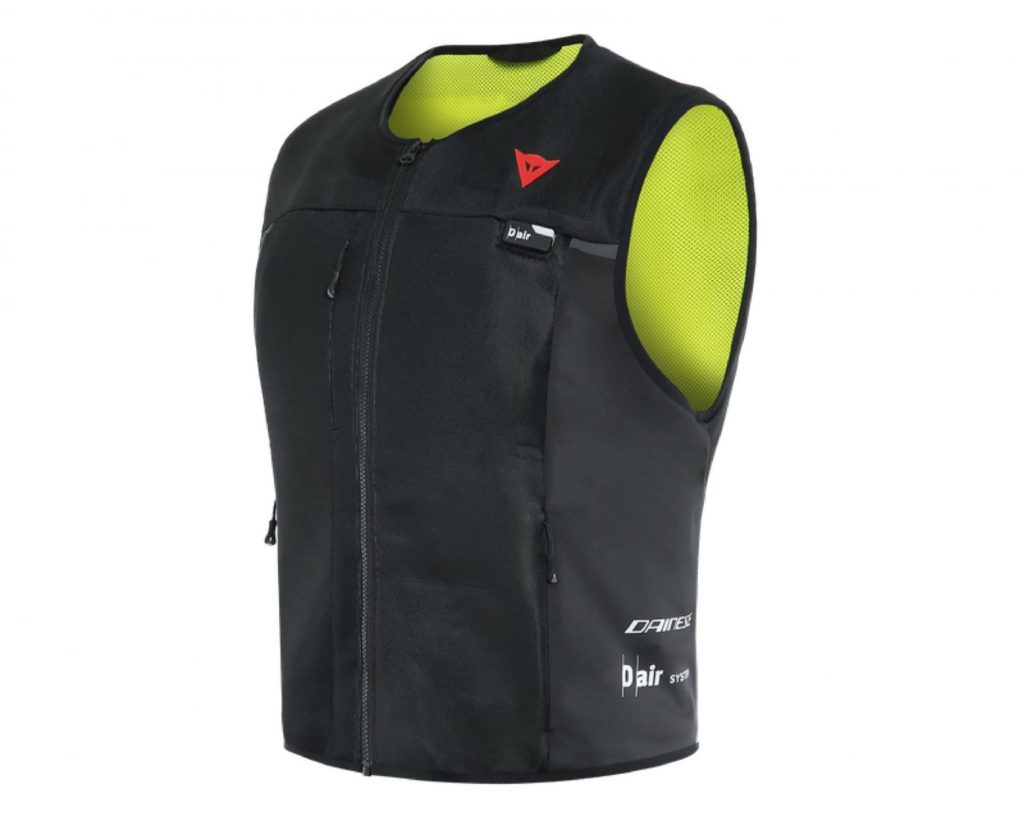 The main drawback of purchasing a high tech motorcycle jacket with a smart airbag is the cost. This kind of jacket usually retails between $500-$700. However, in terms of protection, you can't do any better.
Best Motorcycle Helmets
When it comes to motorcycle gear, motorcycle helmets have probably undergone the biggest technological revolution, with brands like Arai and AGV pushing the boundaries of what we've come to expect from brain buckets.
This makes sense as helmets are arguably the most important item of motorcycle gear when it comes to safety, especially when you consider that motorcycle helmets saved an estimated 1,772 lives in 2015.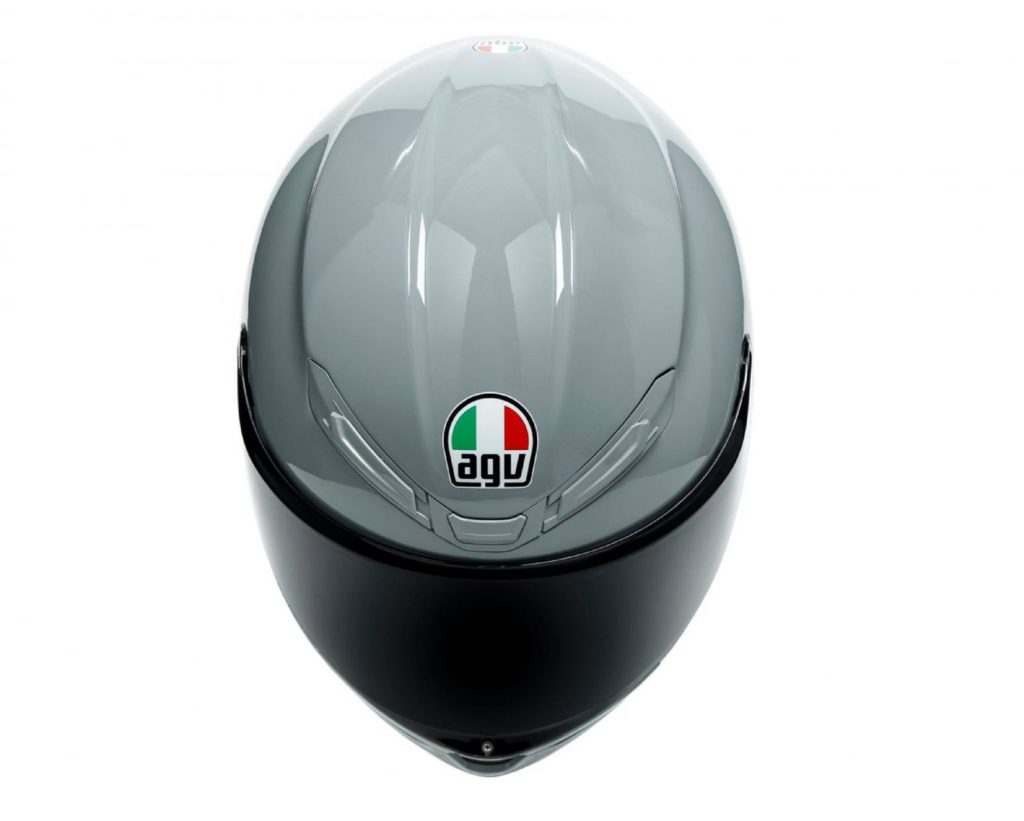 There are many types of motorcycle helmet styles on the market. These include:
Full Face
Modular
Off-Road
Half
Open Face
Dual-Sport
Because we consider full-face helmets to be the safest motorcycle helmet, our recommendations will focus on this type of helmet.
For those on a budget, there are many great motorcycle helmets available for under $200. One impressive lid in this bracket is the Bell Qualifier DLX MIPS Rally. This motorcycle helmet comes with a Multi-Directional Impact Protection System (MIPS). This is designed to dramatically reduce rotational impacts you may encounter while riding. Moreover, as the helmet is made from polycarbonate, it's very lightweight. This makes for a comfy helmet that doesn't skimp on safety.
If you're a stickler for modern motorcycle gear, there are plenty of groundbreaking HUD helmets on the market. Modern motorcycle helmets now have the capabilities to:
Show you potential dangers via a heads-up display (HUD)
Listen to music or connect with your phone via integrated Bluetooth
Capabilities for various LED signals to communicate with drivers around you
One such helmet that can do all of this is the CrossHelmet Smart Motorcycle Helmet. This helmet allows for 360° visibility, along with all of the specifications listed above. In addition to these technological capabilities and its sleek futuristic design, it's also fully DOT-certified.
This helmet is a peek behind the curtain of what's possible in the future of motorcycle technology. By utilizing the different capabilities of new technology, motorcycle gear and futuristic motorcycles will make riding safer than ever thought possible.
Best Motorcycle Riding Gloves
Motorcycle gloves are often overlooked, but are essential to comfort for both beginners and experienced riders. In addition to comfort, motorcycle gloves are also essential for safety as your hands usually come into contact with the ground in the event of a crash.
So, what kind of gloves are best for you? This is not really dictated by your experience on a motorcycle. These are the main criteria to look for when choosing your motorcycle gloves:
The climate – If you're riding in the cold, you want to make sure your gloves are warm enough. Cold hands will dampen your reaction times and are generally uncomfortable.
The type of riding you do – Sport bike enthusiasts might be after something a little sleeker than touring or long-distance cruisers who want gloves designed to go over their sleeve.
The fit – This is perhaps the most important. Too loose, they'll come off. Too tight, they'll restrict movement.
Whether or not you use touch screen technology – If you use touch screen technology of SMART apps while riding, you need motorcycle gloves that have smart-touch fingers.
When looking to choose the best electric motorcycle for you and the best gear, don't skimp on the gloves.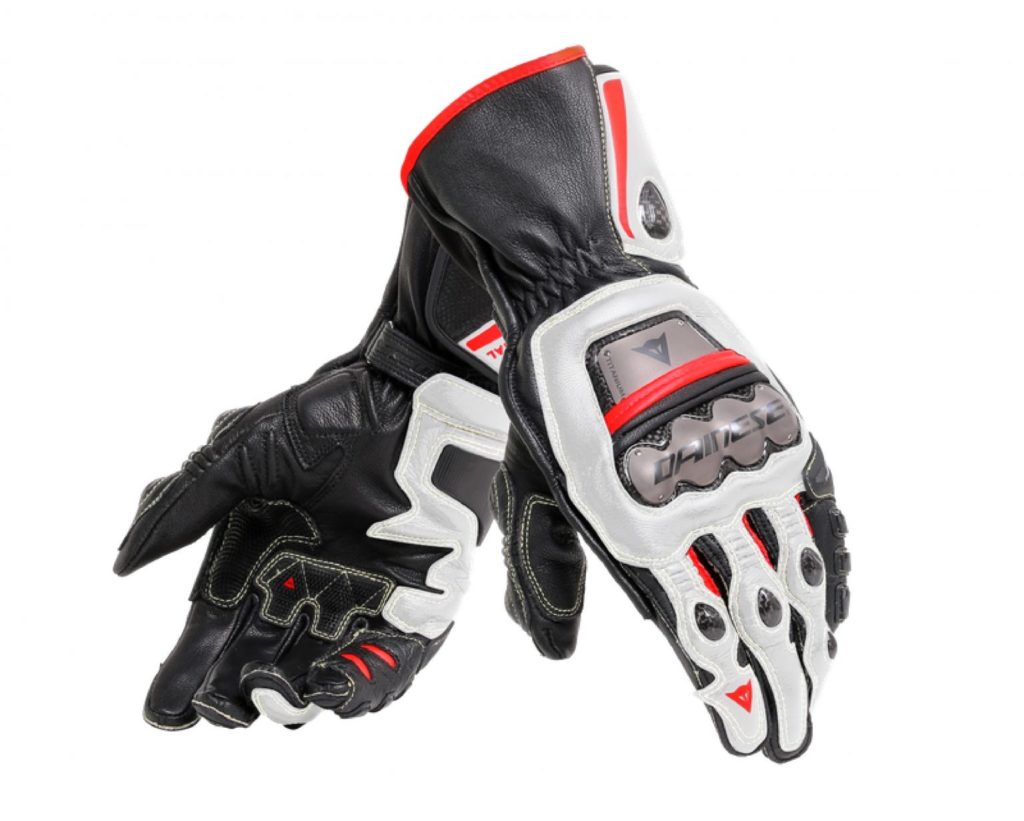 Modern Motorcycle Boots: What to Look For
Much in the same way as gloves, a good pair of motorcycle riding boots are essential and should also not be underestimated.
Forget about sliding down the road, every time you slow down, stop, change gears, or hit the back brake, your motorcycle boots are taking the hit. When it comes to choosing the right motorcycle boots, the way you ride will decide on the type and style. However, the most basic of survival instincts should tell you flip-flops are a bad idea.
There are different levels of complexity, protection, and price points. However, here are some of the minimum criteria you should be checking for:
Soles that are non-slip
Reinforced toe boxes and insteps
Extra protection around the ankle and shin
Easy to take on and off
Gore-tex (if you ride in a place where it rains frequently)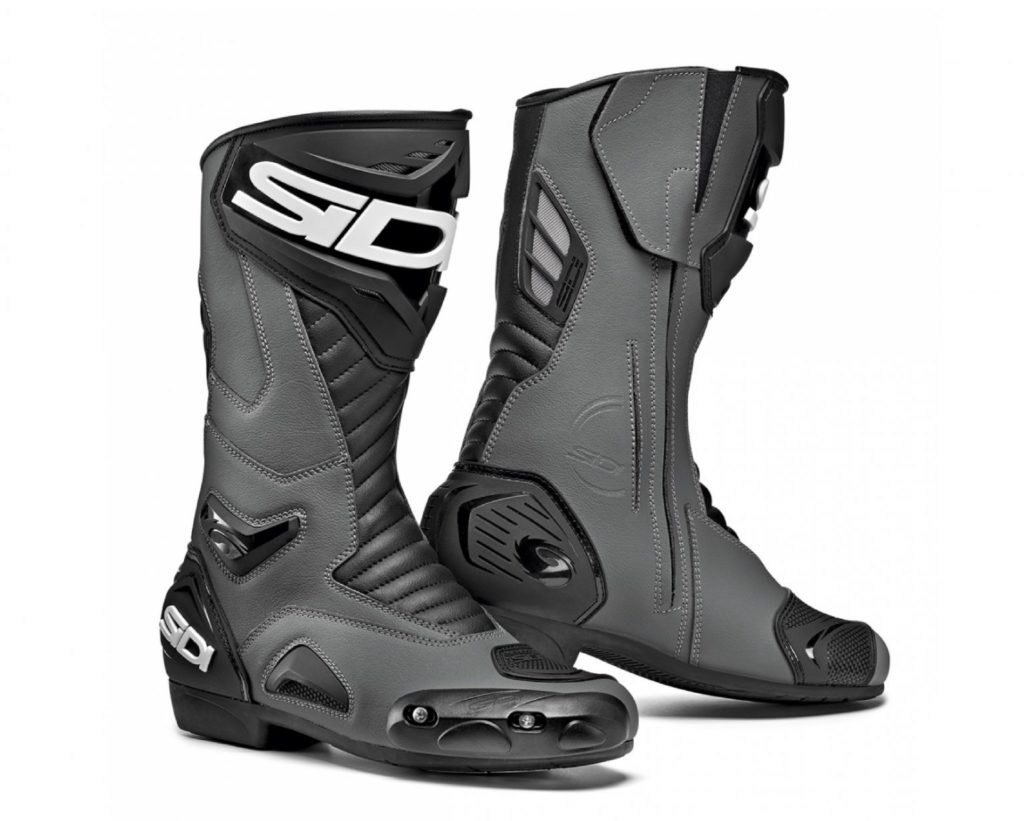 Motorcycle Riding Glasses: What to Look For
While it is possible to ride without motorcycle riding glasses, it's an added layer of protection you might not want to skip out on.
For motorcycle riding glasses to do their job well, they need to be a good fit around the eyes and nose. Furthermore, as they're going under your helmet, make sure the arms don't cause painful pressure points.
Motorcycle glasses need to be scratch resistant and have UV protected lenses – preferably ones that can adapt to different conditions – and should have a recognized safety rating. Manufacturers like Wiley X or Bertoni are a good place to start.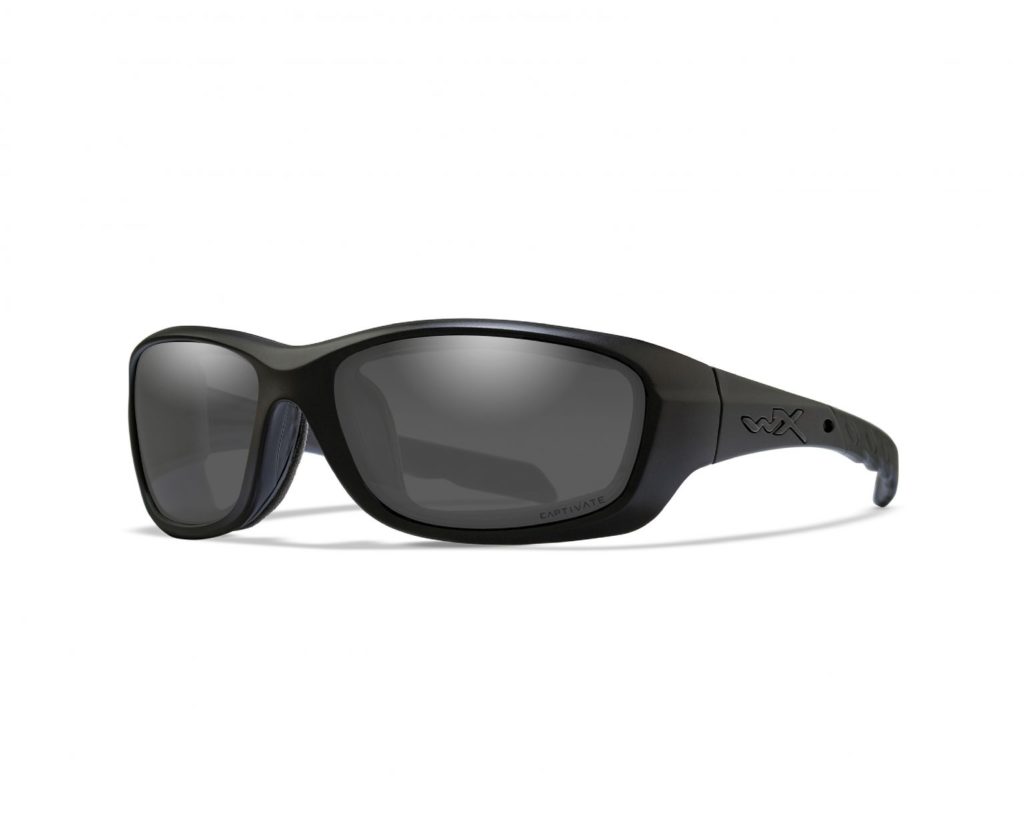 In other words, make sure you stay away from knockoff Ray Bans and look for the real deal.
The Future of the Best Motorcycle Gear
As you can see, there are a plethora of different modern motorcycle gear options available to both beginners and experienced male riders. However, it's worth remembering that gear is a highly individualized preference. Use this as a jumping-off point, but see what feels right for you.
While this is what the world of motorcycle gear currently looks like, we're only going to see more innovations in fabrics and safety technology in the future. This kind of gear, used in tandem with increasingly safer electric motorcycles, will make riding safer than ever before.
Tags In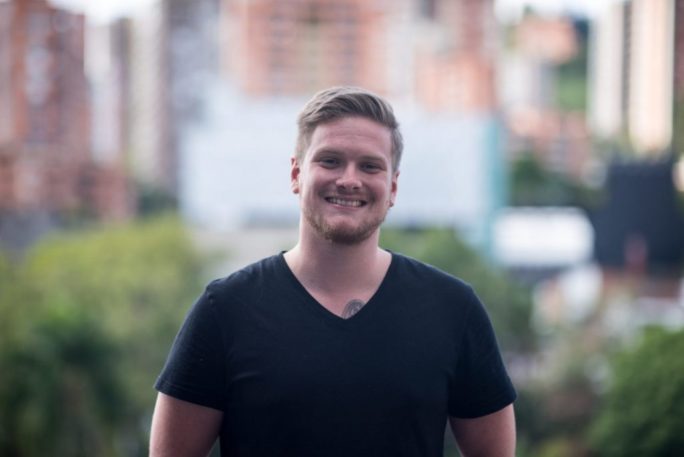 Mark Linsdell
Exploring Vietnam, Thailand and Cambodia on two wheels awoke a passion for motorcycles in Mark. With a degree in Print Journalism, he has written for a number of different industries and publications. However, the subjects that really get him excited are the latest EV trends and the future of electric motorcycles.