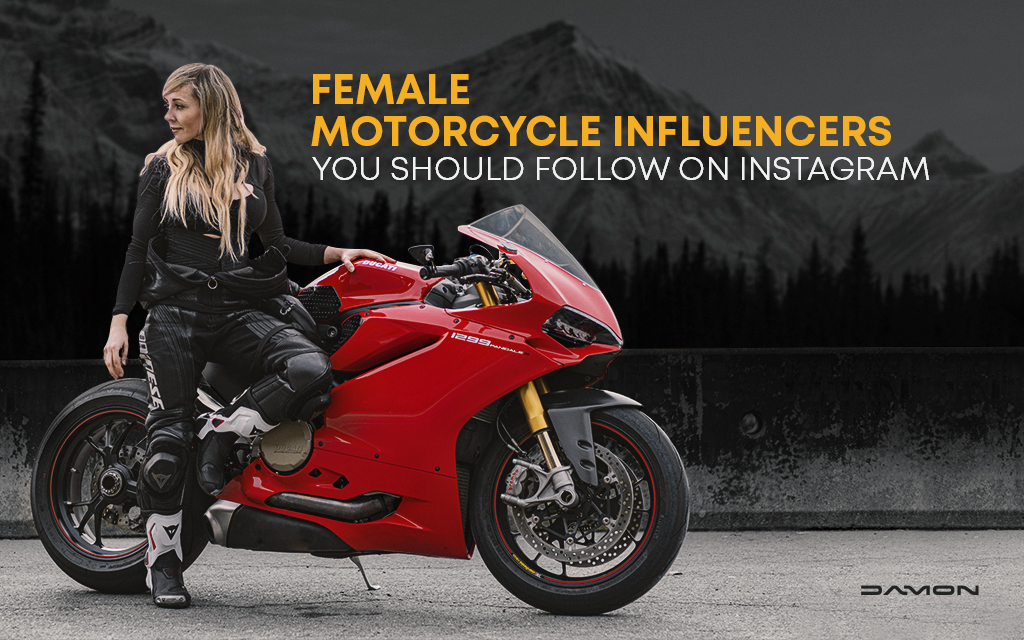 7 Female Motorcycle Influencers You Should Follow on Instagram
There's no denying what an asset social media has been to the riding community. Gone are the days of subscribing to a bi-monthly magazine to keep up to speed with the latest motorcycle news and trends.
However, social media doesn't only allow you to keep up to date with the latest trends and look at futuristic motorcycles, it also lets you keep up with the newest motorcycle riders. Here at Damon, we're noticing that some of the best motorcycle Instagram accounts are from female riders.
The number of female riders has boomed over the last couple of decades. In 2003, less than 10% of bikers in America were women. However, in 2018, that number had risen to 19%. There's no denying the role that Instagram's female motorcycle influencers have had in pushing this number up.
That being said, with the growing amount of quality content being produced by women riders, it can be hard to know the best accounts to follow. Don't worry, we got you.
We've compiled a list of the 8 most badass female motorcycle influencers to follow on Instagram. Let's get into it:
@rosyulina
According to her bio, @rosyulina has the juxtaposed position of being both a "Motorsports Athlete" and a "Pure Nerd."
Based in Malaysia, Yulina not only knows how to handle a bike on a track day, but she also knows how to get under the hood. A lot of her content is her carrying out repairs on both motorcycles and cars.
Yulina currently rides multiple bike brands. However, the most prevalent bike models on her Instagram page are a Yamaha R15 and, most recently, a 2021 Ducati Panigale V2. The latter has colors like the Japanese flag – particularly appealing to Yulina Tan Jade, who is Malaysian, but also part-Japanese.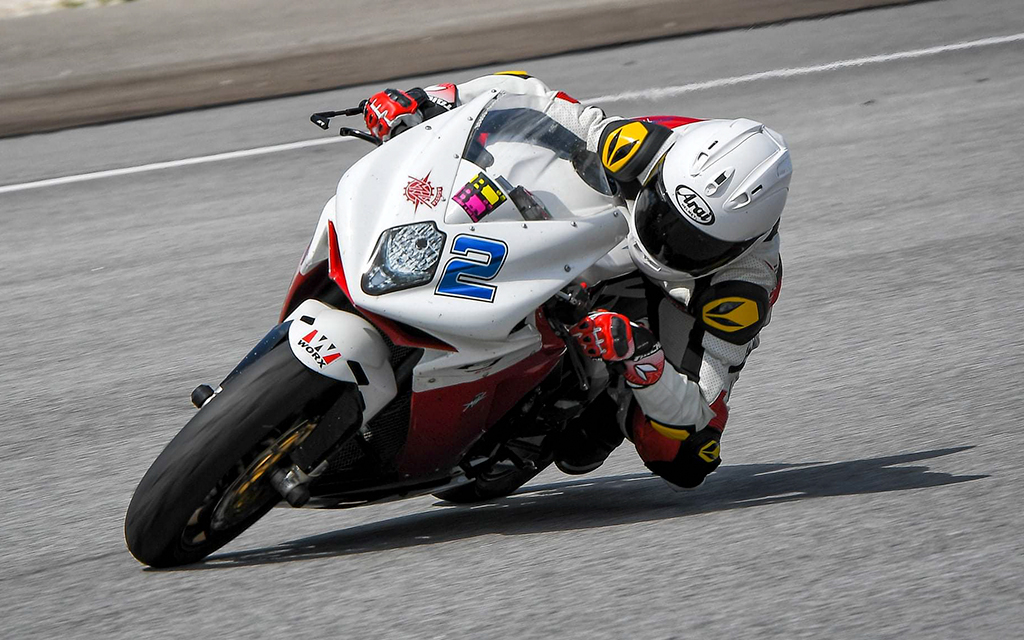 However, @rosyulina's love of speed and beautiful bike design is also coupled with a strong emphasis on safe motorcycle riding. This is underlined by her partnership with RS Taichi, Japanese-based racing leather suits, and apparel manufacturer.
@alina_cateyka
Alina has taken her passion for motorcycling around the globe. According to her page, she has visited over 40 countries. There's no doubt that this has seen her take many motorcycle road trips.
What kind of two-wheeler does @alina_cateyka take on these excursions? In her own words, "Anything with a big engine." However, more specifically, she rides two Ducatis and two BMWs:
Ducati V2
Ducati 848 SF
BMW S1000RR
BMW HP4
Like the Damon team, Alina is based in Canada. And, despite her vagabond lifestyle, her content celebrates the landscapes that her city, Toronto, and the rest of the Great White North have to offer.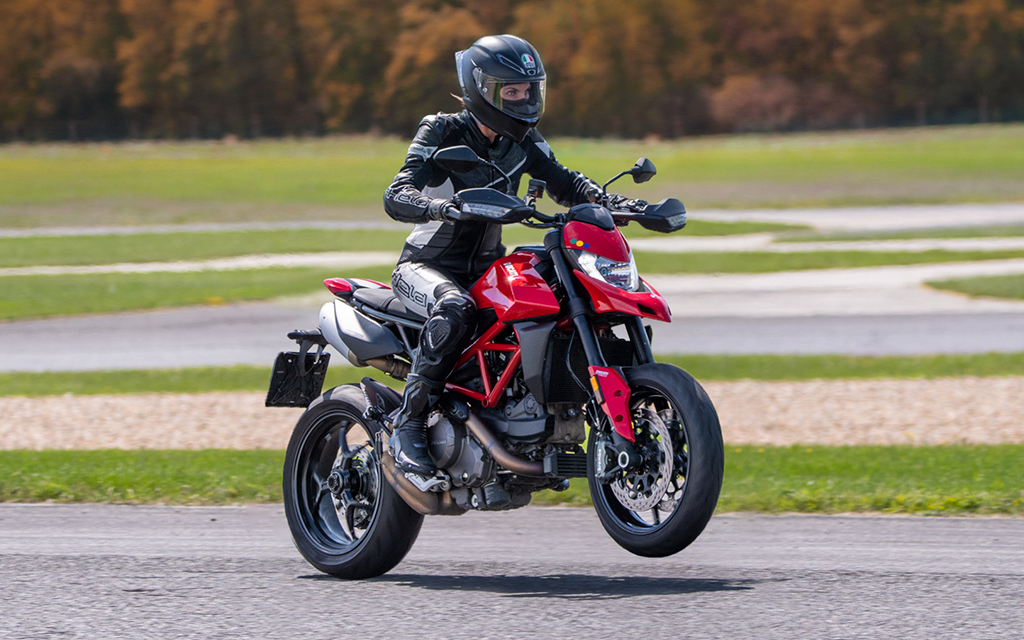 @chantal.doortje
We've been to Asia and North America, so now it's time to meet a female motorcycle influencer from Europe.
@chantal.doortje is based in the Netherlands and is pictured with some of the fastest and meanest sportbikes out there. However, in this track season, she's been riding a Kawasaki Z H2 2020 and a 2021 Ducati Monster.
That being said, despite her love for modern motorcycles, Chantal still pays respect to what comes before. This last Easter, she was pictured with her Grandfather's old-school Harley Davidson.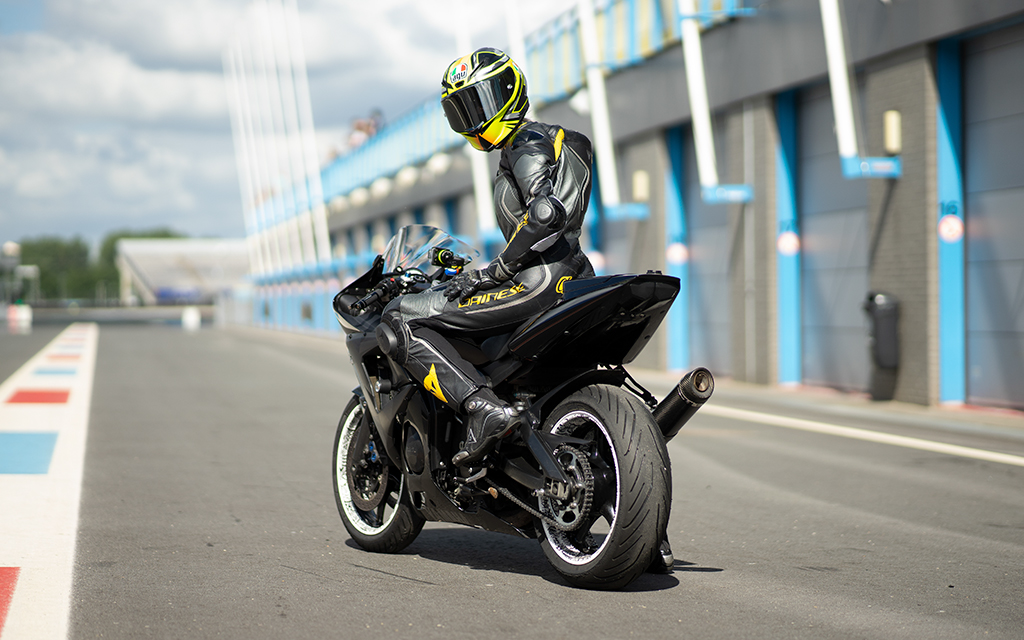 Chantal is endorsed by Dainese, for track day racing suits, and AGV, for motorcycle helmets.
We recommend both these brands in our Ultimate Guide to Women's Motorcycle Gear.
@ambers.paradox
It turns out that our VP of Customer Development is also a badass female motorcycle influencer!
Amber held off getting a motorcycle until her late 20's to keep her mom from worrying. But now, there's no stopping her.
Under her alias, @ambers.paradox, she's frequently pictured with her 3 motorcycles:
A Suzuki GSXR-750
A Honda CBR 10000RR
A Ducati Panigale 1299S
The next on that list is obviously a Damon HyperSport!
Amber is frequently pictured with sportbikes and on track days. In fact, she believes that track riding has given her a better understanding of the relationship between rider and motorcycle, and, ultimately, led to her being a safer rider on the track and day-to-day.
Having been in a motorcycle accident on the road, Damon's mission for smarter and safer riding is of utmost importance to her.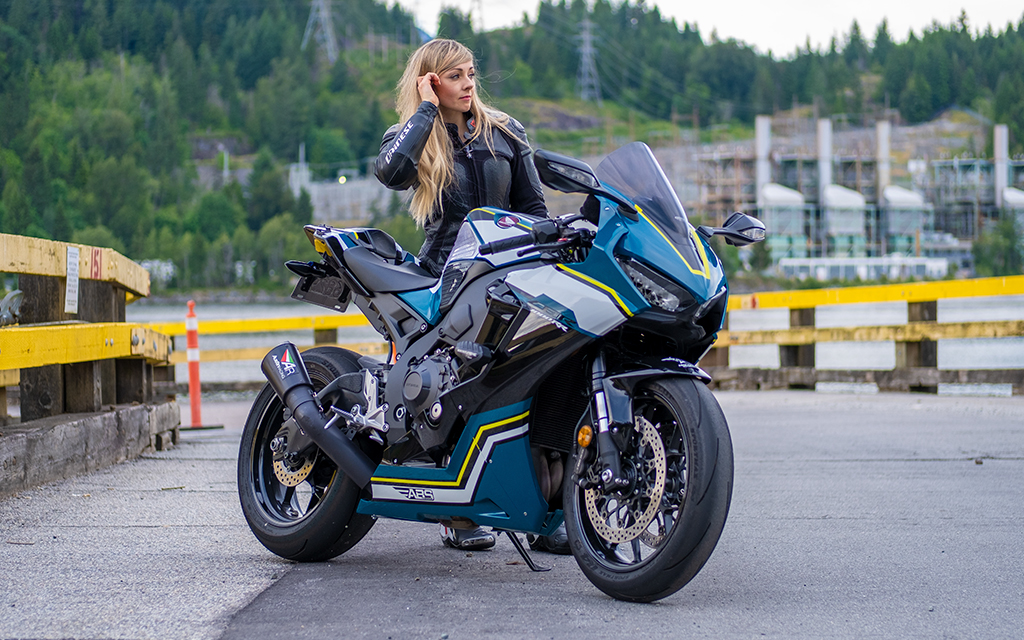 Want to learn more about Amber and the rest of the Damon team? Meet the Humans Behind the Hypersport here.
@brittanywinn
@brittanywinn is our first American on the list. Based out of Dallas, Texas, Brittany is both a motorcycle influencer and a fashion model.
As a result, Brittany doesn't shy away from the glamour of motorcycling. This is underlined by the custom Tiffany blue motorcycle ABS fairing job that wraps around her Honda superbike.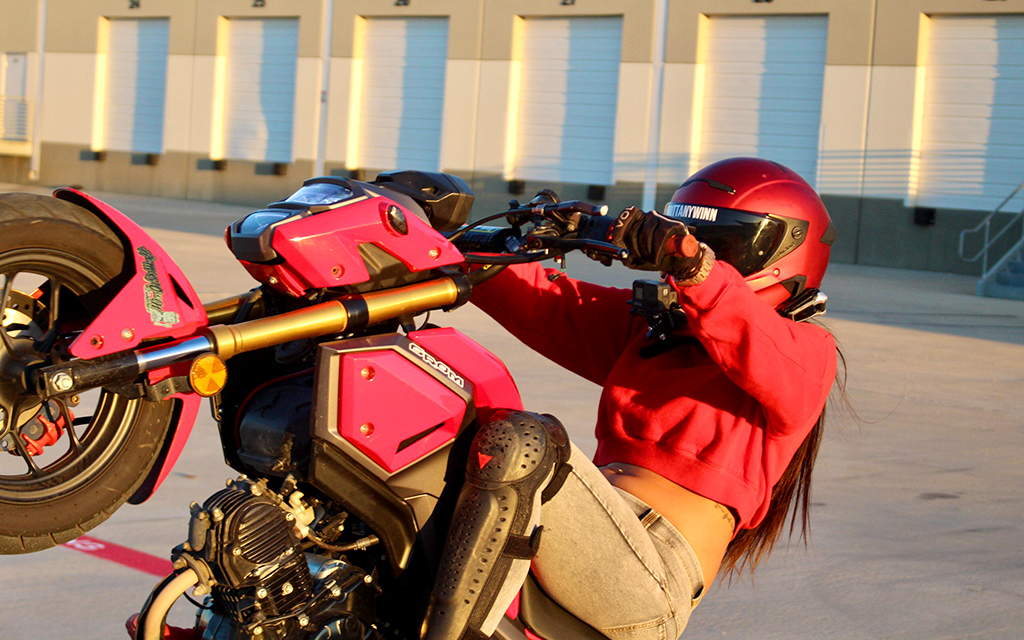 To add one more string to her bow, Brittany is also a stunt motorcycle rider. Her Instagram stories have footage of her stunts as well as wicked wheelies.
@redspade
@redspade is one-fourth of the popular female motorcycle influencer group, MotoTribe.
Besides content specifically related to track days and sportbikes. RedSpade also touches on subjects like the female motorcycling experience and the pros and cons of social media. Furthermore, you can dive deeper into these subjects on the MotoTribe YouTube Channel.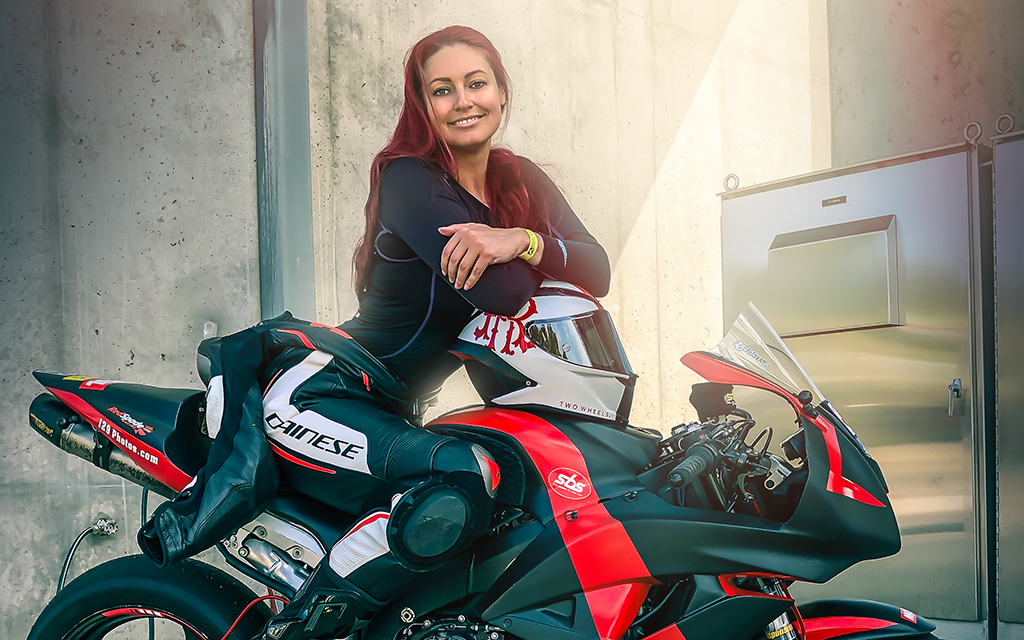 RedSpade has brand partnerships with respected brands like Dainese, AGV, and Pirelli. However, she's happy to customize her gear to her own style. In fact, one of her stories shows her carrying out a custom design job on her AGV helmet.
@motolady
One of the first, or in her words, an "OG."
@motolady has been flying the flag for female riders for many years now. So much so, she wrote the book on it. Her book, The MotoLady's Book of Women Who Ride: Motorcycle Heroes, Trailblazers & Record-Breakers, is a great read for anyone interested in learning more about some more badass female riders.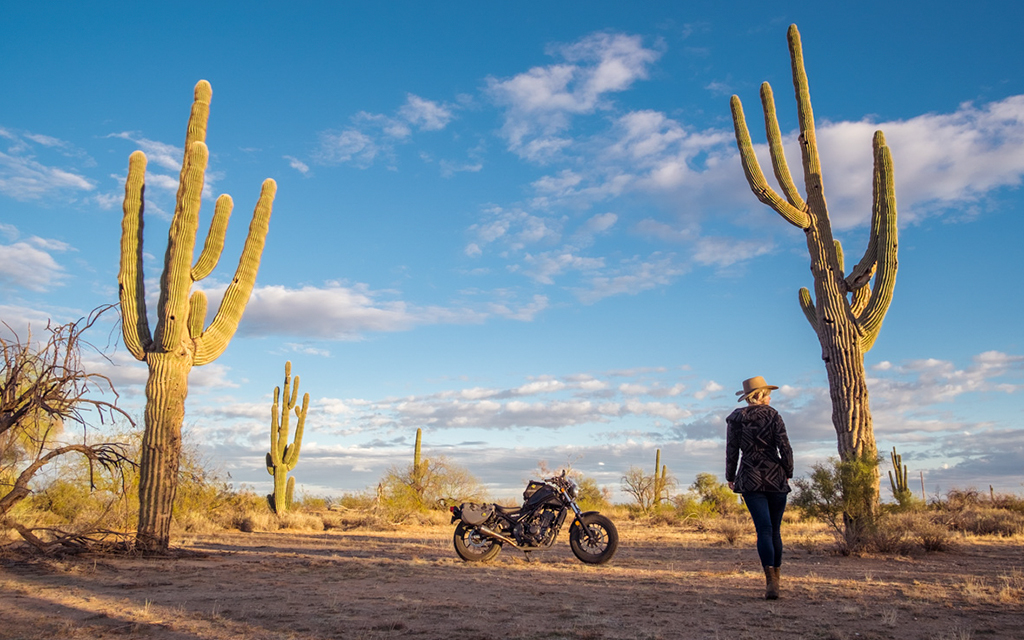 Her Instagram serves as a platform for women in the riding community. Furthermore, MotoLady also founded the Women's Moto Show – which is now in its 6th year.
Bottom Line
Female motorcycle influencers are hugely disrupting the motorcycle content world. And while there are countless other women worthy of checking out, these 7 are a great place to start.
If you feel like another badass female rider should be added to the list, give us a shout on social media or email us at [email protected].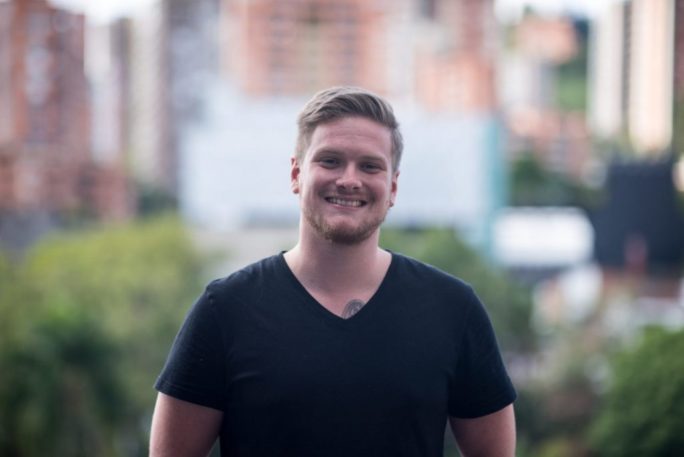 Mark Linsdell
Exploring Vietnam, Thailand and Cambodia on two wheels awoke a passion for motorcycles in Mark. With a degree in Print Journalism, he has written for a number of different industries and publications. However, the subjects that really get him excited are the latest EV trends and the future of electric motorcycles.