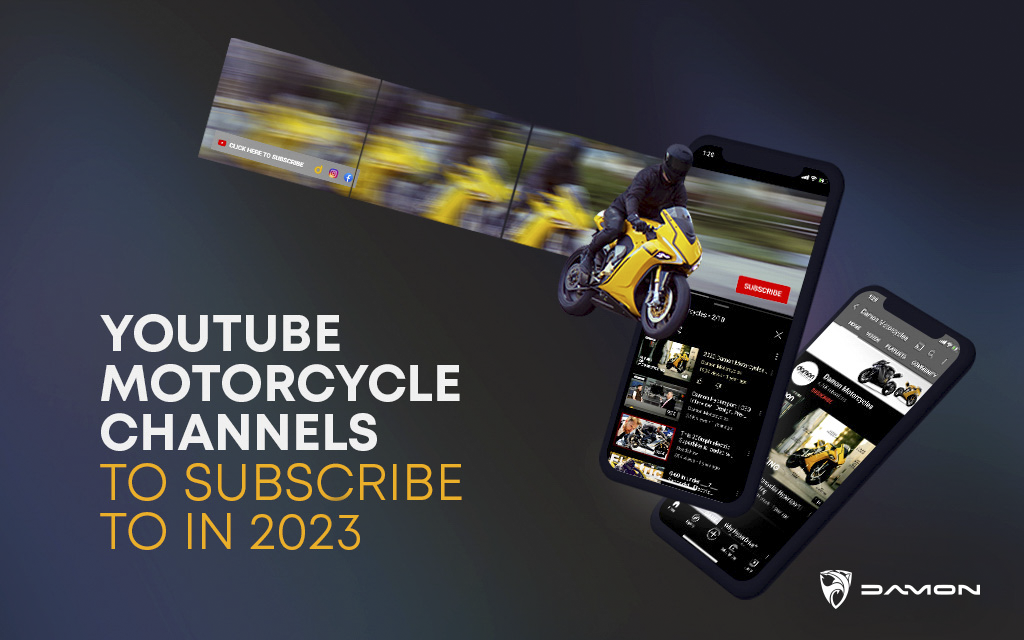 7 YouTube Motorcycle Channels to Subscribe to in 2023
Motorcycle videos on YouTube are commonplace. Since the video platform's inception in 2005, videos of races, 'fails', or accidents have been difficult to miss.
Since then, there has been a growth in high-quality motorcycle content on YouTube – made by riders, for riders. In fact, you can learn how to ride, find the latest motorcycle news, look at new futuristic motorcycles for sale, and much more. You just need to know where to look.
With that in mind, we've put together this handy guide to the best YouTube motorcycle channels. So, whatever kind of rider you are, you can find a motorcycle channel with videos you'd enjoy! Let's get into it.
First on the list is 650iB.
This channel has been around since way back in 2007. iB focuses on not just motorcycles, but cars, as well.
It's a great channel if you're a fan of looking at the best-of-the-best vehicles on the market. One such video that sums this up is when Philly-based 650iB drives from Philadelphia to Southern California to check out Jay Leno's motorcycle and car collection. Leno is known to be an avid motorcycle enthusiast and, as you can imagine, his collection does not disappoint:
650iB has also made a video of the next motorcycle we think Leno will want to add to his collection next: the Damon Hypersport. In this video, iB sees the HyperSport Premier and HS models in action and speaks to our CTO and Co-Founder, Dom Kwong, about Damon's groundbreaking electric motorcycle technology.
iB's passion for motorcycles and cars oozes out of all of his videos. Therefore, his channel is a must-watch for those with a love for any kind of vehicle.
Chaseontwowheels is a great channel to go to for a weekly slice of motorcycle news. Georgia-based Chase has a weekly live vlog where he and his co-host, Bo, discuss the latest goings-on in the world of motorcycling. And, if you prefer these in audio form, you can also listen to LIVE Ontwowheels on Spotify.
Chase is also privy to trying out some of the latest and greatest motorcycles on the market with his regular YouTube series, First Rides. In these videos, Chase rides some of the latest motorcycles, commentates on the ride, and is filmed by both a cameraman and a helmet camera.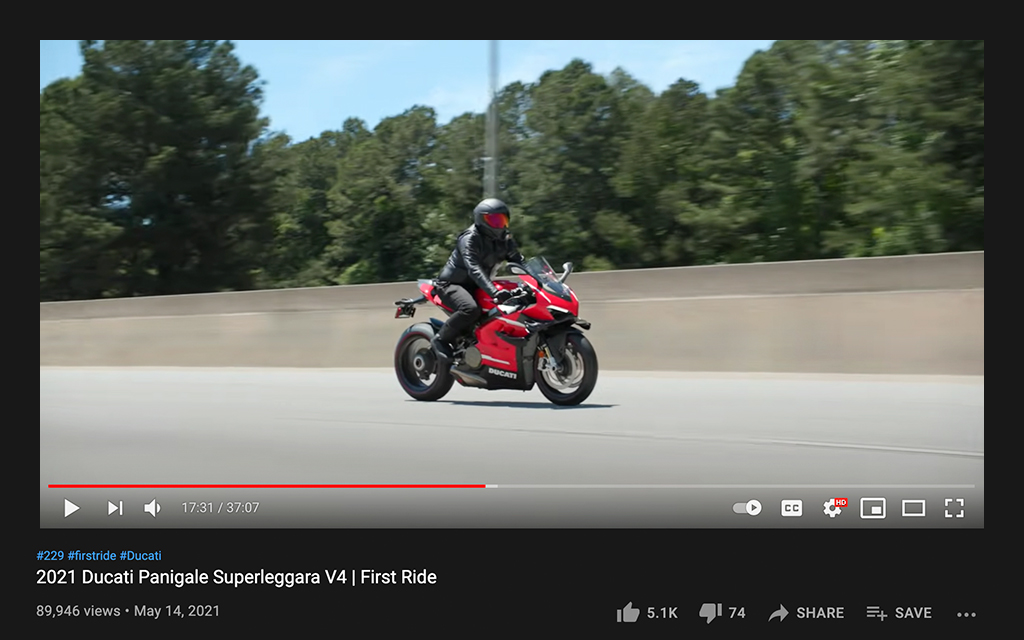 Chaseontwowheels is the YouTube channel for you if you want to keep your finger on the pulse of the latest news in the motorcycle world, but want it delivered in a conversational and relaxed format.
Instead of big bikes and bravado, Doodle's YouTube channel welcomes you in with a video titled "Why I RIDE."
In this, Doodle explains the pull of wanting to make her immigrant parents proud and the yearning to get out of the city to have adventures in nature and solitude.
This yearning for escapism led her to ride and take long-distance motorcycle road trips on the weekend. To help others do the same, Doodle's content focuses on her own motorcycle journey, learning motorcycle maintenance, and other practical advice to new riders.
Furthermore, Doodle has a lot of videos about being a female motorcycle rider, with specific insights and advice for other female riders.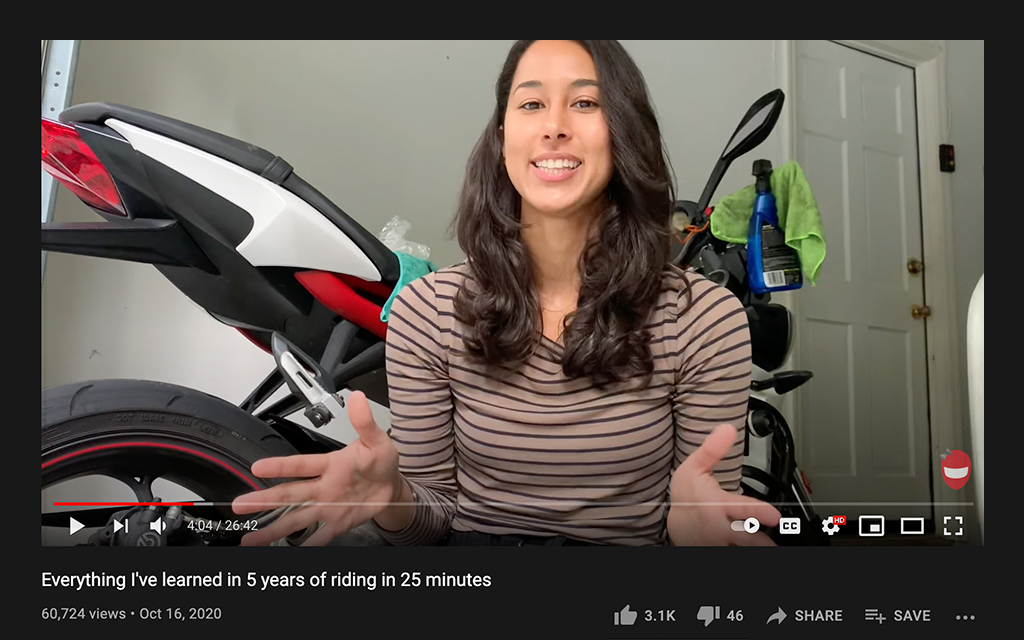 Doodle on a Motorcycle is perfect if you're new to motorcycling and want some practical advice and tips. Additionally, it's also a great channel if you're a female motorcycle rider who wants videos produced specifically for the female riding community.
Want more content from women riders? Check out our blog 7 Female Motorcycle Influencers You Should Follow on Instagram
Snowcat focuses on the lighter side of motorcycling. In fact, the most popular series on his channel is his Bad Driving Compilations.
That being said, Snowcat also carries out product reviews on the best motorcycle gear and gadgets, as well as some videos with handy motorcycle DIY tips. The majority of his videos are carried out using a helmet camera and, as a result, feel like a 1st-person-shooter video game at times.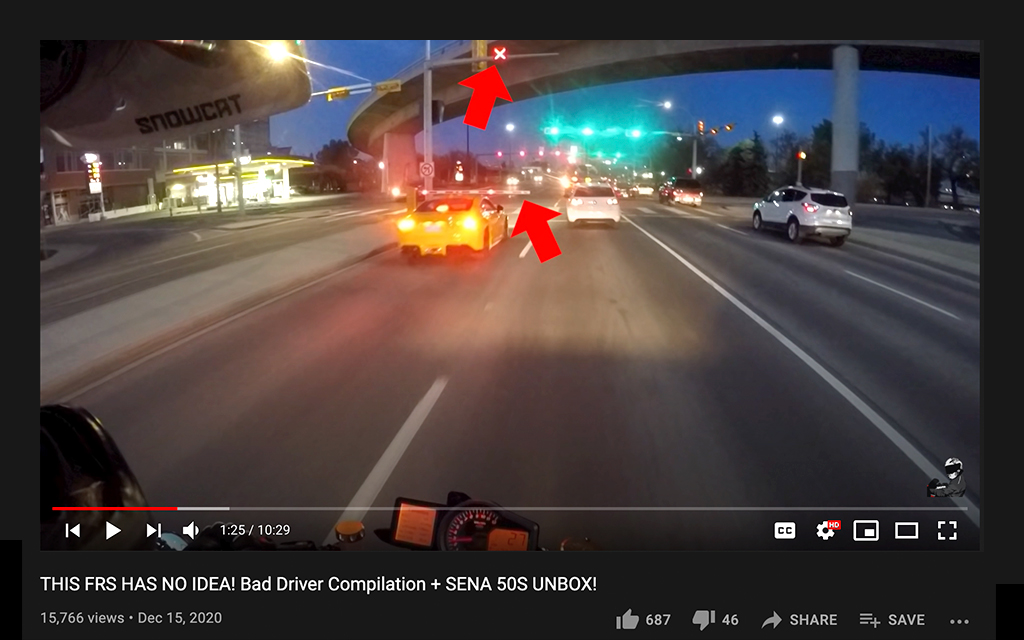 However, Snowcat does still appear in the occasional video. Snowcat's YouTube channel is great if you want a sometimes sideways look at motorcycling or if you want to see what motorcycle gadgets and accessories you might want to attach to your two-wheeled friend.
The next YouTube motorcycle channel takes us across the pond to the UK.
44Teeth's hosts, Alastair Fagan and Chris Eades (who goes by his YouTube alias of Baron von Grumble), describe themselves as Walter White and Jesse Pinkman – the only difference being they "create delicious, motorcycle-based content rather than meth."
We can confirm, that some of the video content on here is definitely delicious. The different Budget Bike series on their channel are both entertaining and useful if you're looking for some tips for choosing your first motorcycle.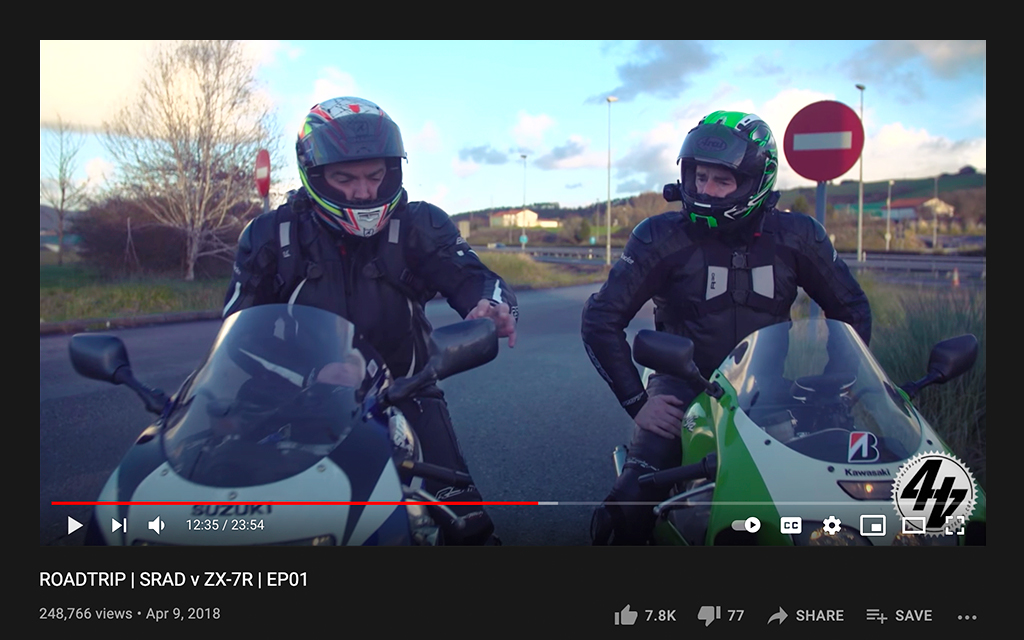 However, if you're after something a little more advanced, they also review some of the latest motorcycles entering the market. The most recent series on their channel is about their preparation for the upcoming 2022 Dakar Rally.
This channel is great if you're after content that's both entertaining and funny – think Top Gear for motorcycles – but also has some tasty motorcycling tips.
Where do you stand on the debate of electric motorcycle vs gas motorcycle? If you're in the electric camp, this is the YouTube channel for you.
FullyCharged is the "world's number 1 clean energy & electric vehicle channel." Twice a week, host Robert Llewellyn looks into the myths of renewable energy as well as what the future of clean energy looks like.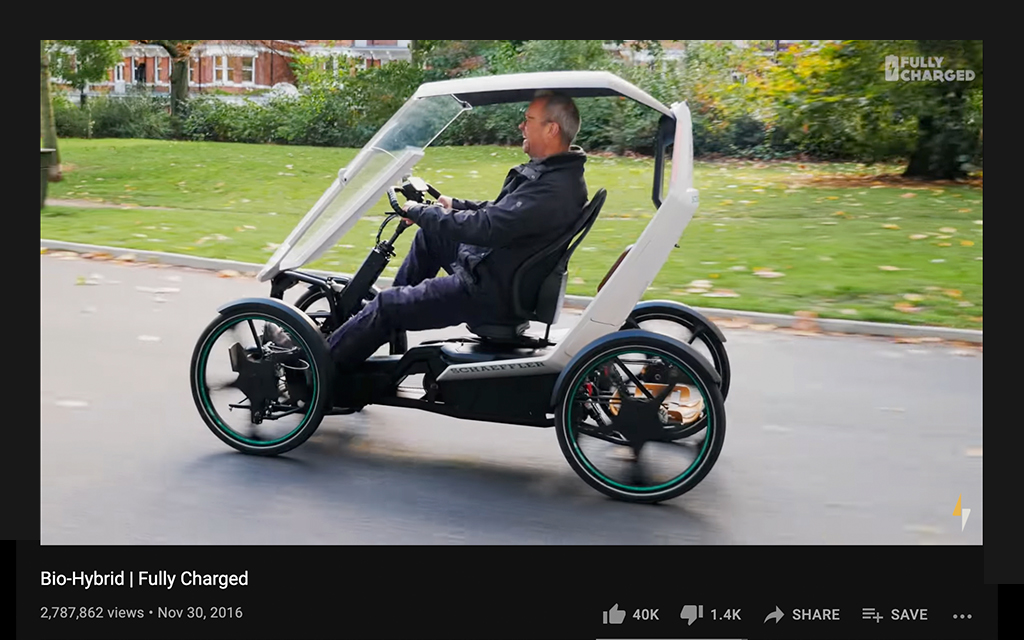 This is a great channel for electric vehicle enthusiasts – with content focused on electric cars, motorcycles, bikes, boats, and planes – but also clean energy in general. However, if you're specifically looking for electric motorcycle content, check out the channel's playlist on electric bikes.
Last, but certainly not least, is Yammie Noob. Yammie's channel tagline claims to be "where internet and motorcycle culture collide". This is spot on.
Yammie's knowledge of all things two-wheels as well as his entertaining presenting style make this channel one of the most watchable out there. Furthermore, there's content for both first-time riders and more experienced riders, too.
His channel is home to Yammie's useful video essays, with titles such as Top 10 WORST Beginner Motorcycles and How to Get Started With Motorcycles!
This is great content for beginner riders. However, if you're longer in the tooth, there are also reviews of top-of-the-range sportbikes, including the Ducati Panigale and a Turbo Hayabusa.
So, whatever kind of rider you are, Yammie's channel has a bit of something for everyone.
Bottom Line
There you have it! As you can see, whatever area of riding you're interested in, one of these YouTube motorcycle channels is the right one for you.
Are there any motorcycle videos on YouTube we should check out? Or did we miss any channels that deserve to be on this list? Give us a shout on social media or email us at [email protected].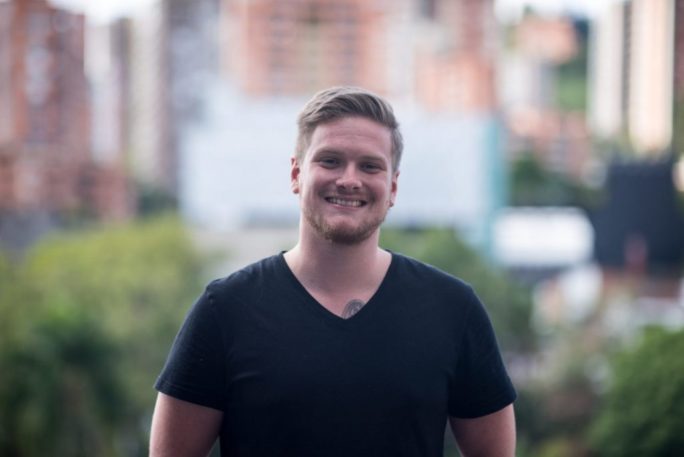 Mark Linsdell
Exploring Vietnam, Thailand and Cambodia on two wheels awoke a passion for motorcycles in Mark. With a degree in Print Journalism, he has written for a number of different industries and publications. However, the subjects that really get him excited are the latest EV trends and the future of electric motorcycles.