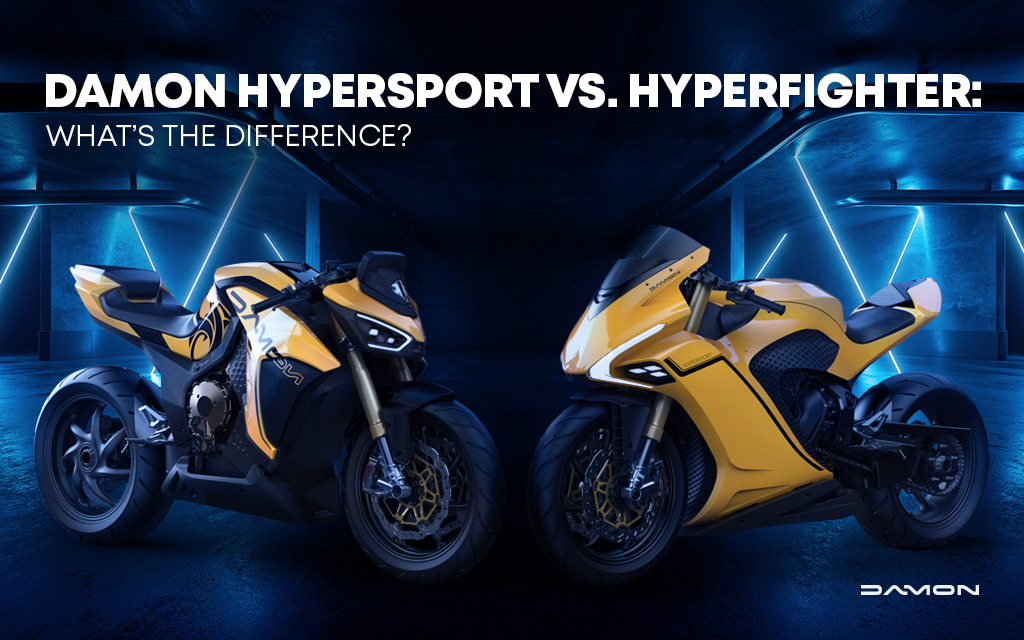 Damon HyperSport vs HyperFighter: What's the Difference? 
Decisions, decisions, decisions. We spend our lives making decisions.
In fact, the average human being makes 35,000 decisions every single day. However, not all decisions are made equal.
For example, choosing between a Damon HyperSport and a Damon HyperFighter is a tougher decision than grande or venti. And while we support you reserving both, we know that's a little unreasonable. So, we're here to help.
We've broken down the differences and similarities between our two models to help you decide which one is right for you. The other 34,999 decisions? You're on your own!
Let's start with our flagship motorcycle, the Damon HyperSport.
Damon HyperSport
There are four different versions of HyperSport:
HyperSport Premier
HyperSport HS
HyperSport SX
HyperSport SE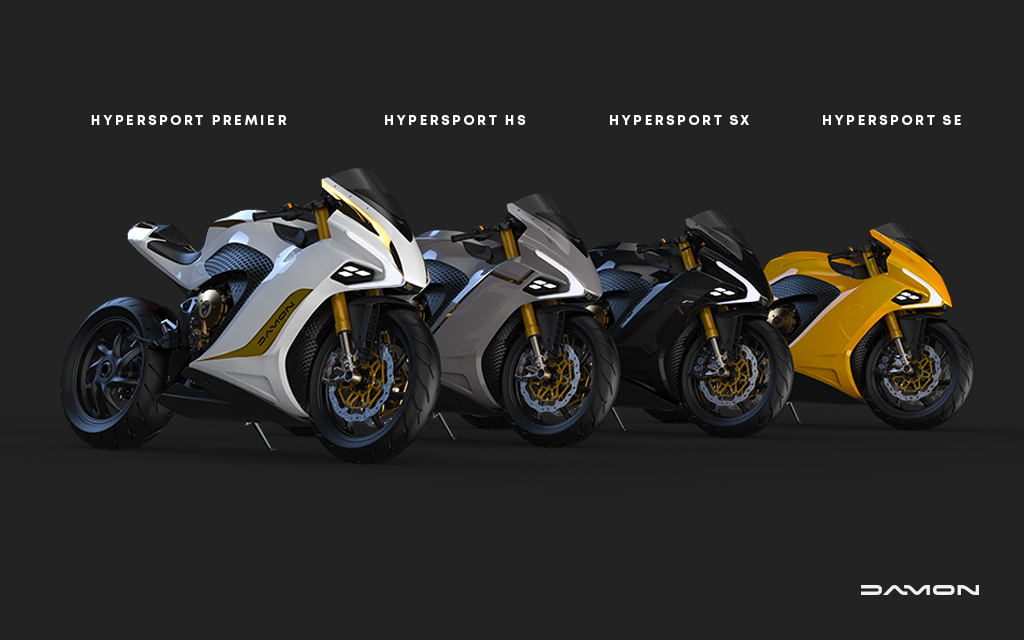 While they differ in specs, they are at their core electric sports bikes. Therefore, the main difference between our HyperSport and HyperFighter is the design. HyperSport has a sleeker and more streamlined design than HyperFighter.
Why is this?
Well, when you're designing any sports motorcycle, one of the main aims is to minimize aerodynamic drag as much as possible. The less drag, the faster you'll be able to go.
This is further aided by Shift™ technology. Shift™ allows you to switch between sport and commuter positions at the push of a button while you ride. And, when you're in sport mode, you're basically lying flat on your front.
No drag = mo' speed.
This focus on aerodynamics allows us to offer the high-performance specs seen in HyperSport. For example, Premier and HS have a top speed of 200 mph, 200 hp, and an estimated highway and city combined range of 200+ miles.
Additionally, for those who want to work their way up the sports bike ladder, we have SX and SE. The latter starts at just $264/month – before EV grants and incentives.
Here's how the HyperSport versions stack up alongside each other: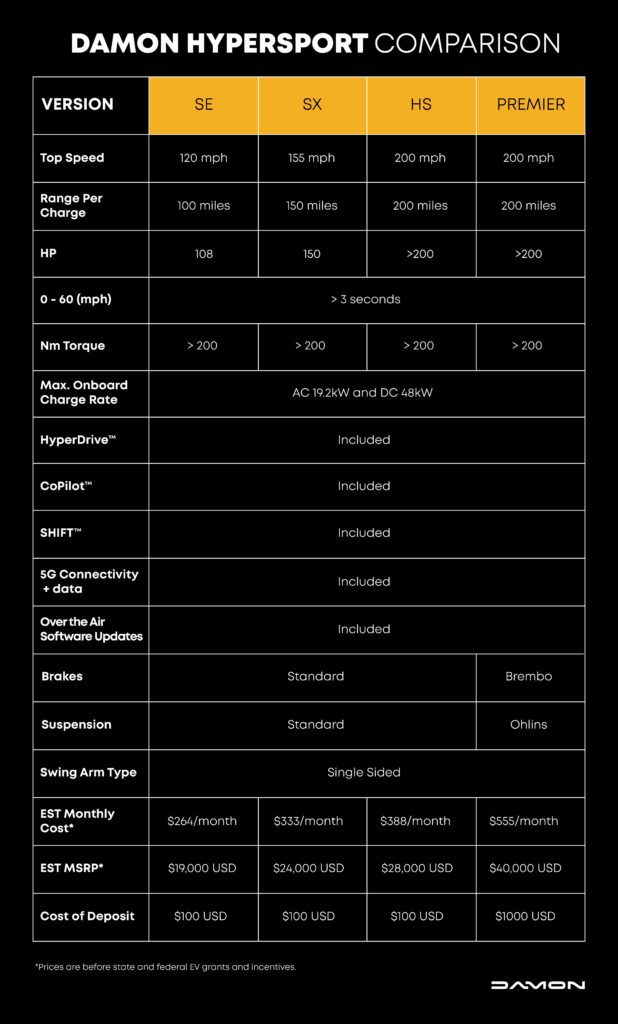 Damon HyperFighter
Damon HyperFighters are naked streetfighters.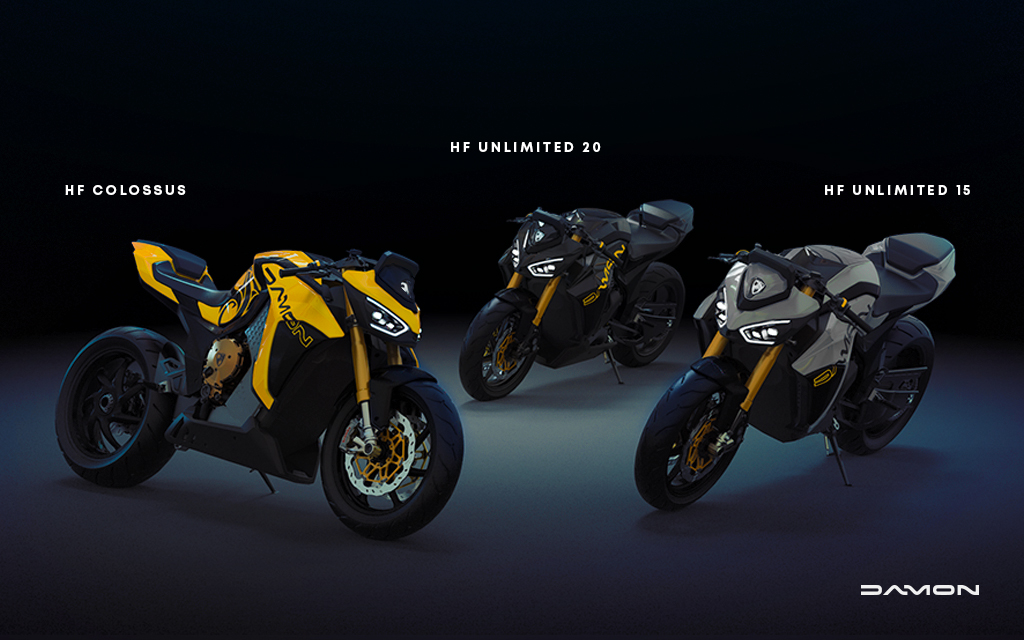 Stripped of its bodywork and fairings, the frame is more muscular than the HyperSport and has a more upright position. Therefore, this makes the HyperFighter slightly better suited for commuting than track days.
There are three different versions of HyperFighter:
HyperFighter Colossus
HyperFighter Unlimited 20
HyperFighter Unlimited 15
Hyperfighter Colossus & Unlimited 20 share some similarities: 200 hp, 170 mph top speed, and an estimated range of over 146 miles. Additionally, like all of our bikes, they come standard with Damon's award-winning technology.
However, Colossus comes with upgraded Brembo brakes, Ohlins suspension, and earlier delivery. It also has exclusive bodywork and is a limited edition.
So, if you want a slice of history, you've got to move fast.
That being said, if you're new to naked motorcycles, Unlimited 15 may be a good starter bike. And, if you decide to take advantage of our subscription plan, you'll have the option to upgrade from an Unlimited 15 to an Unlimited 20 – or even a HyperSport – at the end of your subscription plan.
Here's how they compare: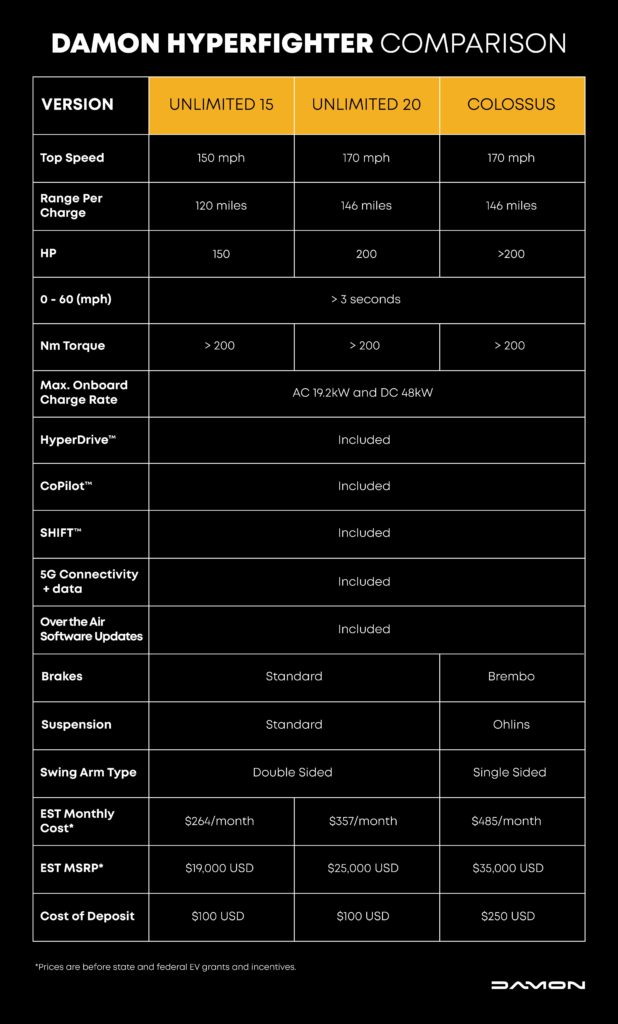 Remember: Even though it's not a sports bike, don't let that stop you from taking HyperFighter on the track! Whether you're an experienced racer or attending your first motorcycle track day, you should do it on the style of bike you're most comfortable with.
Why Is the Estimated Range of the HyperFighter Less Than the HyperSport?
Range anxiety is a big blocker for electric motorcycle skeptics.
Therefore, we often get asked why there is a drop in the estimated range between the HyperFighter and HyperSport versions – especially between Colossus and Premier.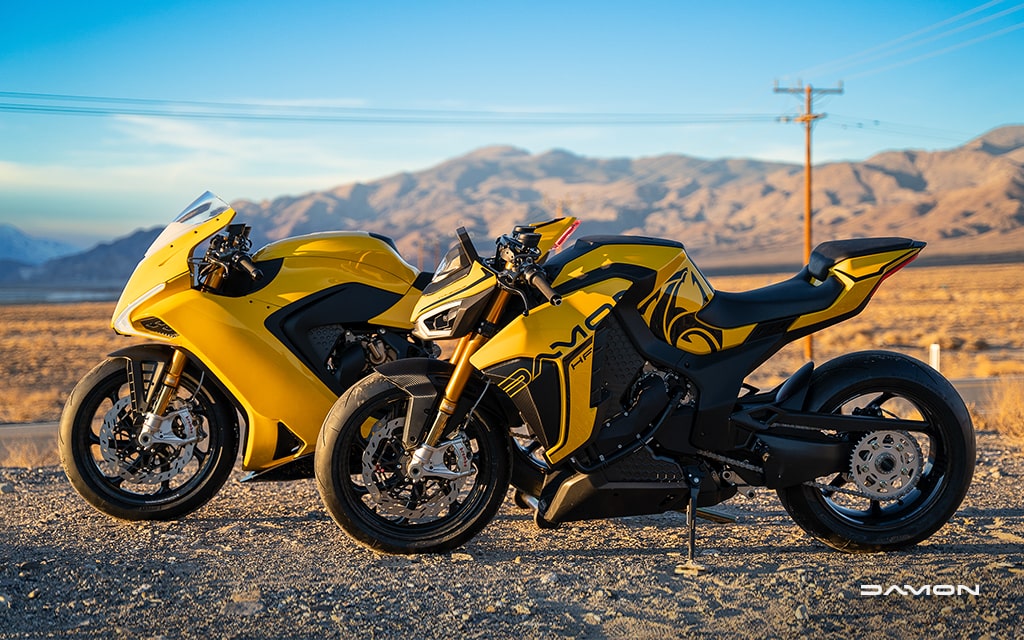 There are a couple of reasons why the range is lower between HyperFighter and HyperSport models:
The lack of streamlining on the HyperFighter versions (due to their naked frame)
The expected rider position is more upright on a streetfighter when compared to a sports bike.
That means there's more aerodynamic drag and, therefore, less range.
However, whether you own a HyperSport or a HyperFighter, as our battery technology improves, we aim to improve your range via OTA updates.
When it comes to range on a Damon motorcycle, it's like 80's pop duo Yazz said, "The only way is up". (Youngsters, Google it!)
What Are the Similarities Between HyperSport and HyperFighter?
HyperSport and HyperFighter models actually share 85% of the same parts.
To put it simply, you could consider the HyperFighter to be a streetfighter with sports bike specs. Or, in other words, it's a HyperSport stripped down.
Furthermore, like all Damon motorcycles, they are both built upon HyperDrive™, the world's first monocoque-constructed, 100% electric, multi-variant powertrain platform.
By building upon this platform, we can produce different styles of motorcycles more rapidly than traditional manufacturers.
Will HyperFighter Delay the HyperSport Delivery?
HyperFighter will not delay HyperSport production or delivery.
Due to them sharing so many similarities, we're able to build the HyperSport and HyperFighter alongside each other.
Our manufacturing plant in Surrey, British Columbia opens at the end of this year. When up and running, we will produce thousands of motorcycles each year.
So, if you've reserved a HyperSport, don't sweat! Production is going ahead as scheduled.
Want to see more of our plant? Watch this virtual tour with our Co-Founder and COO, Dom Kwong.
When Are They Available?
HyperSport and HyperFighter are available to reserve now!
Our aforementioned 108,000 sq. ft manufacturing plant in Surrey, British Columbia, is being built as we speak.
However, we've sold out of our 2023 allotment – and our order list keeps growing and growing.
So, whether you've decided on a HyperSport or a HyperFighter, you've got to move quickly to get your place in line. The future is here, don't get left behind!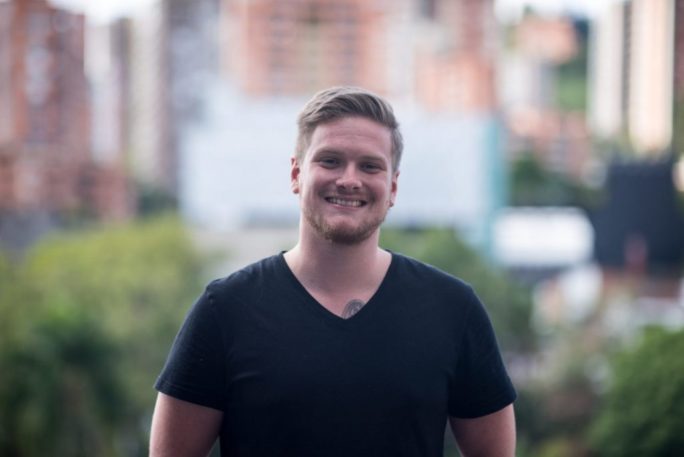 Mark Linsdell
Exploring Vietnam, Thailand and Cambodia on two wheels awoke a passion for motorcycles in Mark. With a degree in Print Journalism, he has written for a number of different industries and publications. However, the subjects that really get him excited are the latest EV trends and the future of electric motorcycles.